NORTH LAWNDALE — West Side leaders know they face uphill battles in creating safer communities.
Violence that shakes their neighborhoods — including two mass shootings over the weekend — results from deeply rooted problems, they say. To quell that, first they have to tackle a history of neglect that has left residents without adequate health care, education, housing, jobs and other critical services for generations.
That's what the North Lawndale Community Coordinating Council is trying to resolve. Through outreach that promotes peace, fosters community and connects people with vital resources, community organizers said they're chipping away at the problems that they hope will lead to less gun violence.
"These are symptoms. This is a result of instability and racism as a whole," said Brittany Spralls, chair of the coalition's public safety committee. "And it is an epidemic, and one of the ways we can go about solving these things is making things more equitable across the board around education, housing, arts and culture, greening spaces.
"The way we think about safety is having a healthy community."
The council, a coalition of residents and organizations, has been implementing community improvements laid out in the North Lawndale Quality of Life Plan. At a recent meeting, they said they're gaining traction on some of their goals.
"We recognize that addressing crime in North Lawndale is not just about using the tool of criminal justice," said Rodney Brown, chair of the neighborhood's economic development committee. "We've got to talk about housing. We've got to talk about education. We've got to talk about jobs. All those things have to be part of the tools we use to address the crime issue."
Members of the public safety committee plan outreach events throughout the summer to coordinate opportunities for anti-violence groups like UCAN and Lawndale Christian Legal Center to "meet people where they are to help them with the things they need," Spralls said.
The coalition's Light in the Night events build more community engagement in areas considered high-risk for crime. The Hoops in the Hood program gives young people positive activities to do in the summer. Members of the public safety committee also host peace circles and cookouts to build community connections.
"You'll always see us out in the community at different parks … trying to address the issue of creating safe and peaceful spaces. We are also there to engage the community and loop them into different services available in North Lawndale and provide them with wraparound spaces," Spralls said.
The One Lawndale Peace Party organized by the neighborhood's arts and culture committee aims to build unity between North and South Lawndale so communities can work together to make both neighborhoods healthier, stronger and more peaceful.
The One Lawndale Peace Party is scheduled for 11 a.m.-2 p.m. July 31 at Douglass Park, 2950 W. 19th Street.
"The Latino community and the Black community both are being disinvested in. We want to come together as one and have a peace party to continue working together as a community to make our community on the West Side equitable and have all of the things we need," said Sheila McNary, chair of the Arts and Culture Committee.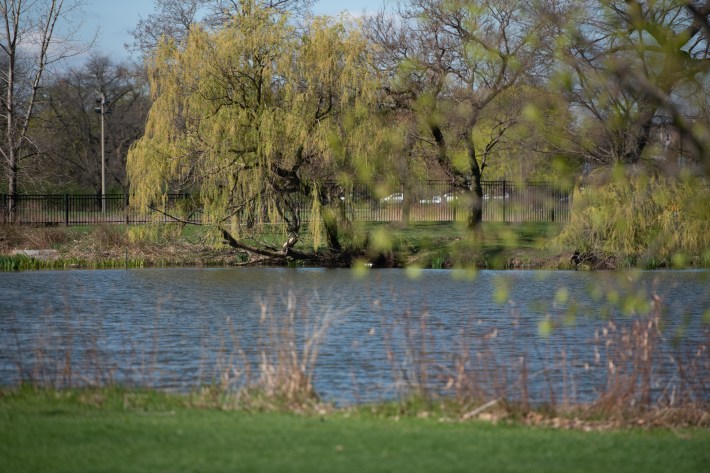 The organization's other ongoing projects improve food access, promote local businesses and generate more enriching educational opportunities in Lawndale.
Another key goal is making the neighborhood a more welcoming place for small businesses. Brown's committee is training entrepreneurs and small business owners to develop "an ecosystem in North Lawndale of businesses that are supporting each other," he said.
Lawndale's economy is on the upswing, with several developments, like Ogden Commons, creating jobs and bringing Black-owned businesses to the area. There are a "wonderful plethora of jobs" available in the community, and many of those jobs have starting wages of $20-$28 per hour, said Brenda Palms Barber, CEO of the North Lawndale Employment Network. The workforce development nonprofit will soon open a new headquarters at 1111 S. Homan Ave. that will bring employment training opportunities for job seekers.
Improving the business climate in the area also creates opportunities for people hustling on the streets to follow a better path and find legal sources of income, Brown said.
"You'd be amazed by some of the people who are in the life who have excellent entrepreneurial skills. We're looking to bring them on board and help them use those skills to transform into a legal business," Brown said.
Nonviolence must be a strategy that involves every part of the community to address the circumstances that give rise to hopelessness, despair and conflict, Spalls said. Young people who are at-risk must also be engaged "in a restorative way," Spralls said.
"We can not talk about violence that folks are inflicting upon themselves and each other without talking wholly and honestly about the violence that has been inflicted upon these people since birth," Spralls said.
The answers to neighborhood crime are already present in North Lawndale, Brown said. Local businesses, nonprofits, organizers and residents know the problem better than anybody else in the city, he said. To affect true change, public and private investments into the West Side must allow locals to take the lead on solving those issues, Brown said.
"The people on the ground are working on a daily basis coming up with solutions. We need to fund those solutions," Brown said.
Subscribe to Block Club Chicago, an independent, 501(c)(3), journalist-run newsroom. Every dime we make funds reporting from Chicago's neighborhoods.
Already subscribe? Click here to support Block Club with a tax-deductible donation.