CHICAGO — In 1989's "Field of Dreams," people go to Iowa's magical cornstalk field to fulfill their childhood wishes: One man wants to make amends with his father and share a game of catch, while another dreams of a major league at-bat.
The young ballplayers of the White Sox Amateur City Elite team are going to the Field of Dreams for their own reasons: "To show that Black kids can play baseball, too."
Lance Moon is the starting right fielder for the team, which is called ACE. Moon and 14 other top youth players from the South Side will travel to Dyersville, Iowa, next month to play a special exhibition game against the New York-based DREAM program.
The Major League Baseball-sponsored event, titled A Dream Fulfilled, will take place on the original "Field of Dreams" set. The game will be broadcast on national television 5 p.m. Aug. 11 on FS1.
The next day, the White Sox will play the New York Yankees at an adjacent ballpark. ACE players can watch the game and talk to their favorite major leaguers.
The Field of Dreams event is a turning point in ACE's decade-and-counting dream to build equitable opportunities for Chicago's young, Black ballplayers. Happening in the heartland of Americana, the game will be a stark rebuke to the enduring whiteness of the National Pastime.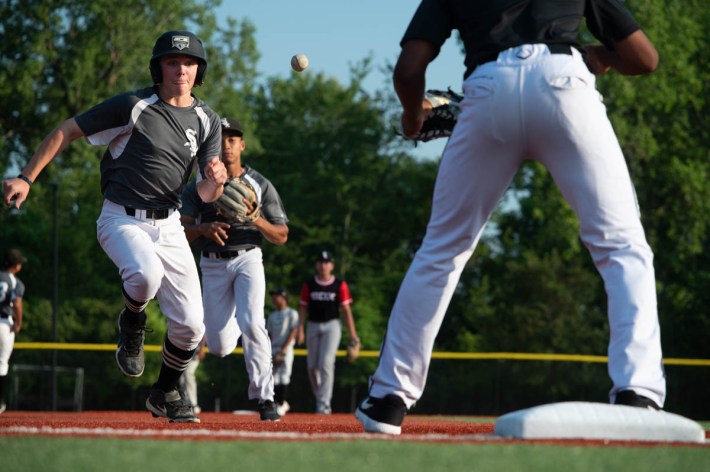 "We hope everybody will see us and help change the narrative on our young Black men," head coach David Reed said. "They're going to represent the program, the Chicago White Sox and the city of Chicago in the best way."
Since securing the support of the White Sox in 2007, ACE has shown what's possible with investment in South Side youth baseball. The free program has helped more than 225 Chicagoans earn college scholarships. Ninety-four alumni have competed at the Division I level, and 27 have fulfilled childhood dreams of hearing their names in the MLB draft. 
In April, Simeon graduate Corey Ray became the first ACE to suit up in the major leagues. Cubs top pick and former Little League World Series star Ed Howard is also an alumnus, and just this week, Donovan McIntyre became the latest to be drafted by MLB.
"We never imagined it moving this fast," said Kenny Fullman, program manager and co-founder of ACE. "My dream is to continue to try to be a hotbed for African American, Black baseball players."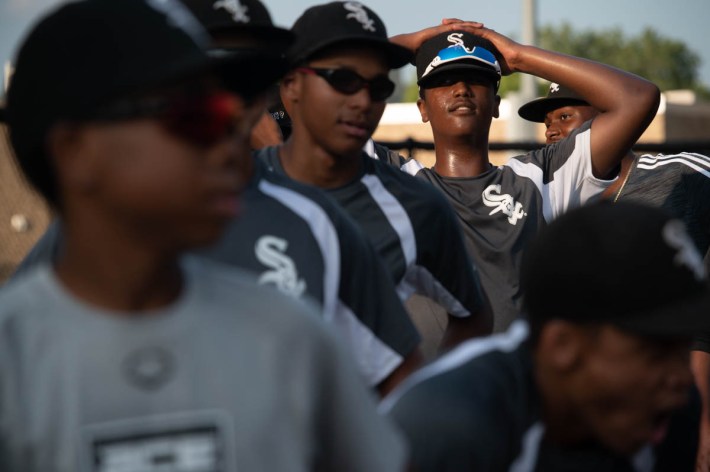 Last week, the young men of ACE's Field of Dreams team donned their White Sox caps and practiced at the Ray & Joan Kroc Corps Community Center in West Pullman. A mini replica of the White Sox scoreboard, fashioned with its signature pinwheels, cast a shadow on the ballfield. 
Phillip Thigpen, a resident of Hyde Park, made a soft underhand toss to his double-play partner, DaMaurion Butler. The pair will anchor the middle infield for ACE at Field of Dreams. 
"It should be a good experience for me, because people can see me on live TV playing and I can showcase some of my skills, show them everything I work for," Thigpen said. "Being able to represent our own city, our own town. So when teams say, 'Oh, they're from Chicago,' and then we beat up on them, it feels good."
Butler is excited to meet the Sox's Tim Anderson — as most of the kids are. Reed said his young players like Anderson's style and his flair for fun, a subtle protest to the stodgy traditions of baseball that comes from a player who is unapologetically Black. 
Anderson went to his first All-Star game last week with a gold-studded chain. During practice, Butler flashed his own gold chain, with a baseball bat and glove at the center. He got it for his 12th birthday, his first year playing for ACE.
"Most kids in Chicago don't get opportunities like this," Butler said. "Some kids are overlooked because some people just think of them like they thugs because they from Chicago."
Lance Moon, from his position in the outfield, tracked down fly balls that soared halfway to the moon. He doesn't "wanna brag on it," but in 2019, the White Sox called him up to the big leagues on Jackie Robinson Day. To perform the national anthem. 
On the violin. 
"I can do it all. Just like how I can do it all on the field, I can do it all outside of baseball," Moon said. "I think I'm a pretty talented guy."
In the team huddle, the kids reminded their coach Moon had "his AirPods in." ACE's speedy right fielder and designated violinist manages hearing loss with hearing aids. 
Overcoming the obstacles that can come with hearing loss is one of Moon's driving forces. A Roseland resident, Moon sees the nearby Kroc Center gym as the place he "puts in work." He's clocked hours every day with ACE since he was on the 12-and-younger team, and he always has a coach at his disposal — whether it's hitting, strength and conditioning or math homework. 
"Outworking guys who are so-called 'normal,' I would do that," Moon said. "I made a promise to myself that I would play baseball for a long time."
The team was preparing for a weekend tournament in Kansas City. The White Sox cover the costs of a nomadic schedule, with stops this year in Atlanta, Indianapolis, greater Chicagoland and, of course, the Field of Dreams. 
Each event is another opportunity to face elite competition and make an early impression on a college scout. 
None will be bigger than Field of Dreams. 
"We do get opportunities, but it's not just one of us getting it — it's all of us getting it," Moon said. "Because, as a predominantly Black team, we're going to bring everyone else up with us."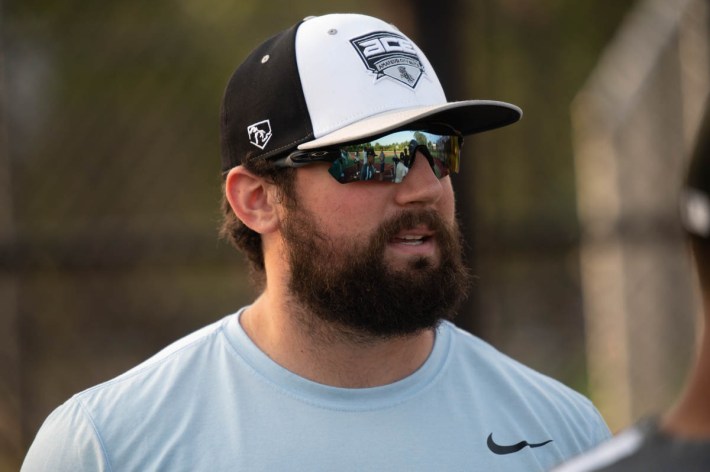 ACE coaches have a philosophy of friendly discipline. Strength and Conditioning Coach Tom Martin dished out a double fist-bump to the one player he made run laps around the field.
"He needed it," Martin said. 
Reed caught third baseman Jimmy Downs daydreaming in the huddle. 
"Y'all clap it up to Jimmy, he's still on Sunday," Reed said. Applause broke out on cue. 
The coach knows when to keep it fun, when to keep it serious. It takes tact when your players are 14. 
"The best way to teach is to show," Reed said. "Most kids are visual learners." 
On most days, Reed dresses in full catching gear, gets down in the dirt and shows the kids how to block a runaway curveball. 
A former standout catcher at Simeon Career Academy High School, Reed has found his purpose: develop the next Black major league catcher. For a position akin to the quarterback of the field, there has been no Black everyday catcher in MLB since Charles Johnson played more than 15 years ago. 
"The position of catcher is the lead on the field. He's the guy that's in charge. I would love to show that representation on the baseball field," Reed said. "Just to have a young Black catcher in the pros out there giving the commands, showing the leadership, showing that our Black youth can display those leadership skills." 
Fullman said it's essential ACE employs coaches from its kids' communities. They want coaches who share similar lived experiences to serve as Black role models in a sport with declining Black representation. 
"We have to be emotionally involved with our kids," Fullman said. "We have to teach them a lot of things outside of just playing baseball because, a lot of times, we have to be better than average." 
Fullman was the head coach at Harlan Community Academy High School and a part-time scout with the White Sox when he envisioned building a predominantly Black travel team. He was frustrated by his players' lack of exposure, how they asked him questions: Why are Power Five conferences overlooking Black kids? 
With the help of White Sox national crosschecker Nathan Durst, the brain trust of ACE began working through the bureaucracy of travel baseball.
Racism was expected. The White Sox fielded their first ACE team in summer 2007 and, in an early year, an opposing team hit ACE players nine times in a row with pitches. To this day, kids as young as 12 occasionally deal with racist comments from the stands, Fullman said.
"We've had our ups and downs of being accepted as a largely African American, minority team from the Chicagoland area," Fullman said. "But we've stayed vigilant, stayed on course and stayed as professional as possible.
"It's hard for people to accept change."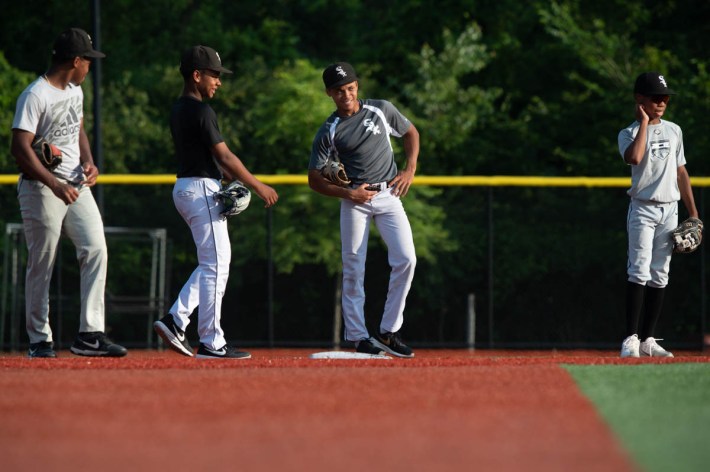 Ray, the ACE alumnus, stepped into the batter's box for his big league debut April 24 — at Wrigley Field. ACE players cheered on from the crowd. 
"To be able to see other Black men doing successful things, it's definitely moving us and inspiring us to be like them," Moon said. "I'm definitely grateful to be on this team every day."
If you build it, they will come, just like the movie says. Reed believes it. 
"Once they get under the lights, and the cameras are on, and the umpire says, 'Play ball' — they run out and just look around and absorb it," Reed said. "And realize, 'I want to do this the rest of my life. I'm gonna grind, and nothing is going to stop me from reaching the goal of being in fields like this, in front of millions of people, for the rest of my life.'" 
ACE will screen "Field of Dreams" before departing on the team bus. But Butler went ahead and watched the movie already anyway. He was excited, maybe a little curious.
"It was a nice movie," Butler said. "Like the cornfield and stuff. I just imagine, like, something coming out the cornfield."
Subscribe to Block Club Chicago, an independent, 501(c)(3), journalist-run newsroom. Every dime we make funds reporting from Chicago's neighborhoods.
Already subscribe? Click here to support Block Club with a tax-deductible donation.
Listen to "It's All Good: A Block Club Chicago Podcast" here: