AUSTIN — West Side youths have launched a "safe zone" in a part of Austin troubled by gun violence.
The safe zone is a result of the Austin Safety Action Plan, a youth-led initiative to boost community engagement with events and activities to reclaim parts of the neighborhood that have been overtaken by crime.
The teens planned the safe zone in South Austin as "our own area where we control the narrative of what happens and take back those spaces where people have started to do idle things in," said Aisha Oliver, a community organizer who helped teens develop the Austin Safety Action Plan.
Young people started designing the Austin Safety Action Plan after a spike in violence over summer 2020 that saw the killings of 3-year-old Mekhi James and 7-year-old Natalia Wallace in South Austin.
The teens started examining the conditions that caused so much violence, and they brainstormed ways they could change those conditions.
"They would tell me about how it was causing depression, and they were afraid of going outside, and so many things that limited them from just being able to live as young people. So we decided to put together a plan to occupy the spaces that adults had started to take over," Oliver said.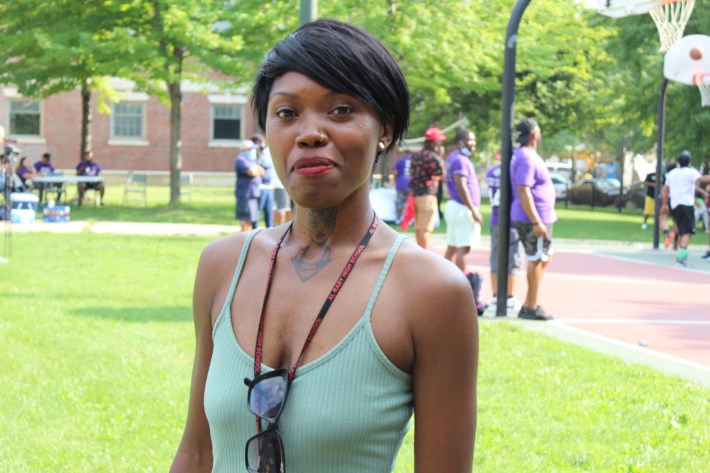 The plan is to activate public areas that have a negative reputation with events and activities that will "force the narrative of the positive by doing nothing but positive things," Oliver said. The safe zone will be anchored by neighborhood institutions like the Austin Townhall and the Austin Branch Library.
The Austin Safety Action Plan is designed to build from the feeling of safety young people experience when they're in places like a library, where people are active and engaged. The events will go through mid-August to fill the gaps between those neighborhood anchors so that feeling of safety will stretch across the area, said Darian German, 19.
"These are all places we grew up in that kept us out of the violence, kept us together. That's why we created these areas for people to feel safe," he said.
One of the goals of the plan is to engage young people and give them constructive ways to spend their time. A key component for achieving that is a five-week basketball tournament that is bringing together young people to play outside.
"We want to give people something. They're going to find something to do if they don't got nothing to do. We've got to target the youth because we're the people of tomorrow," said Davonte Dudley, 19. "We just try to get everybody engaged."
The safe zone also brings local youth together with older people. The activities planned for the summer will involve adults and elders to build connections.
"Having those relationships in a community does make the community safe. We got those older people that we can look up to, you know, and they feel how we feel, just trying to keep everyone together," German said.
The Field School is leading a community art project across the safe zone that will give young people a chance to decorate their community with art inspired by a theme of "peace in Austin," Oliver said. The nearby Harambee Community Garden will host workshops on growing plants. Events will include yoga, meditation, live jazz music and dance lessons, Oliver said.
Events for the safety zone are posted to Oliver's Instagram page.
The activities planned for the safe zone will help fill the gaps in resources in Austin that often leave young people feeling hopeless and alone, Dudley said. The safe zone is a model that can be expanded and replicated to ensure youth feel supported and cared for, he said.
"If somebody feels some type of way about something, it should be some way that we can resolve that. It's not no places around here where people can go to if they're feeling down," Dudley said. "It's so many things we can change."
Subscribe to Block Club Chicago, an independent, 501(c)(3), journalist-run newsroom. Every dime we make funds reporting from Chicago's neighborhoods.
Already subscribe? Click here to support Block Club with a tax-deductible donation.