SOUTH SHORE — The Quarry Event Center is a music venue, food sustainability hub, wellness center, kitchen, event space, publishing house and more — all under one roof.
It hosts a free breakfast program set to start back up in August, the offices of the South Side Drive magazine, an indoor farmers market, a food pantry and a mental health and drum circle for Black men, among other community programs. The center also shares its kitchen with LitVegan and Imani's Original Bean Pies, which sell their products out of the space.
To keep the place thriving, Yvette Moyo needs to catch up on property tax payments. She's the CEO of Real Men Charities, which owns the center at 2423 E. 75th St.
The Quarry earns a good portion of its income by renting its entertainment venue for supper clubs, conferences, weddings and birthdays, Moyo said. The venue has regularly held jazz concerts on Friday nights with local performers like Angel Bat Dawid and Thaddeus Tukes. It recently rolled out a Monday open mic and jam session.
All of that went on hiatus as the pandemic took hold last year. Small businesses and entertainment venues were decimated. The Quarry was no different.
Before the pandemic hit, Moyo already was struggling with property tax debts from the second half of 2018 through 2019, she said.
By spring 2021, "it was clear to me that we had to find that money in some other way," Moyo said. "With the venue not being 100 percent open [during the pandemic], there was no way we could generate that money after a whole year out of operation."
Moyo started a GoFundMe in April to pay off the tax debts, as first reported by the Hyde Park Herald. The campaign had raised $9,750 as of Thursday afternoon.
With $10,000, the center can pay about $22,000 in outstanding taxes and late fees for 2018 by the end of the month, Moyo said. The other $12,000 will come from funds raised during the nonprofit's Real Men Cook events in Chicago and Atlanta, held annually on Father's Day.
That payment would get the Quarry "out of the danger zone," Moyo said. At the same time, the city's reopening in June allowed full attendance for the center's various events and programs — and hopefully will improve revenues to boot.
Next up for Moyo is appealing the 2019 and 2020 property tax bills in hopes of securing "a new, fairly assessed bill," she said.
A successful appeal could lead to a partial refund of the 2018 taxes the Quarry will soon pay, and it would ideally reduce the total debt to an amount "reasonable enough for us" to pay through the center's revenue, instead of leaning on individual donors, she said.
"The likelihood is that we'll shut [the GoFundMe] down" if the debt is reduced, Moyo said. To prevent a similar situation in the future, she and her nonprofit, Real Men Charities, will reach out to established funders with a "commitment to closing the wealth disparity gap" in communities like South Shore.
Moyo said property values assessed under former Cook County Assessor Joe Berrios' leadership were "racist and a deterrent to wealth building for Black businesses."
"This is subliminal systematic racism," Moyo said. "We talked about redlining 20 or 30 years ago — this is much more subliminal than that."
Moyo isn't alone in her allegations of inequity. A 2017 investigation by the Chicago Tribune and ProPublica Illinois found commercial and industrial assessments were "riddled with errors" under Berrios' leadership, benefiting high-value property owners at small businesses' expense.
Neighborhood and housing groups in Brighton Park, Logan Square and the south suburbs filed a lawsuit that same year, claiming Berrios "systematically and illegally" placed the brunt of the county's tax burden on minority and low-income homeowners.
The suit was dismissed in 2019, when a Cook County judge ruled Berrios' successor, Fritz Kaegi, addressed the groups' complaints by attempting to reform the office, according to the Sun-Times.
Under Kaegi, the county has worked to clearly explain the calculations used to assess commercial properties like the Quarry, spokesperson Scott Smith said.
Among other reform efforts, the office now posts the data used in residential assessments and creates reports to judge the "quality" of all assessments and diagnose any issues, Smith said.
But assessments remain in place for three years. The Quarry's debts from 2018 through 2020, based on values set under Berrios, remain for now.
Properties in Hyde Park Township — which runs from 39th to 87th streets and from King Drive to Lake Michigan and include South Shore — are set to be reassessed in August, Smith said.
The investigation and the dismissed lawsuit raised "broad-based" issues of equity at the assessor's office, he said. Determining whether those broad practices harmed individual properties like the Quarry are "something we have to dig into the data to find."
Successful appeals on commercial properties must show errors in data used for the assessment, like its size or the business' income and expenses, Smith said. Property owners who believe their tax assessment is inaccurate can file an appeal up to four years after the assessment.
In an effort to more accurately assess small commercial properties, county officials encouraged owners to fill out the office's Real Property Income and Expense form.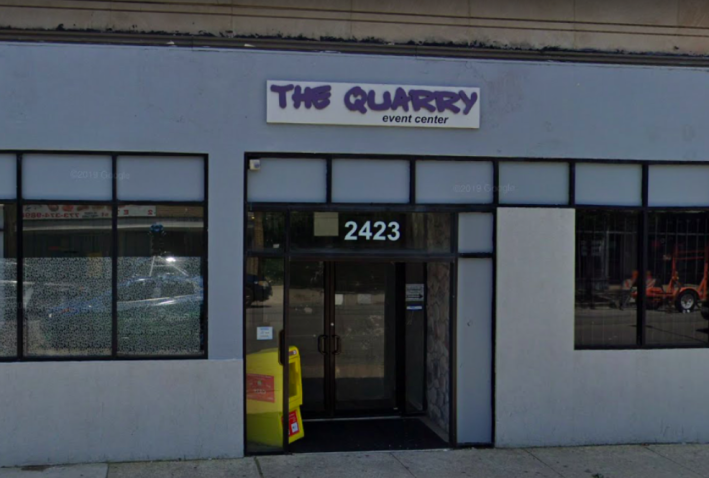 Despite the county's reform efforts, there's no guarantee Southeast Siders like Moyo will be happy with their new assessments.
Properties in Rogers Park Township on the Far North Side were the first in Chicago to be reassessed this year, with some seeing steep increases in property value, according to the Sun-Times.
However, that doesn't necessarily reflect what Hyde Park Township can expect. And even if property values drastically rise, taxes may not follow suit, Smith said.
"A lot of people assume that an increase in assessment means the same in taxes, but that's not the case," he said.
With uncertainty around the new assessments, and considering South Shore's prime lakefront location and major development proposals nearby, such as the Obama Presidential Center, residents and institutions like the Quarry "must be active lobbyists on their own behalf" to avoid displacement, Moyo said.
"If your taxes are too high to hold on to the property, property ownership for Black people on the South and West sides is highly unlikely," Moyo said. "We're leaving the community to developers with no history, purpose or mission for our communities — or the people that live in them."
In light of these concerns, neighbors have organized for years to keep South Shore's longtime residents and cultural heritage intact.
As Moyo advocates for the Quarry and other small businesses, she has praised efforts by South Shore Works' Housing Committee for its work to preserve and revitalize residential housing.
Alongside the Chicago Rehab Network, the Chicago Community Loan Fund, the Neighborhood Network Alliance and others, the committee is working to preserve condos, co-ops and other forms of shared ownership in the community.
Residents "have to be consciously aware of the value of property ownership and the possibility of handing something of value down to the next generation," she said.
Subscribe to Block Club Chicago. Every dime we make funds reporting from Chicago's neighborhoods.
Already subscribe? Click here to support Block Club with a tax-deductible donation.