CHICAGO — A key city panel green-lit plans Thursday to bring over 200 new residential units across four buildings at the former Chicago Housing Authority-owned ABLA Homes on the Near West Side.
The next phase of the Roosevelt Square project contains three new mid-rise buildings with 207 total units and the rehabilitation of an existing building to be the home of the National Public Housing Museum and 15 residential units. The unit mix includes studios, one-, two- and three-bedrooms made up of market-rate, affordable and CHA units, the development team said.
Expected to be completed in 2023, Related Midwest and the Chicago Housing Authority presented their plans to the Chicago Plan Commission, which unanimously approved the project. The development is likely to be approved by the full City Council on July 21 if it's advanced out of the Zoning Committee a day earlier.
Related Midwest also will rehabilitate 184 homes that were developed in a previous phase of the project.
The project resides in both the 25th and 28th wards. During the Plan Commission meeting, both Ald. Jason Ervin (28th) and Housing Commissioner Marisa Novara praised the development team for returning housing to the vacant sites. They also praised the participation of minority-owned firms in the planning and construction of the buildings.
Ervin said the plans were "another step in that direction of working to return residents back to those properties as well as provide affordable and market-rate residential housing."
"This is a great story," he said. "We think this is a way we can develop in the future."
Novara also said she was "very excited about being able to see the history of public housing really solidified in this museum."
Currently a CHA property, Related Midwest proposed building a six-story building with 67 apartments and 34 parking spaces at 1002 S. Racine Ave., designed by Moody Nolan and Landon Bone Baker Architects. The building will include a fitness center, indoor and outdoor amenity spaces and 12,000 square feet of retail space.
The building includes 50 market rate units and 17 CHA units priced between 20 to 60 percent of the area median income, or $18,640 to $55,920 for a four-person household.
Michael Kaplan of Related Midwest said a "local grocer" has signed on to anchor retail space at the building.
Two new six-story buildings, each with 70 units, designed by DesignBridge, are proposed for 1257 and 1357 W. Roosevelt Road. Each will have a fitness room, outdoor amenity space and a dog run.
Kaplan said "the intent is to deliver a modern but timeless aesthetic" in the design of the buildings, which he described as "sister buildings, rather than identical twins."
Both buildings include 21 market rate units, 29 CHA units at 20 to 60 percent of the area median income and 20 units priced at 60 to 80 percent of the AMI, or $55,920 to $74,550 for a four person household.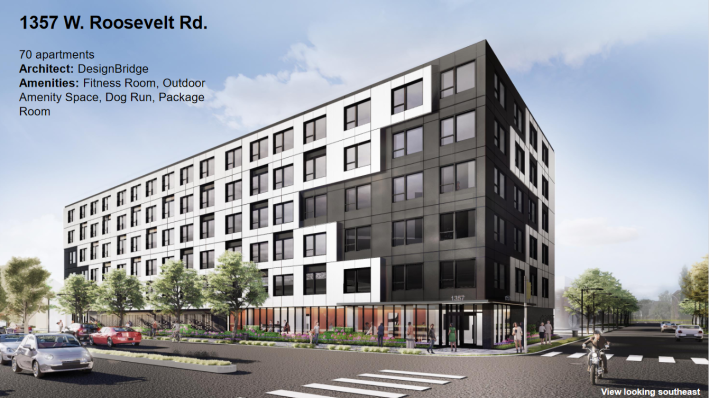 The fourth building will convert the last standing structure of the former Jane Addams Homes housing project into 15 residential units and space for the National Public Housing Museum.
The 15 units will be evenly split between CHA housing, affordable, and market rate units.
Lisa Lee, the museum's executive director, said at a recent community meeting the museum would have public art from international artists, award-winning exhibits, history and cultural gathering spaces as well as programs.
The former ABLA Homes complex included the Jane Addams Homes, Robert Brooks Homes, Loomis Courts and Grace Abbott Homes. The Jane Addams Homes opened in 1938 as the first federal government housing project in Chicago.
Most of the ABLA Homes were demolished in phases by 2007. About 330 Brooks Homes units remain at the site, according to the CHA website.
The project received no pushback Thursday, but some neighbors had raised concerns in late winter. Some said not enough affordable options were included for longtime residents. Concerns about parking and property values also were raised. Novara said then there was no evidence the development would bring down property values.
Subscribe to Block Club Chicago. Every dime we make funds reporting from Chicago's neighborhoods.
Already subscribe? Click here to support Block Club with a tax-deductible donation.