IRVING PARK — Northwest Side neighbors say they were blindsided by news Northwestern Medicine is demolishing a 120-year-old home in Irving Park as it builds its $150 million medical facility.
Northwestern is constructing a four-story building with a 350-space underground parking lot on Irving Park Road between North Kilbourn and North Kenneth avenues, which includes the former site of Sabatino's restaurant. The project received City Council approval in March.
But at a community meeting Tuesday, neighbors said they had no idea Northwestern also purchased the home at 3936 N. Kenneth Ave., and plan to tear it down to install temporary office space for the construction site or an underground stormwater retention tank for the new medical facility. Neighbors say the home may have historic value and could be connected to an architect whose designs have been recognized by the city's landmarks commission.
"It feels like a poke in the eye that you did this," neighbor Meredith O'Sullivan said. "I feel like we had a plan for what y'all were going to do. And when I found out a few days ago that you bought this house my hair started to go on fire."
Architect Clarence H. Tabor began publishing "Tabor's Modern Homes," a semi-annual "pattern book" of mail-order building designs in 1889. The book featured seventeen designs of buildings priced from $1,000 to $12,000, with complete building plans priced from $7 to $75. 
The Irving Park area was considered a "railroad suburb" before it was incorporated into the city. The Great Chicago Fire of 1871 "spurred rapid growth to the area," according to the landmark commission. Mail-order home designs from architects like Tabor were popular during this period because there were not enough architects available to meet the high demand for new construction.
One of the buildings Tabor designed in the neighborhood, a Queen Anne-style home at 3926 N. Keeler Ave., is a registered city landmark. But neighbors like Cathy Curley say many other houses in the area, including the one at 3936 N. Kenneth Ave., could be based off his designs, too.
"We don't have the original building permits for 3936 N. Kenneth Ave., so we're not 100 percent able to verify that it is a Tabor home," Curley told Block Club. "But what I do have are the original pattern books Clarence Tabor published and it looks like one of his patterns. There are also several other houses that are just like this one in the neighborhood that were all built at the same time. Tabor had a big influence in this neighborhood."
Northwestern bought the property from owner Michael A. Lindauer in a "private transaction," said Charlie Cloutier, Northwestern Medicine's director of planning and construction.
"We're working with the office of underground [coordination] to determine the best location for that [stormwater retention tank]," Cloutier said. "Part of that may end up underground on that property. But it would be completely underground and you'd never know what was there."
Northwestern has no plans to expand its new Irving Park building to the 3936 N. Kenneth Ave. property or to seek a zoning change to make it commercial, Cloutier said.
"We don't plan on doing much with it once the project is done," Cloutier said. "We plan to begin talks with the community to find out what the best use of the property would be. Whether it's putting in landscaping and green space and making it a buffer between residences and the building or some sort of public park."
Neighbors who attended Tuesday's meeting said the home should be preserved. 
"We have the commercial emphasis streets and zoning designations. And now you're crossing over into the inner residential zoning. And that's a pretty big line to cross," said Davor Engel, another neighbor. "The sanctity of that residential zoning has always been respected and now you're doing something else."
In a statement provided to Block Club, members of the Old Irving Park Association's board, which had previously thrown its support behind the project, said they were also unhappy with Northwestern's plans for the Kenneth Avenue home and will formally oppose tearing it down.
"After a year of working collaboratively with the [developer], The Old Irving Park Association Board feels blindsided by the purchase of the residential property and subsequent botched communication rollout of their plans to demolish the home in hopes of utilizing the lot for stormwater infrastructure," the statement said. "The board will issue a letter expressing opposition to the home's demolition, any zoning change to the parcel, and the commercial project expanding (even temporarily) onto the adjacent residential property."
RELATED: Irving Park Neighbors Worry Northwestern Project At Former Sabatino's Site Will Add To Traffic Headaches
Groundbreaking for the medical facility is scheduled to begin in August and construction is expected to be complete by spring 2023.
Neighbors also said Tuesday they were concerned about the loss of parking spaces for more than a year while construction fencing is up, and the possibility of construction traffic cutting through the residential neighborhood. 
Cloutier and Sean Bowker, from Power Construction, assured neighbors that sub-contractors working the site would be told to not use the side streets and that the fencing taking up parking spaces around the site would prevent large semi-trucks from trying to enter side streets.
"We will work hand-in-hand with you to address all concerns and do the very best we can to mitigate all issues," Ald. Jim Gardiner (45th) said.
Below are images of the proposed fencing and lane changes for the area once construction begins.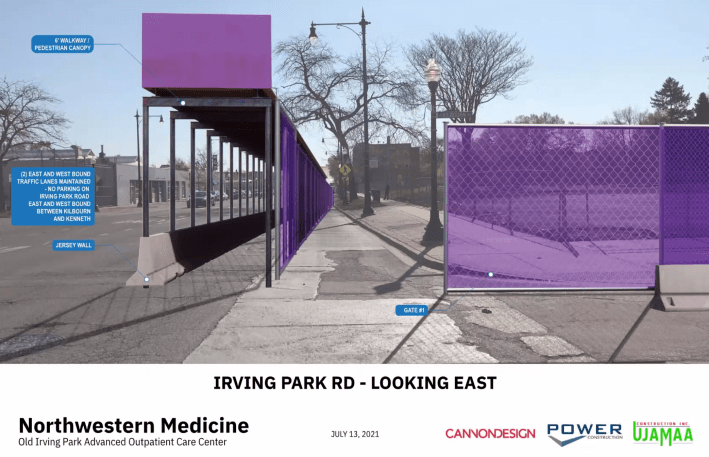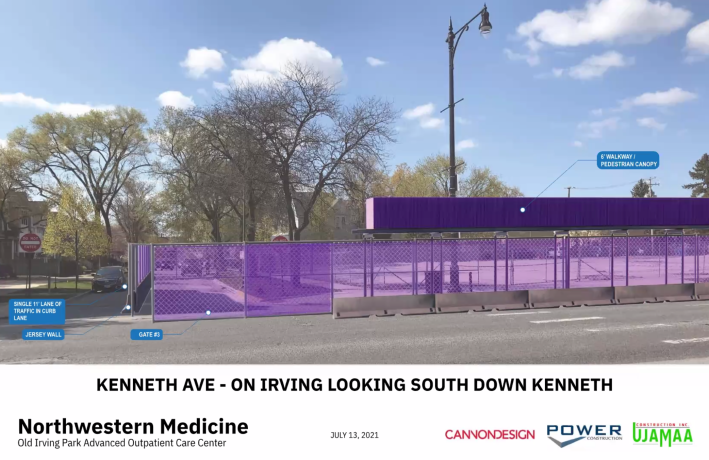 Subscribe to Block Club Chicago. Every dime we make funds reporting from Chicago's neighborhoods.
Already subscribe? Click here to support Block Club with a tax-deductible donation.
Listen to "It's All Good: A Block Club Chicago Podcast" here: