BEVERLY — The neighborhood of Beverly has changed immensely over the past 100 years. Dirt roads have turned to concrete. Streetcars became buses.
But one piece of the Southwest Side community has remained constant: Beverly Bike and Ski Inc., 9121 S. Western Ave.
Founded as Jim's Beverly Bicycle Shop by James "Jim" Kosar in 1921, the bike shop — now Beverly Bike and Ski — has long been a community staple.
"When you walk in, the shop kind of has the vibe that you're transported back in time," shop mechanic Dave Krutulis said. "It has history. It's definitely part of the neighborhood."
Co-owner Paul Weise, 65, bought the shop from its previous owners in 1996. As a result, this year marks not only the store's 100th birthday, but also Weise and his wife's 25th anniversary of buying it. 
Back then, Weise, a cycling fanatic and bike store manager, saw an ad that Beverly Cyclery — formerly Jim's Beverly Bicycle Shop — was for sale. So he and his wife, Kathleen, put everything on the line to fulfill his dream of opening his own shop. He's so committed to the shop he lives in it. 
"We sold everything that we had to get here," Weise said. "This store became available with apartments upstairs, and we needed a place to stay, so that was great." 
While many bike stores worry about competing with big-box names, Weise thinks his store stands out because his shop can repair just about any bike, he said. 
"Our job is to keep the bikes rolling. If you've owned a bike for 40 years, you want to keep it going," Weise said. "Even if it's from the '50s or '60s, our job is to fix it, not try to get people to move on. We have tire sizes for bikes that haven't even been sold in 30 years, and we try to maintain our inventory to keep those bikes going as much as we can." 
The staff's expertise in repairs came in handy when the coronavirus pandemic hit last year. Bicycling became more popular as people spent more time outdoors, and shops ran out of bikes.
Bike manufacturers faced a shortage in parts, and stores across the country, including Weise's, could barely get orders in. A majority of Weise's business shifted toward repairs as people pulled old bikes from their garages.
The high demand for repairs could stick around. Bike manufacturers have told Weise the shortage could last another three years. He'd usually have an inventory of more than 100 bikes but has fewer than 10 right now.
'This Is Where My Dad Always Took Us To Buy Our Bikes'
During the winter, demand for bikes tends to decline in Chicago. Over the years, the owners of the Beverly bike shop have always worked a side hustle to keep the doors open. Kosar, the original owner, serviced Ringling Brothers' unicycles as they passed through Chicago on tours across the country. The next owner, Bob Greene, fixed propane heaters in the winter. 
Weise literally put the "Ski" in his shop's name by selling skis and sharpening skates in the colder months. 
A loyal customer base has helped the business make it to 100 years old. Beverly is a tight-knit, family-oriented neighborhood whose residents are loyal to local businesses. 
"I've worked Downtown, and it didn't seem to bother people that they weren't buying from their local communities," Weise said. "But I don't think Beverly would do that. I think they do everything pretty locally. I think Beverly people are pretty loyal to Beverly in general and not just me." 
The store also gives back to the community. Beverly Bike and Ski sponsors an annual bike race on the South Side, has an award-winning racing team composed of Beverly residents and donates bikes to local charities during the holiday season. 
So when Beverly resident Colleen Bowen's son told her that he popped a tire on his bike, she didn't hesitate over where to get it fixed. She drove straight to Beverly Bike and Ski, where she knew from experience that she'd get the best service. 
"I grew up here, and this is where my dad always took us to buy our bikes," Bowen said. "This is the only place I know that is quick and easy, so anytime we need bike repairs we just come up here. It's a family tradition." 
Bill Frieske, a Morgan Park resident, is another loyal customer. He's bought about 10 bikes from the shop over the past 25 years and was a long-time member of the store's racing team before his recent retirement. 
"The shop is a touchstone of the neighborhood," Frieske said. "It's always been such a warm and inviting place, and I've always enjoyed coming in."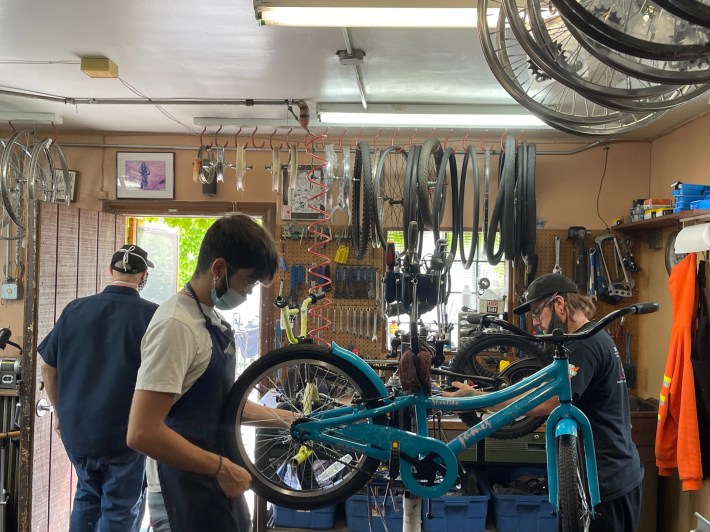 When Weise took over the store, he'd see a lot of older couples looking to buy bikes. He now almost exclusively sees families coming in the doors, a positive sign for Beverly and the shop's long-term growth. 
Weise doesn't know the exact date Kosar opened for business in 1921. He plans to hold internal celebrations with his team of mechanics and salesmen throughout the year.
Weise remembers when every neighborhood had three bike shops "back in the '60s."
"And, that's just not the case anymore," Weise said. "So I just feel so supported. Not just by Beverly, but by the whole South Side."
Subscribe to Block Club Chicago, an independent, 501(c)(3), journalist-run newsroom. Every dime we make funds reporting from Chicago's neighborhoods.
Already subscribe? Click here to support Block Club with a tax-deductible donation. 
Listen to "It's All Good: A Block Club Chicago Podcast" here: