AUBURN GRESHAM — Dennis "Trey" Butler III is the youngest member of Chicago's most ubiquitous baseball family — and the latest one to carry on the family tradition.
On June 22, Butler was selected by the Illinois High School Baseball Coaches Association to the All-State Team. He's the only freshman to receive this year's honor.
Butler is part of a baseball tradition that spans three generations. His grandfather, Dennis Butler, first fell in love with the game as a kid from Greater Grand Crossing in the late 1950s. He passed down baseball to his sons — Darold and Dennis Butler Jr. — who became stars for the formidable team at Simeon Career Academy High School.
Darold Butler had one son, DJ, whom he coached on the Jackie Robinson West team that played in the 2014 Little League World Series. Dennis Butler Jr. also had one son, Trey, whom he coaches at Simeon High School, the proving grounds for Butler ballplayers. 
The Butler family grew roots on the ballfields of West Englewood and Auburn Gresham. Born into a family built around baseball, Trey could be the most talented Butler of them all. 
With three years of high school baseball left, the speedy center fielder already holds the state's highest individual honor, along with a Division I scholarship to the University of Louisville.
"If he continues to work like he's working, I think the sky's the limit," Butler Jr. said. 
Dennis Butler Sr., 70, the family patriarch, dreams a Butler will make it to the bigs. 
"Trey is not through. I appreciate the accolades, but let's get to the MLB," Butler Sr. said. "We haven't done what we can do." 
The 15-year-old flashed a shy smile, mouth full of braces. 
"I think if I just keep working and do what I'm supposed to do, then hopefully I'll get that opportunity," he said.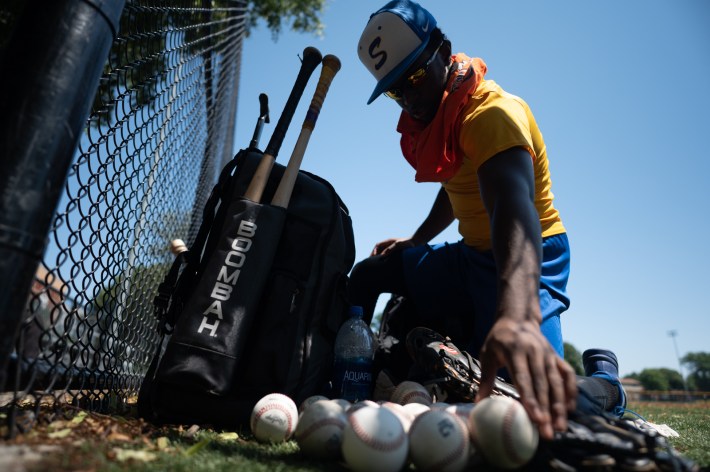 On a recent Thursday morning on the South Side, the Butler family took to the diamond behind Simeon High School. Butler Jr. tossed batting practice to his son while the eldest Butler walked gingerly around the outfield, collecting long fly balls zipping off the bat of his grandson. 
"It's important to have a coach," Butler Sr. said, looking onto his family in the infield. "You need someone to tell you that you can play, what kind of caliber ballplayer you are."
Teaching baseball is the family inheritance. Butler Jr. remembers his dad picking up the neighborhood kids and bringing them to the park for all-day practice.
Hoping to put bats and gloves in the hands of talented Black kids from the South Side, Butler Sr. founded the West Englewood Tigers travel program. When Trey turned 6, Butler Jr. joined his father and brother in coaching the Tigers, starting his own team to compete against 8-year-olds. 
"And then at 7 we were a little better, and then at 8 years old, it was like, we can't play against these 8-year-olds," Butler Jr. said. "Baseball was something that just seemed like a family thing. And Trey was going to play it no matter what."
By 2013, Butler Jr. was the head varsity coach at Simeon, finding his way through the long shadow cast by Hall of Fame coach Leroy Franklin. Butler Jr. won the city championship in his first year — then again in 2015 and 2017. 
The young Trey Butler watched from the stands, absorbing it all. 
"Their baseball legacy helped my work ethic and made my drive a little more," Butler III said. "I know for sure I'm doing it for my family, and I want to make them proud."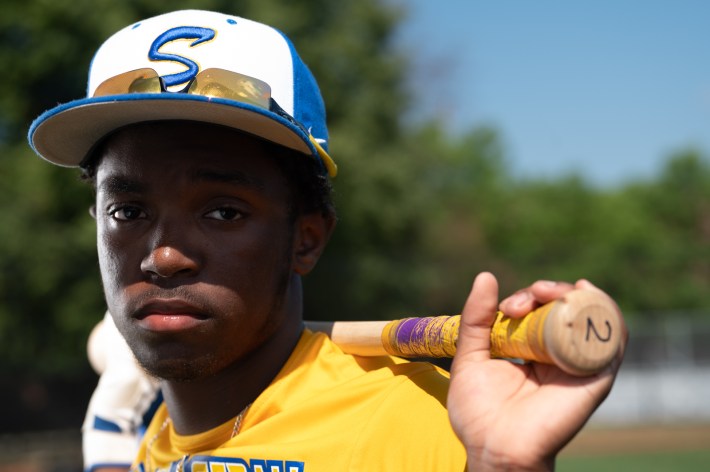 The Butler men all wear their Simeon caps high on top of their heads. They all have an unflinching demeanor. They all share the same name. And for each of them, it all comes back to this: "Put in the work." 
Butler III has built his game around speed, racking up mileage at the hill on the corner of 87th Street and Western Avenue. At a scouting event, he ran the 60-yard dash in 6.71 seconds. This season, he ranked near the top of the state with 40 steals. His penchant for swiping bases will serve him well at Simeon's football field, where he plans to play running back, too. 
On the diamond, Butler III's favorite player is White Sox speedster Billy Hamilton. At batting practice Thursday, Butler Jr. challenged his son to control the barrel of his bat, precisely hitting areas of grass in the outfield gaps.
"We really care about his speed. He knows that's a tool that's gonna carry them," Butler Jr. said. "He's driven. He don't mind working." 
The moment Butler III told his dad he wanted to be a professional baseball player is ingrained in Butler Jr.'s memory. On the drive home from a tournament at the Baseball Hall of Fame in Cooperstown, New York, Trey shared his dreams of the big leagues. Since then, the two have made a commitment to each other. 
Coach and player. Father and son. 
The dynamics can be challenging. Butler Jr. was unsure if putting his son on varsity — a rarity for a freshman — would be well-received. After watching Butler III play above his age division his entire youth career, Butler Jr. ultimately decided that forgoing the opportunity would be a disservice to the team. 
Simeon's older players recognized Butler III's talent. They made a rare exception to the norm of seniors taking batting practice first. Butler III, the lead-off hitter, always batted first. 
"We never felt like he was a freshman player," said Ty Chaney, one of Simeon's senior captains. "He was just one of us. He was a varsity player. The moment he got to the first practice." 
Butler III credits his supportive environment for his burgeoning success. His family's travel program and his father's coaching position allowed him to gain familiarity with his future teammates long before high school. 
"I love that baseball is about trust," Butler III said. "I just had to show my teammates that they can trust me as much as I trust them."
Fulfilling his baseball dreams will require Butler III to eventually pave his own way. He'll have to rise above the successes of his family. Uncle Darold was drafted by the Toronto Blue Jays in 1996 and played rookie ball, but no family member has played an inning in the major leagues. 
For now, stepping into his own name starts with his shades. Butler III has made a signature out of his yellow-tinted Oakley sunglasses. Engraved in the corner of the left lens: Trey #1.  
The Butler family is tight-knit, and their love and support of each other is best expressed through the game. Each generation recognizes their family structure — the opportunity to have a present father, the ability to teach their children competitive baseball with commitment and expertise. 
"I know that with this game, it's been through my family. I got a lot of help and support," Butler III said. "I told my dad a long time ago I wanted to play professional baseball. And ever since then he's been helping me, encouraging me, motivating me to do whatever I'm supposed to do."
"It is a little difficult for inner city kids to be able to compete at a high level if they're not getting the right information coming up as a kid," Butler Jr. said. "I feel like it's a blessing that I'm able to do what I can do for him." 
"He's lucky," the eldest Butler said of his grandson. 
Through the West Englewood Tigers, the Butler family continues to teach the game to the young men of their neighborhoods, encouraging participation in a sport that lacks in Black representation. Increasing access to quality coaching can set kids up for college scholarships — and, if lucky, professional contracts, bringing generational wealth back into the community. At the very least, baseball can keep kids on the right track and combat harmful stereotypes.
"You see this kid right here you are looking at," Butler Sr. said, pointing to 12-year-old Christian Lott, who tagged along for practice with the family. "I've had him since he was 7." 
Butler Sr. boasted about the 12-year-old hitting a 325-foot homerun over the right-field tree.
"These children are just like clay. You can make them what you want to," Butler said. "If baseball is what you know, that's what you can teach them."
Subscribe to Block Club Chicago, an independent, 501(c)(3), journalist-run newsroom. Every dime we make funds reporting from Chicago's neighborhoods.
Already subscribe? Click here to support Block Club with a tax-deductible donation.