CHICAGO — Like many mothers in Chicago's toughest neighborhoods, Tarmara Felton struggles against the influence of the "wrong people" in her children's lives.
She sets curfews, keeps her children close and does her best to keep them in school. But the lure from outside the doors of the family's five-bedroom Englewood home seems to be winning over her 11 kids one by one. Each of her six sons has had run-ins with the legal system, and last month, her 20-year-old son died after wrapping a stolen car around a light pole.
Felton's 15-year-old daughter had long been a bright spot in her struggle to hold her family together. But that changed in November, when police called to tell Felton the ninth grader was charged, along with four of her friends, with stealing a car at gunpoint a block from City Hall.
"I was disappointed," the 46-year-old mother told the Better Government Association. "She knows better. She knows right from wrong."
Felton said she thinks her daughter was just along for the ride, she never held the gun, and this was the teenager's first contact with police. Felton said she hopes her daughter is assigned a court-appointed mentor.
"I want someone to help her understand that it's more out here to life than what caused her to be in the predicament that she was in," Felton said.
But a BGA investigation of more than 66 juvenile carjackings throughout Chicago since September — part of a record-breaking trend — suggests Felton's daughter won't get the help she seeks from juvenile court or City Hall.
The review of police and court records, as well as scores of interviews with family members of juveniles charged with carjackings and their victims, criminologists, program directors and youth advocates, found few programs available to first-time carjacking offenders. And only a few court-appointed mentors are assigned to help steer juveniles away from trouble.
Felton's daughter is just one of scores of Chicago youths arrested for carjacking last year, part of a rise in Chicago and other cities across the nation. Nearly all the Chicago minors arrested were Black and from long-neglected communities, records show. Experts say a pandemic-era detachment from the lifelines of school, social activities and close family contact left those teenagers especially vulnerable to dangerous influences.
"They were hanging out Downtown and a boy said, 'Let's rob somebody,'" Felton said during several interviews with the BGA. "She's been hanging out with the wrong people."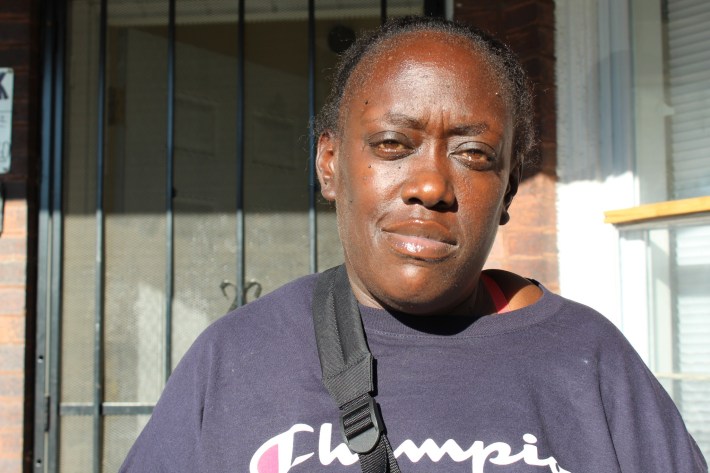 After their arrests, Felton's daughter and many others suspected of carjacking were left vulnerable yet again — sent home with ankle bracelets instead of getting the intervention they needed.
"There is just an absolute dearth of services, and the consequences are truly life and death," said Roseanna Ander, executive director of the University of Chicago's Crime Lab, which has analyzed the recent spike in Chicago carjackings.
Last year, Chicago drivers were hijacked an astonishing 1,430 times — more than double the number from 2019, records show. Of those, only 13 percent resulted in arrests, down from 23 percent the year before.
More than half of those 186 arrested by Chicago police for carjacking in 2020 were younger than 18, according to a BGA analysis of police data, juvenile court files and Crime Lab research.
"We've seen children as young as 13 armed with handguns, taking cars when they could barely drive or see over the steering wheel, but they're using real guns to take these cars from victims," said Chicago Police Department Chief of Detectives Brendan Deenihan.
Three Cook County juvenile court delinquency judges interviewed by the BGA said they were frustrated by the lack of programs that might deter the youngest, first-time arrestees from future crimes.
The judges agreed to speak only on the condition their names be withheld because they are not authorized to comment publicly on court policy.
Chicago's Department of Family & Support Services lists online at least 275 specific programs available to serve at-risk youths in some capacity — from after-school drop-in centers to behavioral health support, summer jobs and one-on-one mentoring.
The juvenile judges interviewed said because carjacking is considered a violent crime, they are often precluded from assigning the arrestees to programs designed more to divert nonviolent offenders. That leaves few options for the minors brought into court on carjacking charges, they said.
"These young people obviously are at high risk of losing their own lives, taking a life and terrorizing the communities around them," said one of the judges. "They have a tsunami of challenges in their lives, made exponentially worse by the lack of educational outlets during COVID-19, and what they and their families need are support services that do not exist in any formal way in this court system or outside it."
Cook County Circuit Court Chief Judge Timothy Evans declined to be interviewed for this story. Instead, his office released a series of emailed statements through a spokesperson.
"We share the judges' frustration that pretrial we do not have ready programs specific to youth charged with carjacking," Evans' Director of Communications Mary Wisniewski said in one of her initial responses.
Evans' office followed up with a list of actions the court is taking, including contacting youth advocates and academic experts to research the effectiveness of programs designed to address the problem.
"The court is in the initial stages of gathering data and evaluating programs," Wisniewski said. "And we'll know more about the effectiveness of the measures over time."
A Huge Inequity Issue
The lack of effective programs for the minors charged with carjackings reflects what some youth advocates call Chicago's broader deficit of after-school programs, violence prevention initiatives and arts curricula geared for young people at risk of delinquency and its sometimes-fatal consequences.
"There is right now a form of magical thinking, where kids that do get arrested get returned right back into the community with few services or supports, and we expect that somehow being arrested is going to make the situation better," Ander said. "We're not doing anything different beyond that, and doing nothing is, I think, dangerous for everybody, including the young people themselves."
Felton said she had grown accustomed to getting no help and stopped asking for it long ago.
"It's just normal at this point," she said. "I try to keep my mind off it."
She said she moved from an apartment in Auburn Gresham in 2019 in an effort to provide her family more stability, but it hasn't worked.
Felton lives on disability payments and takes public transportation to dialysis treatment several times per week. So making 4 a.m. phone calls to police districts across the city, or arranging for her childrens' funeral costs, can become particularly difficult to manage.
"It was hell," Felton said.
The BGA reached out to the family members of 66 teenagers arrested for carjacking between September and February, and 15 families agreed to be interviewed.
They detailed how their childrens' lives dramatically changed during COVID-19: School closures, canceled sports teams and loose supervision by working parents or older siblings left many young people detached and idle.
The BGA agreed to withhold the identities of parents who asked to protect the anonymity of their children.
In Kenwood, one father said he learned his 15-year-old son faced jail time after his arrest on a charge that he stole a 2014 Toyota Sienna at gunpoint not far from his home.
One Roseland mother allowed her 13-year-old to spend the night at a friend's house in January, hoping to mitigate his loneliness because of COVID-19 school closures. She was infuriated to learn adults in that home had taken her eighth grader along on a carjacking. She also is frustrated at the lack of help from the courts.
"He's not a bad kid or a street kid," she said. "But there's no one fighting for him."
Another mom, Qiana Matthews, said she badgered court officials for weeks to get her 15-year-old son connected to an intervention program after he was charged with carjacking in October.
Even then, her child was allowed to walk away from the voluntary program at a social services agency called UCAN, which provides mentoring and counseling. It was a "really good, comprehensive program," the mother said, lamenting that her son was simply allowed to opt out after two weeks. "He didn't want it."
"Everything that he needs or wants, we get it," Matthews added. "But as far as our environment, it's not the best. I'm trying to get out."
Even the 15-year-old boy's victim, who said she remained terrified for weeks after the crime, agrees more should be done.
"He should be figuring out where he wants to go to college," the west suburban grandmother said of Matthews' son. "They really should have activities for the youth. I hope he gets some counseling. I hope that somebody don't give up on him."
While news coverage often highlights carjacking cases in more affluent white communities, police and census data show carjackings are concentrated in lower-income, South and West Side neighborhoods where residents are predominantly Black.
A BGA analysis shows the per capita rate of carjackings in North Lawndale — where Matthews' family lives — was 14 times higher than the rate in the more affluent Lincoln Park.
More than 90 percent of the youths arrested for carjacking since 2020 were Black, according to the BGA's review of court and police records and the Crime Lab's report. Because only a tiny portion of 2020 Chicago carjackings resulted in an arrest, experts caution against sweeping conclusions from such a limited population.
Crime Lab Senior Implementation Manager Dar'tavous Dorsey said the circumstances facing young people arrested for carjacking underscores a long-standing unaddressed need.
"I'm not giving them a pass, but it's the same population of kids that have no resources, are projected to drop out or be involved in gun violence," Dorsey said.
The Crime Lab researchers tracked the subsequent lives of the 1,384 minors arrested for vehicle-related crimes in 2018 and 2019. They found 7 percent, or 96, were shot or killed within a year.
"Where are these community engagement organizations for kids that live on the South and West Side(s) of Chicago — specifically engaging with Black and brown males? They're not there," Dorsey said. "That's a huge inequity issue."
Stealing a Car Is Literally Free Entertainment
In BGA interviews, Chicago victims described the terrifying experience of being threatened with a gun or brutal force. A 70-year-old former high school counselor who was driving for Lyft detailed how two girls, ages 14 and 15, pinned him from behind in a stranglehold and then pushed him out of his Ford Escape.
As he staggered away, one of the girls yelled, "How do I start the car?" he recalled.
National media reports have highlighted COVID-19-era carjacking spikes in Washington, D.C.; New Orleans; Philadelphia; Los Angeles; Indianapolis and elsewhere.
University of North Florida criminologist Michael Cherbonneau told the BGA there is no current or consistent data on carjackings at the national level.
"But there clearly is something going on with Chicago police data. There is definitely an increase in vehicular hijacking," Cherbonneau said.
Chicago carjackings declined during the first three months of this year but began ticking up again in April, police data shows. The new wave of carjackings has defied previous explanations for juvenile vehicle theft. In the past, criminologists often identified carjackings as the work of organized crime rings or gang initiations. Neither seems to be driving the recent trend, police say.
CPD Reporting of Carjackings
A record-breaking number of carjackings in Chicago coincided with the COVID-19 pandemic. The 1,430 carjackings in 2020 were concentrated in some of Chicago's most neglected neighborhoods. Source: Chicago Police Department data on reported incidents of Vehicular Hijacking and Aggravated Vehicular Hijacking.
CPD's Deenihan said he thinks the overriding factor in Chicago's carjacking surge is a lack of positive outlets during the pandemic shutdown.
"During COVID, there was no school, no after-school programs, no football, no baseball, no piano — all the things that may keep a kid engaged," he said. "And obviously, we're seeing this huge increase (in carjackings). There's a reasonable belief here that the lack of opportunity, the lack of engagement for these kids exists, and this is one of the results."
Juvenile brains seem hardwired for risk-taking, Cherbonneau noted. Driving is an American right of passage, and cars have long held a lure for adolescents. Being seen behind the wheel conveys peer prestige, he said, and "stealing a car is literally free entertainment."
A Teen With a Gun Doesn't Qualify
BGA interviews with court officials and advocates revealed attempts by individual judges and youth advocates to piece together solutions to a multiagency issue, with little tracking outcomes for court-involved youths.
Juvenile court judges privately told the BGA they are scrambling to improvise new solutions for court-involved minors facing serious charges and, particularly, the carjackings.
Some judges handling West Side youths have referred the minors to an existing counseling and mentoring program run by Proviso Leyden Council for Community Action under a $741,190 state grant.
Judge Michael Toomin, the presiding juvenile court judge, said he and other judges have been meeting with state officials and social services agencies to fund, partner with or establish additional programs, including initiatives such as Choose to Change. "We've been looking," Toomin said.
Other private organizations such as Alternatives Inc. in Uptown have had programs for youths charged with carjacking posted online since May. But there is no formal relationship between the court and such programs.
The BGA found few services to minors charged with carjacking in the list of juvenile programs provided by Evans' office, including the city's Service Coordination and Navigation program and Ann & Robert H. Lurie Children's Hospital of Chicago's Strengthening Chicago's Youth.
The SCY program provides mentors and supports and has generated substantial outcome data. From 2017 to 2020, the program connected 398 youths to services; 304 of them who successfully completed the program had lower recidivism rates than other first-time juvenile arrestees, program reports say. But the SCY program focuses on youths diverted from prosecution and on low-level nonviolent defendants — and a teenager taking someone's vehicle by force with a gun does not qualify.
This story was produced by the Better Government Association, a nonprofit news organization based in Chicago.