CHICAGO — Fresh from getting a first look at the Obama presidential portraits Downtown, two South Side organizations are kicking off the holiday weekend with programs to inspire Black and Brown creators and learners.
The Englewood Arts Collective, a team of professional artists from the community, will open applications for their United Still campaign Friday. 
Ten South Side artists each will receive a $3,500 grant to create a project that celebrates or engages their communities. Artists of all ages are encouraged to apply, but priority will be given to South Siders between 18 and 30 who consider themselves novices.
The deadline to apply is Aug. 6. Find out more here.
In Hyde Park, art and literacy nonprofit Brown Books and Paint Brushes will celebrate "The 4th on 53rd" with its second annual Free Black Children's Library Summer Pop-Up Series. 
Between 11 a.m. and 3 p.m., families can stop by Nichols Park, 1355 E. 53rd St., to grab free children's books about Black Independence Day, the Obamas and more. 
Candice Washington, founder of Brown Books and Paint Brushes, said they launched the event last year "in response to the racial tension that was happening after the murder of George Floyd." Organizers joined with more than 20 organizations and gave away 8,000 books at the inaugural edition.
"It was a crazy outpour of community engagement, and we're excited to do it again," Washington said.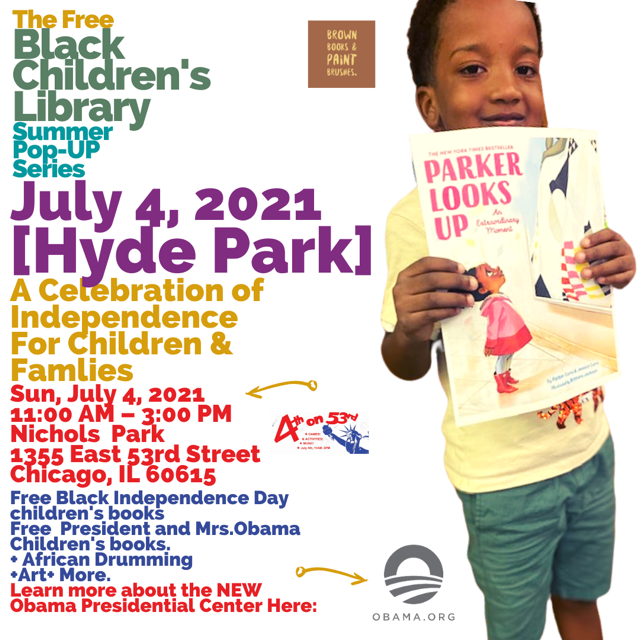 Parents and kids with both organizations had a special opportunity to tour the portraits of Barack and Michelle Obama last month, which are on display at the Art Institute of Chicago for the first stop in a nationwide tour.
Washington received 20 tickets to view the Kehinde Wiley and Amy Sherald portraits just before they were officially unveiled to Chicagoans. Her organization has hosted several youth info sessions about the Obama Presidential Center in Jackson Park, and received the invitation after the Obama Institute got in touch with the Art Institute to help arrange a preview. 
"We have long followed the work of Brown Books and their organization, and they're doing great things in terms of literacy and education," said Courtney Williams, Obama Foundation communications director. "We thought this would be a great educational experience for some of their members to participate in."
Washington gave half her allotted tickets to Brown Books families and the other to the Englewood Arts Collective and their families.
"They are doing such brilliant work while fighting for equity in our neighborhood," Washington said of the arts collective. "Such brilliance and wonder are coming out of an uninvested neighborhood."
In addition to the Obama portraits, the group also received a guided tour of the Bisa Butler exhibit, featuring 20 of the artist's colorful quilts showing various stories of Black life.
"We're Chicagoans, so we know the Art Institute is one of the high-profile representations of culture in Chicago," said Janell Nelson, project manager and lead organizer at the arts collective. "For us to go on this trip and show our children another representation of the beauty of Blackness and excellence, all of that is just chef's kiss."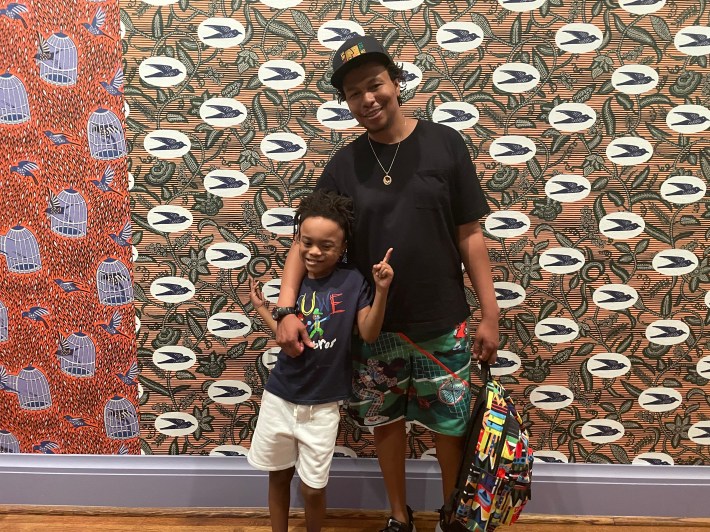 Pugs Atomz, a clothing designer and member of the arts group, saw the portraits for the first time with his 7-year-old son, Jackson. He said it was a "dream come true."
"I only pictured going to the White House to be able to see this," Atomz said.
Obari Cartman, a drummer with Brown Books and Paint Brushes, saw the portraits with his sons, Naseer and Akande. 
"I'm thrilled to be here in person and to have my children see in a place like the Art Institute the Black First Family portraits," Cartman said. "I probably wouldn't have come if it wasn't for Candice. I would have missed this, so I'm glad I came."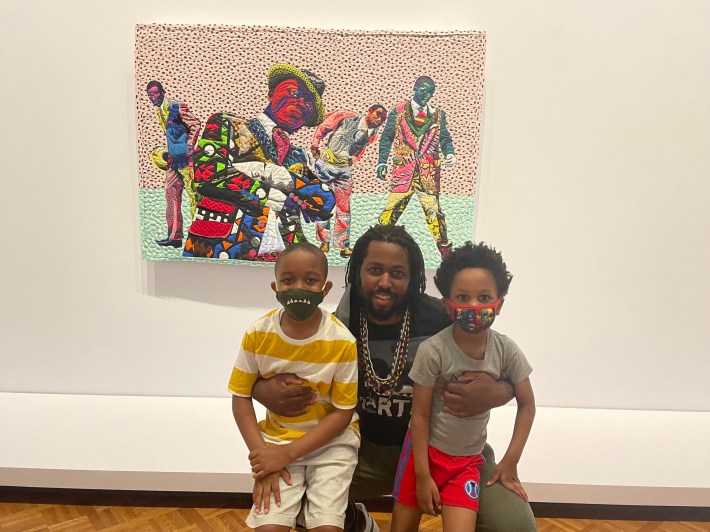 JoVonna Jackson, a muralist and arts collective member, was awestruck as she viewed the murals with her mother and daughters, Anaya and Ilani. 
"It was an honor for my babies to see this," Jackson said. "I'm always emotional, but this was a big thing for them."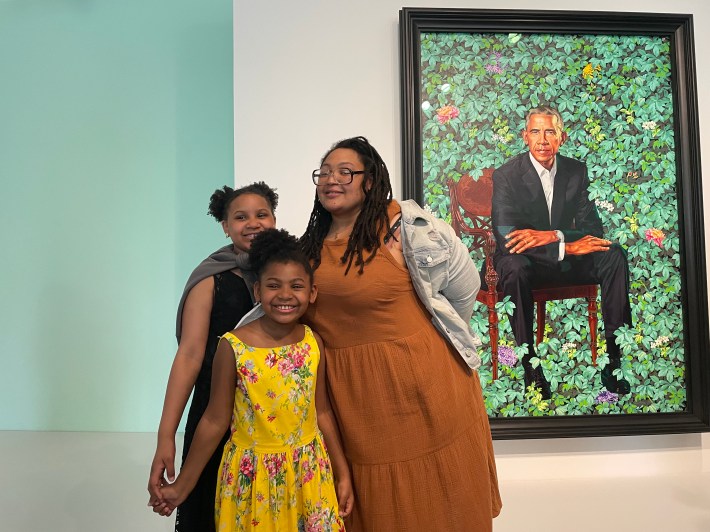 Washington said there are more youth-driven events in the future for her organization. For now, she said, the focus is to continue doing the work organizations like Englewood Arts Collective, and Brown Books were born to do. 
"What I do and what the Englewood Arts Collective does is mirror our ancestors and keep this work going," Washington said. "We're just doing what we were set up to do. As cliche as it might sound, you can do whatever you want to do, no matter what hurdles, neighborhoods, or city you come from. That is our message."
Subscribe to Block Club Chicago. Every dime we make funds reporting from Chicago's neighborhoods.
Already subscribe? Click here to support Block Club with a tax-deductible donation.