SOUTH CHICAGO — As Brother Joel Jenkins evangelizes on his regular walk down Commercial Avenue one June afternoon, his regulars and friends in faith greet him, catching him up on their lives since their last encounter.
Unknown faces may accept his "tracts," the religious pamphlets he orders by the thousands, with a smile as he engages them in conversation.
Others unfamiliar with the "freelance evangelist" may stare straight ahead, clearly hoping to remain unbothered as they walk to the grocery store or wait to get their nails done.
Jenkins experiences the joys, pleasantries and annoyances of human interaction as he paces "the largest church in Chicago" — South Chicago and other South Side neighborhoods — handing out tracts to passersby and local businesses.
Converting people is secondary to creating genuine connections with them, Jenkins said — and some of his neighbors praised him for keeping alive a sense of community they don't often witness in modern urban life.
"I learn from people out here; they learn from me," Jenkins said. "It's the big school of the universe, where you don't have to pay."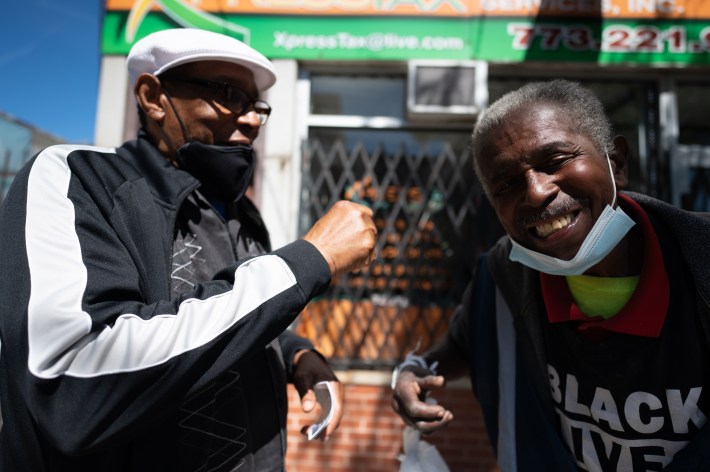 Who is Brother Joel?
Jenkins, an ordained minister, hails from Mobile, Alabama. He moved to South Chicago about eight years ago.
Where other ministers may opt for the title of "Reverend," he'd rather use "'Brother,' because until we build a brother or sister relationship, we'll never go nowhere in life," Jenkins said.
Jenkins has ties to local churches, claiming Word of Life Ministries at 87th Street and Colfax Avenue as his home church and assisting with food distributions at Christ Bible Church in South Shore.
He also visits the National Shrine of St. Jude on 91st Street, where he prays to the patron saint of hope in desperate situations.
But "my heart is really in the streets," Jenkins said. Four or five days a week, he walks the Commercial Avenue corridor and nearby streets in South Chicago.
A typical day may see Jenkins pop into small businesses to drop off tracts and chat with the owners, pray with residents of Germano Millgate Apartments, and check in with people experiencing homelessness in case they need new socks or medicine.
Occasionally, he'll travel beyond his home base to evangelize at Kennedy-King College or the parking lot of the Jewel-Osco at 95th Street and Stony Island Avenue.
Jenkins frequently initiates conversation on the streets, complimenting someone's shoes or hairstyle as an introduction. His outreach isn't always welcome.
He's no stranger to getting cussed out when someone is inconvenienced, but he'll hear them out if they need to vent, he said.
"I'm not gonna judge — I don't know nothing about them, no more than what they tell me," Jenkins said. "Sometimes people need somebody to talk to; just to hear them out, whether they have a right mindset or a wrong mindset."
Whether positive or negative, Jenkins intends to "have an interaction back and forth" with those he encounters.
Communication "works both ways, it's not a one-way thing," he said.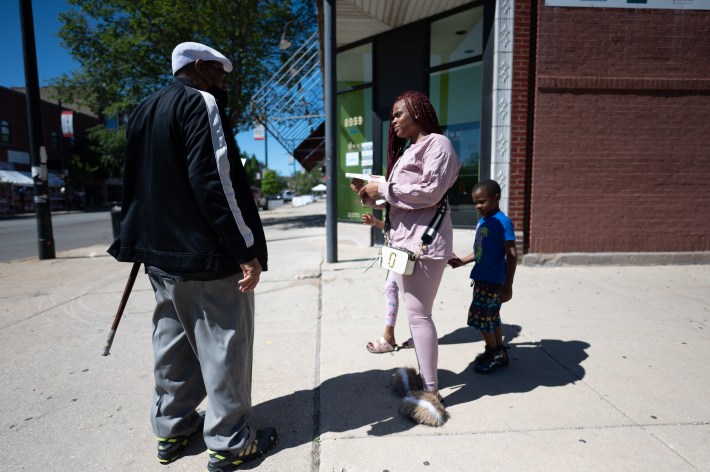 Faith Recommended, Not Required
Jenkins' tracts cover a wide variety of personal and spiritual issues, from prayer to peer pressure and depression.
He has two suppliers from whom he orders a few thousand copies every two or three months, supplemented by literature he'll find on his walks.
"It's all pertaining to the facts of life, pertaining to the troubles and the pitfalls of life," Jenkins said. "I'm able, really, to challenge myself to look at a person and pick out what tracts to give."
On his June 16 walk, he stopped to grab a stack of monthly devotionals from a newsstand in front of the La Fruteria African and Caribbean market, 8909 S. Commercial Ave., and began handing them to pedestrians.
The Christian themes in Jenkins' literature are unavoidable. But in conversation, he centers people's real-world challenges instead of "Bible-thumping," said S. Johnson, manager of CheckChangers at 8701 S. Commercial Ave.
Jenkins "believes in his God and he doesn't try and impose his will," Johnson said. "That's what you want to do. When you try to convert the world and try to … impose your way of life on people, it can turn them away. They'll run 100 miles an hour in the opposite direction."
Summer Cooks encountered Jenkins for the first time while walking with her siblings down 90th Street. Cooks wasn't in a rush to her destination, so she stopped to hear Jenkins out.
Jenkins spoke at length on the close links between respect and fear, before making a joke about Cooks being related to Sam Cooke. His joke didn't land, as she didn't know who the soul singer was.
Cooks prays and attends church as often as she can, but likely won't read the tract Jenkins gave her. She follows her own spiritual path, trying "not to believe everything that people say about God and to figure it out by myself," she said.
Yet Jenkins' willingness to reach out to strangers and share his faith is admirable, Cooks said.
"I'm happy that somebody is out here trying to teach people about God," Cooks said. "I think it's cool."
Jenkins has learned to be "real flexible out here," as people aren't always as understanding as Cooks. Interestingly enough, his fellow Christians sometimes bristle at his evangelism.
"They tell me, 'I read my Bible and I don't need that,'" he said.
Jenkins understands his word isn't for everyone, so he aims to tread lightly and respect "their institutional self rights," he said. After all, honoring boundaries is an important part of creating healthy relationships, he said.
"You can oversell anything, but people need to find a comfortable place in you," Jenkins said.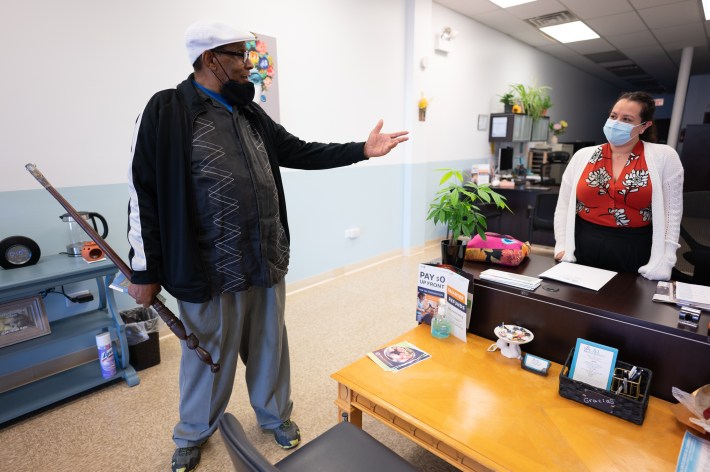 'These Little Rays Of Sunshine'
The relationships Jenkins creates on his walks typically don't develop into anything too serious, he said. His neighbors remain acquaintances, with the knowledge that there's someone in the neighborhood they can turn to for life coaching or spiritual advice.
"When they get time, we chat," Jenkins said. "It ain't like no locked in type of friendship, just something where we learn and pick up [knowledge] about each other, and we'll chat when we have time.
At CheckChangers, the low-stakes interactions are something to look forward to every day, Johnson said.
"He's very consistent with good energy — you need people like that in the neighborhood," Johnson said. "It's kind of a throwback to what we don't have in this type of community. … We need more gentlemen like this man."
Jenkins' old-school, neighborly acts ward off the isolation many Chicagoans accept as normal, said Ana Ayala, owner of Ayala Services at 8948 S. Commercial Ave.
"It's a city, so everybody passes by; they're looking down, they're looking away," Ayala said. "That simple hello, it gives you that human interaction."
Sometimes Jenkins will pop in the financial services storefront to chat with Ayala for a few minutes as he drops off tracts; other times he'll wave through the window and walk past. The simple acknowledgment of others' humanity can be a mood booster, Ayala said.
"It's all of the sudden, you get these little rays of sunshine," she said. On stressful days, "it does make me feel like, 'You got this. It's going to be OK.'"
Subscribe to Block Club Chicago. Every dime we make funds reporting from Chicago's neighborhoods.
Already subscribe? Click here to support Block Club with a tax-deductible donation.