LOGAN SQUARE — The newest developer trying to overhaul Congress Theater wants to reopen the historic venue by summer of 2023, taking the reins on plans to revive the space that's been sitting empty for nearly a decade.
Baum Revision, a local developer known for restoring historic buildings, is taking over the redevelopment project after a previous effort to revitalize the Congress fell through. Baum is planning to redevelop the landmark theater at 2135 N. Milwaukee Ave., as well as the surrounding apartments and retail space, using the blueprint approved by the city in 2018.
If everything goes according to plan, the development team aims to begin construction "toward the end" of 2021, David Baum, one of Baum's managing principals, said at a community meeting Monday. From there, construction is expected to take somewhere between 18 months and two years, Baum said.
"We're coming into a project that unfortunately didn't come to fruition. Frankly, I give a lot of credit to the guy who attempted to do it. I think he's a good guy, I think he tried hard … he did a lot of good work and we're picking it up from there," Baum said.
RELATED: Congress Theater Redevelopment Is Back On, Alderman Says, As Developer Steps In To Overhaul Historic Venue
Baum is referring to developer Michael Moyer whose city-approved plans to redevelop the Congress fizzled last year when Los Angeles-based lender AEG Worldwide sued him for defaulting on $14 million in loans. As a result of the foreclosure lawsuit, a court-appointed receiver took over the property.
Now Baum is working to assume control of the building and pick up where Moyer left off. The plans call for a complete restoration of the theater; construction of a 30-room hotel, 14 affordable apartments and 16,000 square feet of retail space in the surrounding 160,000-square-foot theater building. Baum is not planning, however, to build an 72-unit apartment tower next door, a component of Moyer's project that received fierce pushback from neighbors.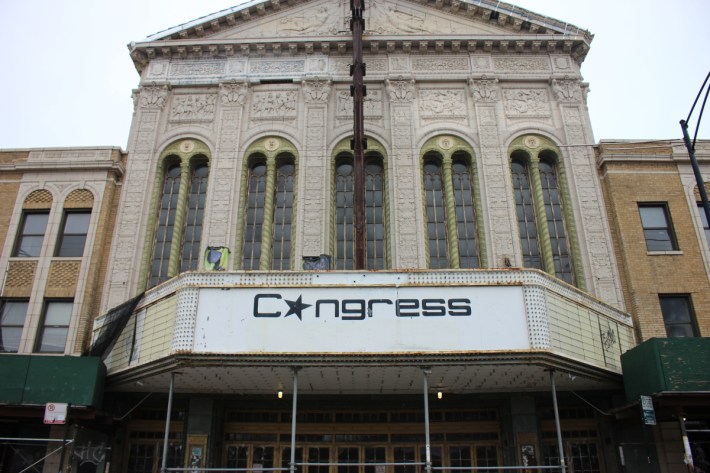 Baum said they're well-suited to revamp the Congress given their four decades of experience redeveloping historical buildings in the city and across the Midwest. In the Logan Square area alone, the development company redeveloped the Margies Candies and Green Exchange buildings and converted an old factory at 4200 W. Diversey Ave. into an arts warehouse.
"We're interested in making things better. We want to benefit the community and each project to have a positive impact where we develop," Baum said. "We want those projects to be sustainable and we also need those projects to be economically viable. We have the privilege of doing what we do because we pay people back. We pay back our lenders, we pay back our investors."
Because Baum is following already-approved plans, the developer doesn't need any further city approval to begin construction. However, Baum and his team will need to re-apply for Tax Increment Finance (TIF) funding if they choose to go for the city dollars, Ald. Daniel La Spata (1st) has said. Moyer was awarded $9.7 million in TIF dollars, but the city funding was never allocated to his project because he didn't sign the city's redevelopment agreement.
The Baum team is working with AEG, the lender that sued Moyer, to make their project a reality. Restoring the deteriorating nearly century-old theater will be costly; the project under Moyer was expected to cost at least $69 million.
Shawn Trell, vice president and COO of AEG Presents, said Baum is the right developer for the job and a vast improvement over Moyer, without mentioning Moyer by name.
"I don't even know the right words to emphasize it enough but whatever former operator you had there …. what you have in the combination of Baum and AEG Presents — it doesn't even do it justice to say it's apples and oranges, it's something of far greater magnitude than that. You have the best in class in both respects," Trell said.
"We stayed in here for five years to see if we couldn't find the right developer party … and we certainly feel we have. And we couldn't be more thrilled."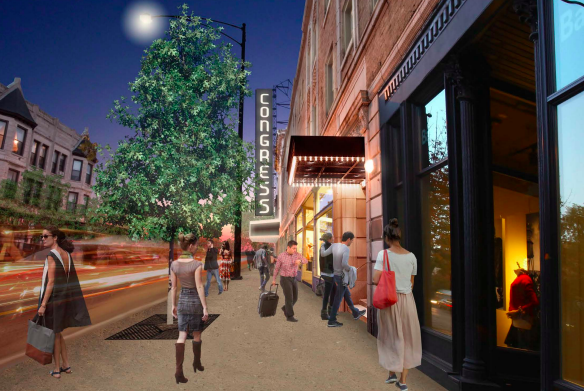 Built in 1926 as an ornate movie palace, the Congress Theater hosted everyone from Chuck Berry to Jerry Lee Lewis in its heyday. But in 2013, after years of negligence on the part of previous owners, the city shut down the historic venue following a string of code violations and crimes that occurred in and around the theater during shows.
Residents were thrilled when Moyer bought the theater in 2015 and promised to bring it back to its former glory. But Moyer's project never really took off, and that excitement quickly turned into disappointment.
La Spata said he's hopeful Baum can bring the project across the finish line. A revamped Congress would have a profound impact on Logan Square as a whole, the alderman said. With great interest in the project, residents at Monday's community meeting raised questions about parking, as well as the building's affordable apartments and the retailers Baum plans to bring in, among other things.
"There was a time when the Congress Theater was really seen as a social, cultural and economic hub of Logan Square, and I really hope that it will be that again," La Spata said.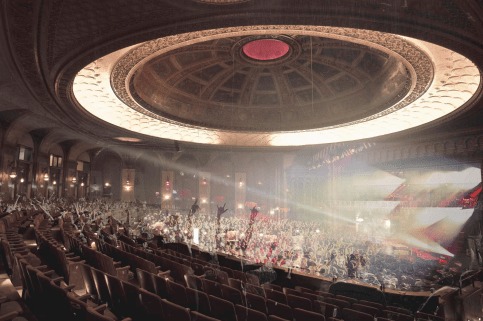 Baum said they aim to fully restore all of the venue's original architectural details while also updating elements of the building that have badly deteriorated over the years. Under the city-approved plans, the original "Congress Theater" sign would be replaced.
"This is a treasure," Baum said while showing residents renderings of the venue's ornate lobby. "This is a really big privilege for us to be able to work on something like this. What an amazing project and property this is, and I think it'll be an amazing asset to the community."
Subscribe to Block Club Chicago, an independent, 501(c)(3), journalist-run newsroom. Every dime we make funds reporting from Chicago's neighborhoods.
Already subscribe? Click here to support Block Club with a tax-deductible donation. 
RELATED:
Congress Theater Redevelopment Is Back On, Alderman Says, As Developer Steps In To Overhaul Historic Venue
Congress Theater Overhaul Plan Apparently Dead After Developer Defaults — Now, City Seeks Other Options
Congress Theater Developer Hit With $24 Million Foreclosure Lawsuit: Report
Is The Congress Theater Restoration Still Happening? 'It's An Eyesore,' Neighbors Say As Delays Drag On
Listen to "It's All Good: A Block Club Chicago Podcast" here: