DOWNTOWN — Haven't been Downtown in awhile? A new hidden art exhibition aims to bring folks working from home back to explore public art in hidden corners of The Loop.
In several areas across Downtown, people can find large murals tucked into alleys and side streets, painted on the sides of brick buildings. The murals are part of the Loop Mural Walk, a free program organized by the Chicago Loop Alliance (CLA).
The CLA offers a guide for the walk that be accessed in real time on smartphones.
The walk is part of an effort by the CLA to encourage Chicagoans to return Downtown as the pandemic retreats, according to Jessica Cabe, a spokeswoman for the organization.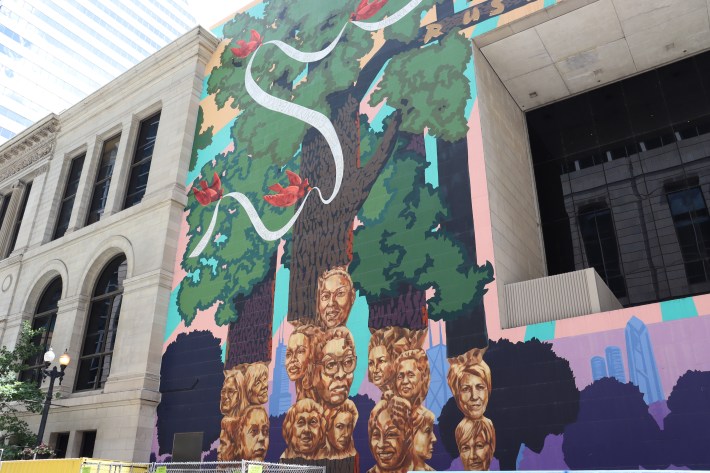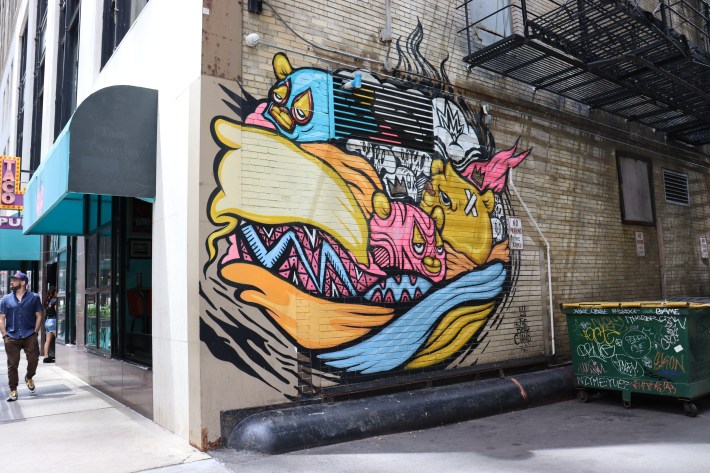 "We took existing murals and just sort of packaged them in a way to invite people back Downtown," Cabe said, "now that vaccinations are up, COVID cases are down. We wanted to take advantage of the nice weather."
The online, street-by-street directions let people tailor their mural walk experience to other Downtown activities. 
The walk is another CLA event that underscores the foundation's affinity for public space, including often overlooked alleys. 
"They're not necessarily a place that people walk down everyday," Cabe said. "So, you know, the idea is if you're an urban explorer or if you want to see another side of the Loop, you can walk through these alleys and kind of experience your city differently."
Some of the murals found in alleys and on loading docks of Loop buildings are pieces the Chicago Loop Alliance originally commissioned for its ACTIVATE Chicago alley events, an annual series of pop-up painting sessions usually located in unexpected areas of the Loop. 
"We would take over alleys for a night. They were free and we would have a lot of live mural painting," Cabe said. "And those murals are just there. They're left behind."
The Chicago Loop Alliance continues to maintain the murals and gives them any needed touch-ups. The murals are also registered with the city so they aren't removed for vandalism, something Cabe said has happened in the past. 
A big opportunity for artists
The Loop Mural Walk, which includes three different routes, takes participants through Downtown areas to discover murals painted by both internationally recognized and lesser known, emerging artists, many of whom are people of color.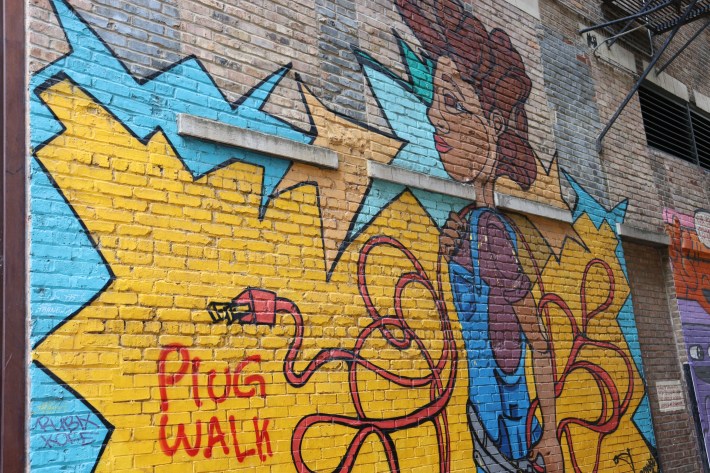 Sam Kirk, a biracial, queer artist, is one of 24 artists whose work is featured. Her piece, a repurposed mural from the 2017 ACTIVATE event is called "Power to the People," and is located at 170 N. State St. While the event's aim was to celebrate the electricity that makes city's run, Kirk reinterpretted the theme and decided to honor women who work in trades. 
"I was stumped for a moment because most of my work is figurative," Kirk said. "Then I was like this is a really good opportunity to highlight women in the trade industry. A lot of women work in trades, whether it's electricity or carpentry or HVAC. But they don't necessarily get the recognition or visibility, specifically women of color."
Much of Kirk's work highlights social issues faced by the communities she's part of. Through different mediums, Kirk has worked to specifically highlight the lives and challenges faced by women, people of color and those in the LBGTQIA community. As someone who originally worked in business and has been in art for about 10 years, Kirk said her work has evolved. 
"My work has always been inspired by stories and narrative," Kirk said. "I initially pulled heavily from my upbringing here in Chicago, but as I started to travel, both nationally and internationally, for my career, that started to develop past our city."
Kirk believes events the Loop Mural Walk give Chicagoans a chance to engage with artists and ideas they might be unfamiliar with. It also gives artists like her an opportunity to feel seen and acknowledged.
"I'm very fortunate to have worked with the city. However, I've navigated that path," Kirk said. "When I initially started, I had no connections to the city and I had no resources for anyone who worked there."
For Kirk, that meant finding the people who would answer her questions, give advice and help her find opportunities.  
Making sure talented artists don't fall by the wayside can be addressed, Kirk said, if more opportunities, such as the Loop Mural Walk, are created for marginalized artists. 
Said Cabe: "Most of these artists are people of color, a lot of them are women, a lot of them are queer and to have those voices semi-permanently in Downtown Chicago is really important. We say that the Loop is everyone's neighborhood because it's where the trains come. People from all over the city and Chicagoland come to work, to see the attractions. And I think it's important that when they are coming here, they're seeing art from a variety of voices."
The Loop Mural Walk program ends Labor Day.
Subscribe to Block Club Chicago. Every dime we make funds reporting from Chicago's neighborhoods.
Already subscribe? Click here to support Block Club with a tax-deductible donation.
Listen to "It's All Good: A Block Club Chicago Podcast" here: