ROGERS PARK — One of the city's biggest Pride Month celebrations is coming under fire for allegedly charging a mandatory $20 entrance fee and restricting access to the public way, acts that run afoul of the city's street fest laws.
Pride North returned to Rogers Park Saturday and Sunday, bringing back the festival that considers itself the "largest North Side neighborhood Pride dance party" after a coronavirus-related hiatus last year.
Though the fest was billed as free of charge, fest employees instituted a $20 mandatory entrance fee on Sunday, multiple fest goers and officials told Block Club Chicago.
The fest's entrance on Saturday said "$20 suggested donation," according to photos and neighbor accounts of the fest. New, handwritten signs were put up on at least one entrance Sunday that said "$20" and "thank you" without mention of it being a suggested donation, fest goers said.
The fest also allegedly restricted pedestrian access to Glenwood near Morse Avenue and wouldn't allow neighbors to pass through, fest goers said.
Pride North's entrance policy violated city laws on street fests, officials said. It also has caused blowback from neighbors, who said the festival was not in keeping with the spirit of Pride Month.
Special events like street festivals can request a donation and often have "suggested donation" amounts posted at the gate. But such events on the public way cannot charge a mandatory entrance fee, said Jamey Lundblad, spokesperson for the Chicago Department of Cultural Affairs and Special Events, which regulates street fests.
After receiving a number of complaints, Ald. Maria Hadden (49th) went out to Pride North twice on Sunday to tell festival employees they could not charge a mandatory fee and restrict pedestrian access. In a Facebook post Sunday, she said Pride North had no right to institute a mandatory charge.
"I want to let you know that is illegal," Hadden said in the Facebook video. "That is a violation of their permit.
"It makes me very unhappy that I heard from so many people who are just trying to enjoy their Pride, who are just wanting to participate in what's become a beloved neighborhood festival, who have been turned away, who were made to pay $20," Hadden said.
Hadden said in an interview that the permit application for future Pride North events will receive further scrutiny after this year's event.
Colm Treacy, who owns The Glenwood bar and is the organizer of Pride North, said only one sign at the fest did not include the "suggested donation" language and that it was taken down after Hadden brought it up. He said he did not know why the sign indicating a mandatory fee was installed.
Treacy said that Hadden's complaint was the only one he received and accused the alderman of fanning the flames of the mishap. When told that comments on Pride North's Facebook page included complaints about the entrance policy, Treacy said he has yet to be online following the event.
"People said it after her post," Treacy said of Hadden. "I took down the sign straightaway. That was the only complaint I received."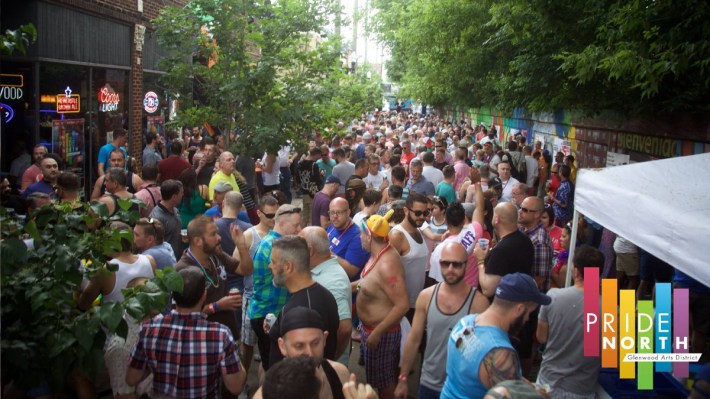 Rogers Park resident Morgan Harris said he was turned away twice on Sunday from Pride North because of the festival's entrance policy.
The first time happened right around noon, as the festival was set to open, when Harris was told he could not walk through Glenwood Avenue while running errands and that it cost $20 to enter the fest, he said.
"Why would I pay $20 to walk down an empty street?" Harris said. "I knew that that's illegal. You can't block the right-of-way and charge your own toll."
Harris went home and saw the chatter about the fest on neighborhood Facebook groups, with people saying the entrance fee issue had been resolved. So around 4:30 p.m., Harris said he decided to go to the fest but was told there was a "required" $20 fee.
He turned around and went home. After years of attending the neighborhood fest, Harris said he is not sure he would support such an event in the future.
"They're excluding people from a Pride event, which is supposed to be inclusive," Harris said. "This is not what Pride should be."
Another neighbor said security at the festival intimidated fest goers in an effort to enforce the $20 cover.
"It's just shady," said Brian E., who asked that his last name not be used. "I used to love that street fest but I don't know if I'll go back again."
Subscribe to Block Club Chicago, an independent, 501(c)(3), journalist-run newsroom. Every dime we make funds reporting from Chicago's neighborhoods.
Already subscribe? Click here to support Block Club with a tax-deductible donation. 
Listen to "It's All Good: A Block Club Chicago Podcast" here: