CHATHAM — A boardwalk meant to give Chatham businesses a boost for outdoor dining season is being dismantled after a mass shooting nearby and complaints of loud music and rowdy behavior from late-night partiers.
The 75th Street boardwalk was created in September to help restaurants weather the pandemic, adding outdoor seating to places along 75th between Indiana and Calumet avenues. Places without patios like Brown Sugar Bakery and Lem's Bar-B-Q, 311 E. 75th St., suddenly had a new way to draw in business.
But in recent weeks, neighbors began complaining about large crowds partying long after businesses closed. When a mass shooting nearby left a mother of three dead and nine other people wounded, it was the final straw for some, who called for the boardwalk's shutdown.
Nedra Sims-Fears, executive director of the Greater Chatham Initiative, said the group has already dismantled about 40 percent of the boardwalk. The rest will be gone by August, she said.
Niena Feme, a 20-year Chatham resident and leader of the 74th Street Block Club, said their typically-small meeting attracted more than 100 people on June 17.
"This is a quality of life issue — when you have people coming into your community, making a lot of noise, urinating in the bushes and keeping you up until four o'clock in the morning," Feme said. "I hope the businesses will continue to flourish and that people will respect our community and allow us to continue to enjoy the peacefulness that we all desire."
Some business owners, however, are questioning what problem removing the boardwalk will solve in the community. 
A Place For Businesses To Thrive
Stephanie Hart, the owner of Brown Sugar Bakery, 328 E. 75th St., said the boardwalk boosted sales and increased the diversity of her customers. 
Brown Sugar Bakery received so much attention that even Vice President Kamala Harris stopped by while in town. The 75th Street strip also won the Chicago Neighborhood Development Awards.
"The vice president loved the boardwalk because it's not something that she expected to see in an inner-city community like this," Hart said. "It's why [the boardwalk] won a national and international award. People are recognizing that when you change what you look at, what you look at changes."
Hart said blaming the horrific shooting on the boardwalk was misguided.
"There was a specific incident that had nothing to do with the boardwalk," Hart said. "Unfortunately, sometimes when something terrible happens, people look at what's different and what's changed even though it is a beautiful thing."
She said seeing the removal of the boardwalk is disappointing.
"One incident, and they want to throw the whole thing away," Hart said. "That is because people are used to being reactive instead of proactive, and it's disappointing to me because it took years and years and years to build up this kind of momentum to get the attention on the South Side." 
Crime isn't a 75th Street problem, Hart added. She said it's a Chicago problem.
"My former employee's sister was killed in that shooting in Englewood," Hart said. "That didn't happen on 75th Street, and they don't have a boardwalk. The problem is gun violence. The problem is guns. Until we address guns and the systemic problem underneath that, which is jobs, we will not solve this problem."
Jaidah Turnbow, the co-owner of Frances Cocktail Lounge, 307 E. 75th St., agreed that the issue is deeper than the boardwalk.  
Turnbow said the issue isn't the boardwalk or customers who frequent the area. The problem, she said, is the groups of people who come to 75th Street after hangout spots, like the beach and clubs, are closed. 
"It's not fair to businesses that we're being blamed," Hart said. "Many of the nights when the crowds were outside, we didn't have a huge crowd inside. There were maybe about 30 people, and they're indoors drinking cocktails, not outside drinking bottles of liquor." 
However, Hart said if the removal of the boardwalk soothes residents, it was the best solution for now. 
"[The boardwalk] can go to make the community happy because we all need to be able to get along," Hart said. "But truth be told, I mean the night of the incident, yes, people were out, but nobody was actually in the corridor they were on the street. That's a police matter."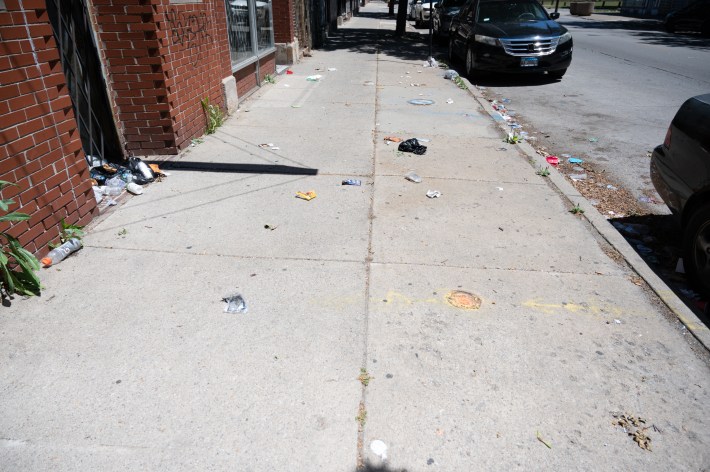 The Crime Is 'Unreal' For Neighbors
When Darlene Tribue, president of the Park Manor Neighbors, first learned of the boardwalk, she said she, like other neighbors, didn't know how it was going to work. But she was excited to hear of a new opportunity for businesses to thrive. 
"We thought the boardwalk was going to be a good idea," Tribue said. "We saw architectural designs of the boardwalk, but it wasn't in the middle of the street. It was a good concept, but it doesn't always work out the way you thought." 
Feme said she was also excited about the boardwalk. But that was during the height of the pandemic. 
Now that customers can dine indoors, she said the boardwalk doesn't serve a purpose in the community. 
"I think that the intention behind the boardwalk may have been good, but what was happening is that the community was not utilizing the boardwalk," Feme said. 
"It's a place where people who come into the community can use as a hangout spot at night."
Despite all its problems, Tribue said one thing neighbors and businesses can agree on is that the shooting was an anomaly in the neighborhood.
"We have problems in the neighborhood at night with music and so forth, but not like this," Tribue said. "This is unreal."
Paving Days Ahead
According to Fears, there is a silver lining amidst the turmoil surrounding the boardwalk. 
Greater Chatham Initiative was one of 15 community organizations chosen for a Chicago Alfresco grant, a program to create spaces for outdoor entertainment, in May. Fears said the group plans to use the grant money to build eight wooden, mobile seating areas called "parklets" along East 75th Street, East 79th Street and East 71st Street. Once an event is over, the parklets can be packed up and moved to another area for a new event.
"75th Street is an iconic place," Fears said. "75th Street is a testimony to businesses that have been there for many several generations that have persevered and created this really lovely walkable community. I mean that's what everybody wants, to continue a legacy that benefits us all." 
Plans for the new and improved 75th Street are still in the works. But for now, Tribue said community members will continue to band together to create a better and brighter neighborhood where residents and business owners can both thrive.
"No matter what, our neighbors are going to always be there to support one another," Tribue said. "It's not just like a neighborhood. They're like your family." 
Subscribe to Block Club Chicago. Every dime we make funds reporting from Chicago's neighborhoods.
Already subscribe? Click here to support Block Club with a tax-deductible donation.