HUMBOLDT PARK — They are best friends and artists living together in Chicago who have dreamed of having a place to showcase and share their crafts.
Gabriella Zahradka, Cae Jones, Jada Denae and Charleene Hall, known collectively as the Jungle, are on the verge of making it happen.
This spring, the friends raised more than $15,000 on GoFundMe for their dream project: a tattoo studio with a gallery wall and a showroom for vintage clothing, plants and more. They signed a lease for the space at 2409 W. Hirsch St. on June 3. There still are hurdles to clear, such as a city inspection, but they plan to open this summer.
"We always have played a role in each other's work," said Zahradka, a handpoke and machine tattooer.
The group met primarily through projects and mutual friends at art school in 2015 and have been a tight foursome ever since, supporting one another's creative work: drawing together, playing music together, photographing one another and modeling for each other. 
Jones is a musician and plant enthusiast, Denae is a vintage collector and upcycler and Hall is a visual artist. All have a hand in the vision, design and programs for their soon-to-be studio. 
"What we really want is for this to be like a cool communal art space — where things like workshops, meetings and art-making can happen," Zahradka said.
The team anticipates the botanical and vintage aspects of the studio will likely be in motion early this summer. 
"My vision for the green space right now is to be somewhat of a working gallery," Jones said. "I want to have plants in stock, but I also want big, beautiful plants that come in and can be sold to somebody if they want to take that home and take care of that. That will create this rotating, evolving jungle that is never really the same when you come back through."
Denae said that before the full launch, they will have a vintage retail and showroom set up with antiques and homewares primarily from the 20th century. 
"You'll be able to come shop and have personal styling appointments with me," Denae said.
In addition to creating a creative space that is dynamic and interdisciplinary, the team wants to curate a space that is welcoming and empowering to Black, Brown and queer tattoo artists and customers who have been historically left out from tattoo shops, art galleries and other creative spaces. 
"I feel like people want something different, just like we all wanted something different," Hall said. "We know what it feels like to walk into a shop that is scary and white and is very … it's not welcoming. So you're kind of barred from it." 
Hall said she was gatekept and excluded from institutional spaces in art school — but the Jungle will provide a physical space for her work she never felt she had access to before. 
"My biggest excuse was that I don't have a space," Hall said. "The reason I stopped painting 4-by-5-foot paintings is because I didn't have a space to myself when I moved [to Chicago]. And to have something, I think that means something for all of us, but also it means something for the community that they wanted us to have [the space] — so that they could have it, too. It's all reciprocal."
Denae said they want their studio to be a source for art supplies and other resources in the long term.
"I'm excited for people to gather there," Denae said. "We haven't gotten to gather, have events and workshops, share knowledge or skills. Most importantly, we haven't been able to gather as a community, as friends, as artists." 
The group wants to have the studio up and running by late August. They have tossed around ideas for an opening event, including a potential sidewalk vintage sale and a flash tattoo sale day. 
"I'm excited to see us all in the space with people we've never met and with people who we do know, and to see the way that a Black space looks like for us," Hall said.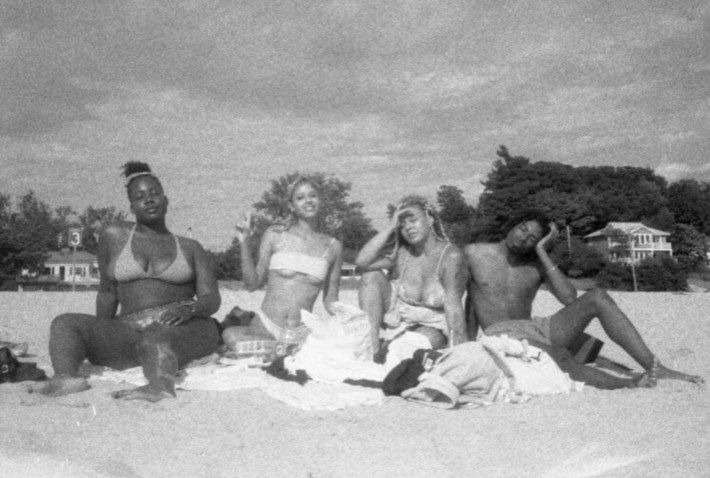 With an abundance of plans and ideas in the works, the friends share an excitement in simply watching the space grow with the community members who come through the door. 
"I look forward to being able to have a space that is unrestrained — like a jungle that just gets to grow and do its thing. I've never had a job where I didn't have to code switch," Zahradka said. "I'm hoping that even if people aren't exactly like us, or exactly like me, we create the kind of environment where like, like a jungle, these different things can grow and exist together in a way that they just don't have to try."
Follow The Jungle on Instagram for updates.
Subscribe to Block Club Chicago. Every dime we make funds reporting from Chicago's neighborhoods.
Already subscribe? Click here to support Block Club with a tax-deductible donation.
Listen to "It's All Good: A Block Club Chicago Podcast" here: