This story was originally published by Injustice Watch, a non-partisan, not-for-profit, multimedia journalism organization based in Chicago.
CHICAGO — Across Illinois, people are starting to get back to normal. Bars, clubs and restaurants are bustling again. Maskless patrons fill coffee shops, reading books, chitchatting or typing on their laptops. The bleachers at Cubs and White Sox games are packed with fans.
But thousands of criminal defendants in Illinois are still stuck in the throes of the COVID-19 pandemic, waiting for their cases to move through a backlogged system with no legal recourse to get things moving faster.
Last April, the Illinois Supreme Court suspended the state's speedy trial statute indefinitely, and the justices have yet to announce when or how they will reinstate it. The suspension of speedy trial rights came as courtrooms across the state and around the country dramatically scaled down their operations to help prevent further spread of the coronavirus.
However, the "extraordinary circumstances" cited in the court's order suspending speedy trial rights no longer exist. Illinois' COVID-19 positivity rate sits below 1 percent, roughly two-thirds of all adults in the state have received at least one dose of the vaccine and Gov. J.B. Pritzker lifted all coronavirus restrictions across the state two weeks ago.
In a statement Wednesday, Illinois Supreme Court spokesperson Chris Bonjean said the state supreme court will "continue to work through this issue with local health departments and criminal justice stakeholders like the state's attorneys and public defenders." Bonjean's statement did not elaborate on those efforts.
Meanwhile, the court's suspension of speedy trial rules has contributed to a growing backlog in the Cook County criminal court, leaving thousands of mostly Black and Latinx people locked in the Cook County Jail and on electronic monitoring for more than a year awaiting trial. Experts worry that the backlog will worsen throughout the summer, when shootings and other types of violent crimes normally increase.
Defense attorneys who spoke with Injustice Watch said the justices have to do a better job balancing public health needs with defendants' rights to a speedy trial.
"It is our contention that not enough of these [backlogged] cases have resolved, and much of that has to do with the fact that there are really no speedy trial rights available," said Cook County Public Defender Sharone Mitchell Jr.
"The need to resolve these cases is great for our clients. The mental trauma, anxiety, anticipation is overwhelming."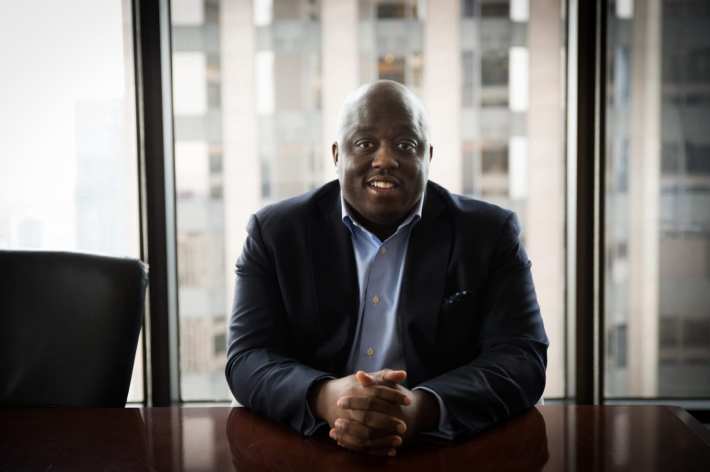 Mitchell was appointed in March as the Cook County public defender. He came from the Illinois Justice Project, where he was the director and worked to help pass the landmark criminal justice reform bill that will end cash bail in Illinois.
The right to a speedy trial is enshrined in the U.S. Constitution and Illinois law. State law mandates that prosecutors bring defendants to trial within 120 days after being brought into custody and within 160 days if they're out on bond. Defendants and their attorneys often agree to pause or extend their speedy trial clock if it suits their interest. But once a defendant invokes their right to a speedy trial, prosecutors risk having a judge toss the charges if the deadline passes and they don't bring the defendant to trial.
Mitchell called the speedy trial statute "the lynchpin to the justice system."
"The speedy trial right is the gas that makes the system go," he said. "You could get out and push the car without it, but you'll never be [able] to move like you need to."
Anthony Hill, a Chicago attorney and president of the Illinois Association of Criminal Defense Lawyers, said he is sympathetic to the challenges facing Illinois criminal courts. Reinstating speedy trial rights could flood an already-overwhelmed system, he said.
But "the longer we wait, the bigger the problem is going to become," Hill said.
As of June 15, there were about 5,300 people in the Cook County Jail detained pretrial — up from about 4,350 last year. More than 2,000 people have been incarcerated at the jail for a year or longer, according to the Cook County Sheriff's Office. There were also nearly 3,500 people in custody through electronic monitoring at the end of last week.
Last Monday, Cook County Circuit Court Chief Judge Timothy Evans convened a committee with representatives from the Cook County State's Attorney's Office, the Cook County Sheriff's Office, the Cook County public defender's office, and other stakeholders to devise ways to shrink the backlog, expand in-person proceedings in the criminal courts, and hold more bench and jury trials.
Evans said in a statement the group is preparing for the eventual return of speedy trial rights, "so that the constitutional and statutory rights of defendants can be protected."
'Everything else is open'
Illinois was not the only state to suspend speedy trial rights at the onset of the pandemic. Without being able to safely bring jurors into a courtroom, judges and state legislatures across the country throttled speedy trial statutes to give their courts some breathing room.
Most states have been slow to restore the rule, even as they lift pandemic restrictions, said Insha Rahman, vice president of advocacy and partnerships at the nonprofit Vera Institute of Justice.
COVID-19 restrictions have led to a growing felony court backlog in Cook County. To clear it, "we have to move faster than normal," one expert said.
Some states have even extended the suspension of those rights into the future. Kansas Gov. Laura Kelly recently signed a bill suspending speedy trial rights until May 2023.
Many states are "urging people to come back to work, to invest in the economy, to get back to 'life as normal.' And yet we haven't seen any of that urgency or pressure when it comes to the criminal legal system or the courts," said Rahman, an expert on due process rights.
Since resuming jury trials in March, the Cook County Circuit Court has only summoned jurors for 23 felony trials in three months, according to a court spokesperson. That's far below the court's pre-pandemic rate; in 2019, the court completed 223 felony jury trials.
The trouble in getting those numbers up is that the court is still abiding by strict distancing rules. People at the courts, including jurors, must be 6 feet apart, limiting the amount of space for jury trials.
Court spokesperson Mary Wisniewski said Wednesday the court is still enforcing those distancing guidelines based on the advice of city and county health officials.
"It's more social distancing than occurs in restaurants," said Adam Sheppard, a criminal defense attorney based in Chicago who wrote an article in the fall questioning the constitutionality of indefinitely suspending speedy trial rights.
Sheppard said one of his clients has been detained without bail on murder charges since August 2017. After a lengthy discovery period, Sheppard and prosecutors were about to set trial dates when the pandemic hit, and the case has essentially been on hold ever since, he said.
"I thought the speedy trial clock would've resumed by now," Sheppard said. "Everything else is open."
This story was originally published by Injustice Watch, a non-partisan, not-for-profit, multimedia journalism organization based in Chicago.