OAKLAND — Trash-strewn lots. Visitors playing loud music and setting off fireworks into the wee hours of the morning. Motorcycle gangs zooming up a bridge meant for pedestrians and bicyclists.
This has been life for a group of exasperated South Side homeowners since the construction and opening of a pedestrian bridge that was supposed to be a boon for them and the neighborhood.
Before the 41st Street Bridge was completed in 2018, it was hailed as an architectural marvel, one that would provide instant lakefront access to area residents accustomed to using other overpasses nearby. While some members of the Oakenwald Block Club were excited about the bridge, they were also worried about the activity it would draw.
"When we saw the renderings and the schematics for the bridge, we proactively approached Ald. [Sophia] King, saying, 'Hey, this is a unique situation because this bridge is literally going to be in our front yards. Can we get zoned parking?' She told us, 'Absolutely not,'" Kia Sutherland said. "She told us that she didn't like zoned parking."
At the time, King, who leads the 4th Ward, urged the group to focus on the positives, Sutherland said.
They tried, but once construction was completed, their fears were realized. Parties in the park have become regular, and motorcycle gangs hang out in the area and speed on the streets.
Desperate, the neighbors hoped there would at least be enforcement of seasonal permit parking by beat cops, but that rarely happened, Sutherland said.
And with officers on their beat regularly reassigned, the homeowners have found themselves having to explain the issue to new faces every several months, adding to the frustration. Last summer, when they asked a pair of officers how they could avoid having to repeat the pattern with a new group of cops, they were told it was on the Police Department's leaders — not residents — to inform them.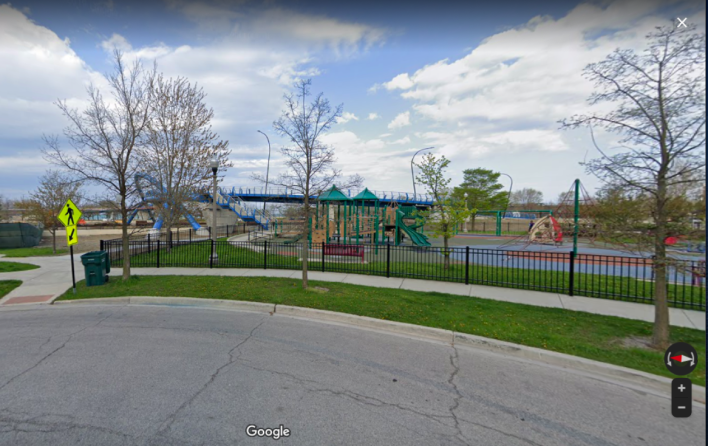 The group also catalogued every incident, including one where longtime resident De'Avlin Olguin was threatened with a gun after asking a group to turn down their music.
The incident still haunts him.
"That's when I was done with the citizen patrol," said Olguin, who expressed concern about his family's safety.
The motorcycle gangs now drive over the bridge earlier in the day, disrupting residents on their way home from work. One video shows dozens of motorcyclists zooming over the bridge in a line.
Then there's the matter of the trash partiers leave behind once dawn comes. Block club members have spent hours picking up garbage in Williams-Davis Park, from empty liquor bottles to used condoms. The park, which serves as an entry point for the bridge, is no longer safe for Sutherland's children.
"I moved here because it was quiet and safe, but my kids can't even walk over to the park now because adults have taken over," Sutherland said.
King's chief of staff, Prentice Butler, told Block Club the alderman is committed to finding a solution.
"We passed the permit parking ordinance in 2019, which banned parking on the west side of Oakenwald from 5 p.m. to 6 a.m. for those without permits or passes. And when we saw that people were migrating south to 4200 S. Oakenwald Ave., we introduced another ordinance to replicate what had been done," said Butler, adding that other agencies like police and the Department of Finance were brought in for guidance.
The Park District posted signs in the area discouraging "amplified noise" and barbecuing, and another with the park's hours of operation.
King also worked with Draper and Kramer to install security cameras on their property earlier this year, which is adjacent to the park. Those cameras are looped into the Office of Emergency Management.
Three more security cameras ordered by King's office are waiting to be installed, but it hasn't happened yet due to a backlog. A temporary camera installed on the bridge last fall was damaged during a winter storm and reinstalled in May.
"It's not a matter of us holding back. We want to enforce the rules. We've even asked them to enforce towing if people are violating the law in that area," Butler said.
Butler said the motorcycle gangs are a larger issue across the city, and King is "looking to engage our partners in the mayor's office" to find solutions.
That is cold comfort for residents, who worry the incidents will escalate if continued to be left unchecked.
"How long before a bullet flies through my 7-year-old's window? How long must we go without sleep?" Olguin said.
Subscribe to Block Club Chicago. Every dime we make funds reporting from Chicago's neighborhoods.
Already subscribe? Click here to support Block Club with a tax-deductible donation.
Listen to "It's All Good: A Block Club Chicago Podcast" here: