AUSTIN — There's a new place for West Siders to gather and spend time outside this summer.
What was once a vacant lot at the corner of Chicago and Lockwood avenues has been reimagined as Pop Courts. The community plaza is outfitted with seating, a basketball court, shade structures and a turf lawn.
The plaza was designed to jump-start the Soul City Corridor business district along Chicago Avenue, said Vanessa Stokes, who developed the project as the program manager for the Austin Special Service Area.
"I wanted people to see we can be outside and we can be together. We can activate a corner and we can build together," Stokes said.
Pop Courts will be used to host community events, including fresh produce markets, pop-ups for small businesses and live music performances. Residents can also use the space for private events like birthdays, baby showers and graduations by emailing Stokes at vstokes@healthauthority.org.
"I wanted to be able to remind people that we do deserve everything everyone else has in all these other communities. There's no reason we can't have this," Stokes said.
When Stokes set her sights on the vacant lot, she had a modest goal of creating a simple place to host a weekly market event, she said.
But the project grew after Stokes had conversations with the city's planning department, the Westside Health Authority, United Way, Local Initiatives Support Corporation and Paint the City, she said. It was designed by the Lamar Johnson Collaborative architecture firm.
"It's definitely a lot more than what I expected," Stokes said. "But this is what I see as collaboration and really working with the community."
The project was funded with assistance from United Way, Local Initiatives Support Corporation, and the Mars Wrigley Foundation, Stokes said. The city's planning department also partnered in organizing the development.
"That's what it looks like when the city is your partner. That we have skin in the game and we are driving other transformative investments into communities across the South and West sides," Mayor Lori Lightfoot said at the ribbon-cutting for Pop Courts.
The community plaza will bring a surge of energy into an area that needed it and drive forward the improvement of Austin, said Morris Reed, executive director of the Westside Health Authority.
"I just hope that Pop Courts can be a symbol of rebirth, a symbol of a new life to the neighborhood. We intentionally put this here because this is one of the toughest blocks," Reed said. "By doing this, it gives everybody a renewal of energy."
Public art was incorporated into every element of the community plaza, including the tables, chairs and sun shelters. The sidewalks and streets at the intersection of Chicago and Lockwood avenues are also painted yellow, pink, white and blue to draw attention to the plaza and make the roadway safer for pedestrians by slowing drivers.
A mural designed by Paint The City depicts Black heroes, including Angela Davis, Malcolm X, Maya Angelou and superhero Storm.
The mural and the plaza elevate Chicago Avenue as a West Side destination that celebrates Black culture, business and history, said Malcolm Crawford, executive director of the Austin African American Business Networking Association. Crawford's organization has worked for years to attract businesses to the area and reimagine the street as Soul City Corridor, a center for Black commerce.
"What that does for our kids, the messages they get is that they're important. They can see themselves outside the mirror. It's extremely important," Crawford said. "It gives our kids reasons to hope."
Pop Courts also will attract neighborhood tourism and increase foot traffic, which will draw customers to local businesses, Crawford said.
"It gives people a reason to come to Chicago Avenue," Crawford said. "That makes it a destination. And from that destination, 'Maybe I'll have something to eat. Maybe I'll see what else is in the area.'"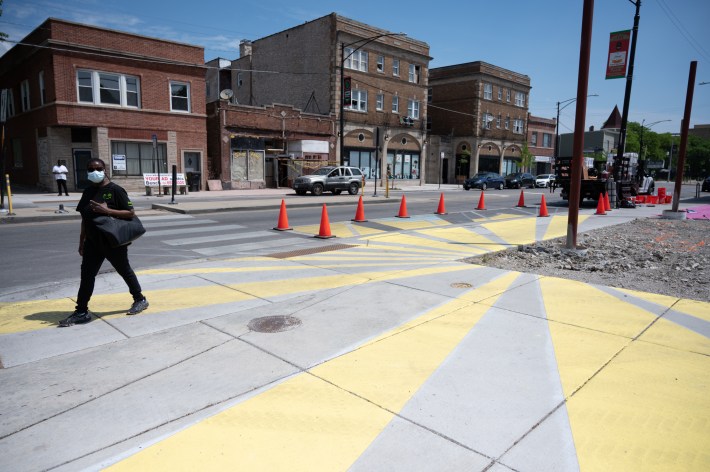 Subscribe to Block Club Chicago, an independent, 501(c)(3), journalist-run newsroom. Every dime we make funds reporting from Chicago's neighborhoods.
Already subscribe? Click here to support Block Club with a tax-deductible donation.