BELMONT CRAGIN — David Orozco has created graffiti art, airbrush paintings and murals for more than 20 years — but not always with the blessing of the city.
His art as part of the RDC graffiti crew — "Real Dope Colors" — got him in trouble when he was younger, he said.
But now there's an RDC Studio complete with a Belmont Cragin storefront. The new studio, retail store and gallery is born out of a nonprofit incubator program, allowing Orozco to begin a new journey and help other artists along the way.
"Our city used to arrest us and fine us for writing those three letters, and now they are giving me a license and allowing me to be an actual, legitimate business," Orozco said.
After developing a business plan and securing a storefront through an entrepreneurial startup program, Orozco will open RDC Studio, 3151 N. Long Ave., Friday.
Orozco, who grew up in Logan Square and now lives in Belmont Cragin, is a self-taught artist and teacher whose work did not fit the mold of high-end galleries. He said he's long wanted to carve out his own space in the local visual art world and give back to Latino youth and artists looking to follow in his footsteps — something he didn't have when he was starting out.
"I want to use my platform as a place to get [artists and youth] going in art because I wish, as an artist, that I had a space like this where someone said, 'You have a class, come by because I'm not paying for it,'" he said. "Then we are all winning."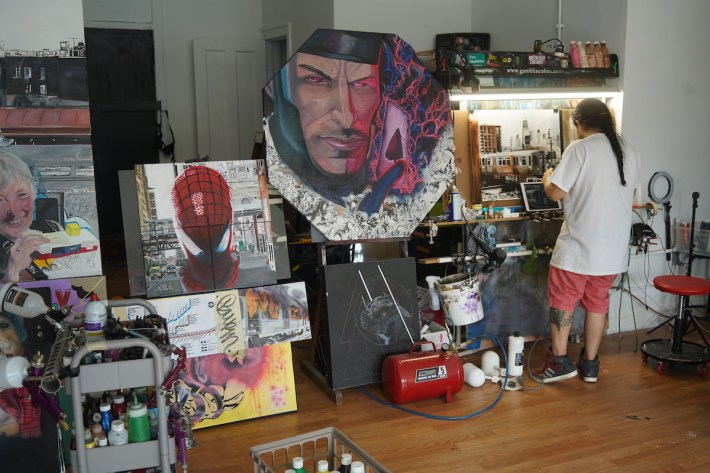 Thanks to the new Crecer Business Incubator program by Belmont Cragin nonprofit Northwest Side Community Development Corporation, Orozco will receive free rent for the first three months, followed by subsidized rent for the remainder of the year. That will allow him to build up his business and class schedule without having to worry about paying for utilities and a chunk of rent.
The program, which launched this summer, is meant to grow neighborhood businesses while filling empty storefronts, according to its website. Crecer, which means "to grow" in Spanish, also offers consulting, workshops and training for participants to help legitimize their business by outlining a business plan.
Orozco said the space was originally going to be shared between three artists, but the other two dropped out as RDC was finalized. He decided to buy them out of the space, giving him more leeway to invite his artist friends to host free or paid classes that can attract local youth.
RDC plans to host a variety of classes and shows in carpet-making, airbrushing, graffiti, jewelry, poetry and more from local artists who have been in the field for a long time but could use more exposure, Orozco said. While the teaching artists will be able to decide if they want to host paid or free classes, they all will contribute to the space in some way, he said.
Money from the paid classes will go toward the teaching artists and will pay for art supplies for youth. Orozco said he's also looking for supply donations for upcoming classes. Those who want to donate or see upcoming custom classes can reach out to him via Instagram.
"There's going to be something fun here all the time," he said.
Gregory Diaz, another local mixed media artist from Humboldt Park who goes by the name Goyo, will be one of the guest teachers in the space. He will share the studio portion of RDC with Orozco and sell his art.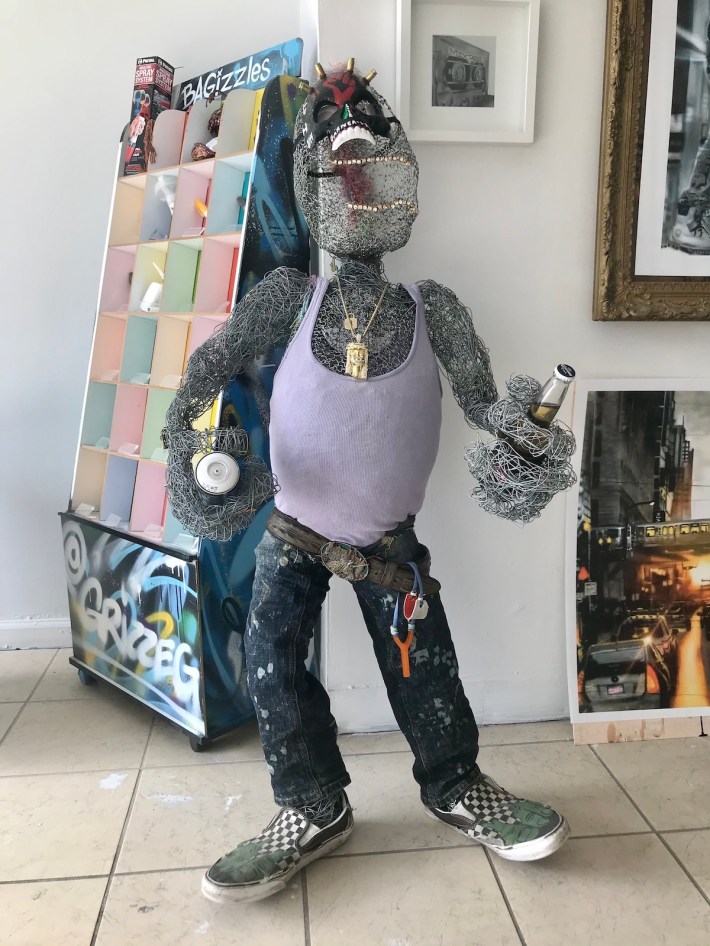 Known for making whimsical wire characters and sculptures, wearable art and jewelry, Diaz said he's grateful for the opportunity to showcase his work to a bigger audience and have a permanent studio.
"Being able to have a class here and have the option to show people that are interested in my self-taught art is pretty cool, to see what other people could bring together," said Diaz, who has wire sculpted for about 12 years.
Thanks to the space, Diaz has already made a 4-foot character called Panza.
"It's one of the biggest ones I've made so far," he said. "I'm used to making them small, like my own little toys."
In addition to hosting classes, Diaz said he wants the space to serve as a networking hub to meet more like-minded artists. He hopes to find someone to help him produce a stop-motion animation video with his characters and create an elaborate storyline.
Orozco said he has grand plans for the growth of RDC. He hopes to make a house brand of paint that will be used for workshops and RDC-branded spray paint cans. Although the storefront's lease is only for a year under terms set by the incubator program, he hopes this experience will propel him forward to find a permanent art gallery and studio space next summer.
Ahead of the grand opening Friday, Orozco said he received 700 gallons of donated paint that will go toward painting a community mural on the adjacent alley wall. The grand opening celebrations, which begin at 11 a.m., will also include Aztec dancers, house music by local DJ LoKi and free classes by Orozco and Diaz in painting, airbrushing and wire sculpting.
"People think that just because we paint with a certain tool, it's not valued as fine art," Orozco said. "Don't let anyone tell you, you can't. I've wanted to be an artist and [open a gallery] … and now I'm here."
Subscribe to Block Club Chicago. Every dime we make funds reporting from Chicago's neighborhoods.
Already subscribe? Click here to support Block Club with a tax-deductible donation.