WEST TOWN — Partners Zoe Schor and Whitney LaMora weren't sure how the pandemic would affect their careers.
Schor, chef and owner of Split-Rail in West Town, was forced to close her restaurant and pivot from upscale dine-in to carryout boxes. LaMora, founder of The Martin in Humboldt Park, had to close her private event and art gallery business completely.
Then Schor had an idea: What if The Martin moved into Split-Rail, and the two businesses reopened together?
With an entirely reconfigured interior design and structure, Split-Rail and The Martin opened last week at 2500 W. Chicago Ave. LaMora did not renew The Martin's lease at 2515 W. North Ave. in Humboldt Park.
In preparation for the merger, Schor cut Split-Rail's dining room size in half to make room for the event venue and art gallery, where paintings and three-dimensional art installations adorn white walls.
The solution was not just practical, Schor said. Combining a neighborhood eatery with an arts space reflects the community-focused vision she had in 2017, when she and Michelle Szot — a fellow Ada Street alumna and Split-Rail general manager and beverage director — opened the restaurant.
"To me, I'm looking at the ultimate passion project," Schor said. "From the moment I met Whitney, I knew I wanted to partner with her. … We're totally motivated by each other, always. … When I walk into this space, it feels right."
LaMora agreed; she created The Martin while working at Split-Rail because she wanted an artist-driven and inclusive space for neighbors. And it makes sense for people to have the option to grab dinner and a drink before seeing a show, she said.
Knowing her dream could continue to flourish in tandem with Split-Rail just felt right, LaMora said.
"Hopefully it's an opportunity to extend what Zoe and Michelle have done so well in the last four years," she said. "We live in a city with a million restaurants … . This opportunity is thrilling. … It's a space to be free and creative."
RELATED: How A Lost Cat And A 'Lady Boss Proposal' Helped Launch Humboldt's New Artist Community: The Martin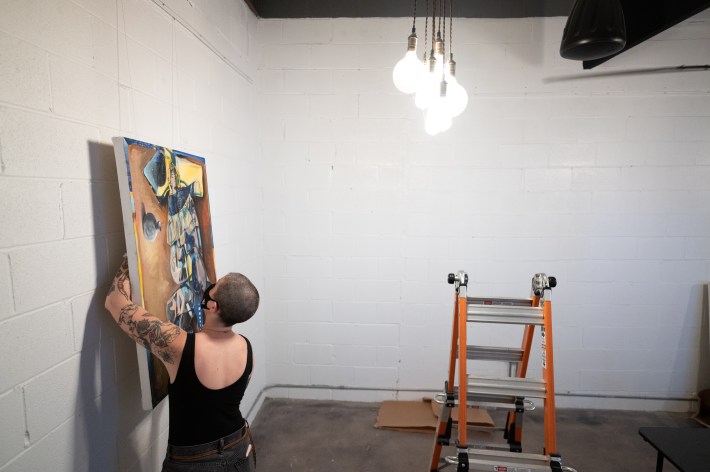 Neighbors will notice changes to Split-Rail's menu.
While staples such as fried chicken remain, Schor said she had to significantly scale back the menu in light of rising food costs and an ever-convoluted supply chain. But she's also adding inventive and more upscale items that are difficult to cook, she said. For example, she's eager to serve a crab gravy with crispy Carolina gold rice.
"Nothing too fussy," she said. "I'm hopeful that's what people want, something they couldn't cook at home. … We're neighborhood people."
Split-Rail's guests will also notice a change when they pay their bills: no tipping. A 20 percent charge will be added to every guest's bill, and tips will be shared across the staff.
Guests can leave cash for their personal server or bartender, but no credit card tips will be accepted.
The move is revolutionary for an industry which has historically relied on tips. But for better or for worse, tipping leaves servers at the mercy of the customer's pocket. Taking away the tip gives more agency to the worker, Schor said.
"It's not for everyone," Schor said. "It's about finding equity in back and front of house. The status quo is designed to hold people back. … The power has shifted."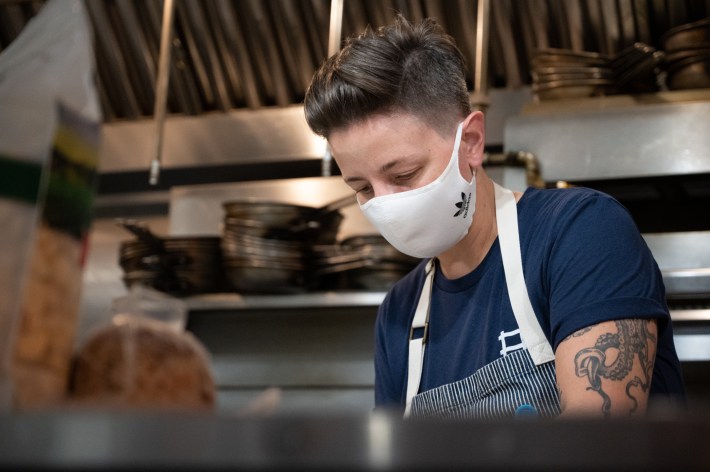 While a nationwide labor shortage is holding back many restaurants from reopening, this hasn't been an issue so far for Split-Rail, where Schor and Szot said they've been able to offer competitive wages and benefits, such as paid time off and health insurance.
Schor also questioned how much the labor shortage had to do with money. While unemployment checks may be keeping some potential workers home, the industry has long struggled with a transient work force and heavy turnover.
Plus, Schor said, she knows of quite a few industry professionals who are choosing not to return to work because they now have full-time jobs based on passions they pursued during the pandemic.
RELATED: Bucktown Bartender Launches Popular Black Truffle Popcorn Business After Being Laid Off Due To Pandemic
Split-Rail has another change: The restaurant created a reparations program in which Schor and Szot donate 1 percent of their overall sales to organizations focused on lifting up people of color. June sales will go to Neighborhood Housing Services.
Additionally, Szot is serving only wines from vineyards owned by women or people of color.
"There's lots of dedication to making sure we're spending our money in the right pockets," Szot said.
LaMora said she looks forward to saying hello to old neighbors, friends and regulars she hasn't seen in over a year.
"The neighborhood spots need to hold on," she said. "I'm really just cherishing every moment I get to stand with someone and have a conversation that is not about this great illness that is plaguing the world."
Follow the restaurant on Instagram for updates and order carryout or make a reservation online.
Split-Rail's downstairs bar, Dorothy, will not immediately reopen.
Join The Martin's mailing list for updates on future events here. Follow The Martin on Instagram and Facebook.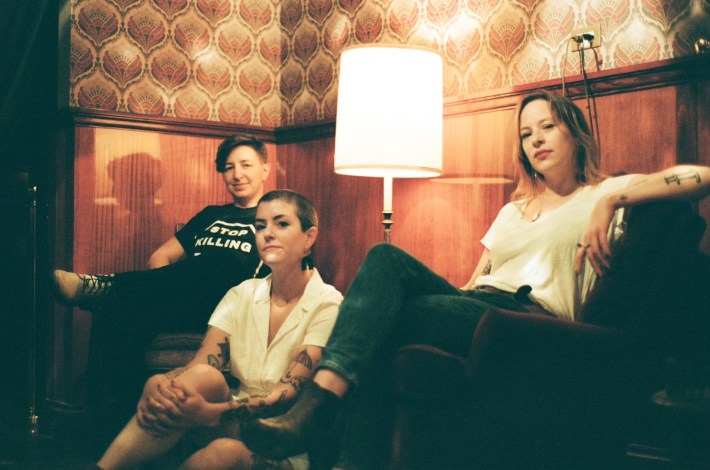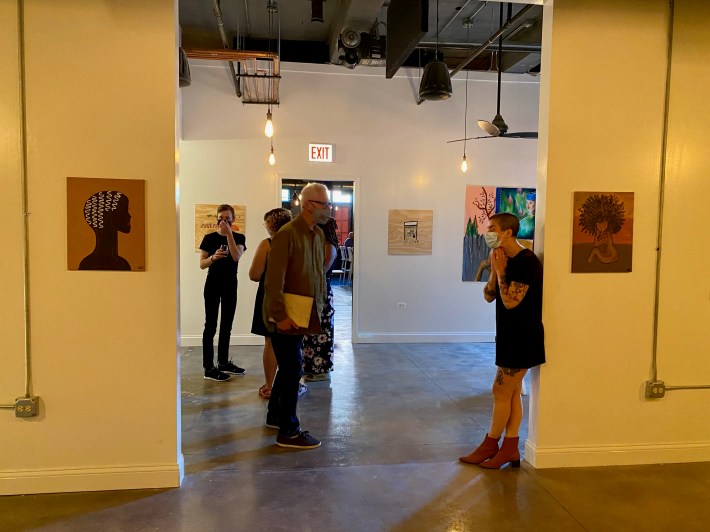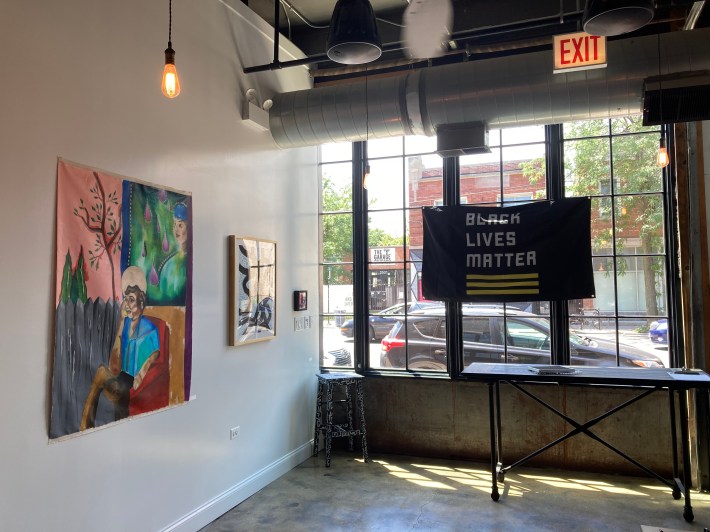 Subscribe to Block Club Chicago, an independent, 501(c)(3), journalist-run newsroom. Every dime we make funds reporting from Chicago's neighborhoods.
Already subscribe? Click here to support Block Club with a tax-deductible donation. 
Listen to "It's All Good: A Block Club Chicago Podcast" here: