CHICAGO — Illinoisans who get vaccinated against coronavirus can win up to $1 million in a lottery, Gov. JB Pritzker announced Thursday.
The lottery will have multiple drawings, with the first set for July 8 and the drawings continuing through August. People who want to be entered in the first drawing must get their first shot by July 1. People who get vaccinated after that will be entered for future drawings.
"You did your part already, and this is a way of saying 'thank you,'" Pritzker said. "Getting the shot now is going to help us end this thing. … If you do, you might even hit the jackpot."
Vaccinated adults will be entered into a $7 million cash prize pool. Three $1 million jackpots will be awarded and 40 $100,000 prizes will be awarded.
Vaccinated youths will be entered into a scholarship pool. Twenty $150,000 scholarships will be awarded.
Illinois residents who have gotten at least one dose of a vaccine at a provider in the state will automatically be entered into the lottery drawings. People do not need to sign up.
Here's how it'll work:
Elgibility: Eligible people must be Illinois residents. For the cash drawings, the person must be 18 or older. For the scholarships, the person must be 12-17.
People must have gotten at least one dose of a COVID-19 vaccine at a provider in Illinois. People who got their shots through a federal provider, like the Department of Veterans or Bureau of Prisons, will not be eligible as the federal government cannot provide the state with a list of those people.
People who got their shots through a FEMA-supported site, like the United Center, are eligible.
To be eligible for the first drawing, a person must be vaccinated by July 1. After that, the state will update its records before each drawing to include people who have since gotten their shots.
Schedule of Drawings: The first drawing is July 8. The winner will get $1 million.
Other drawings will be held Mondays July 12-Aug. 16. Three winners will receive $100,000 each drawing. During the Aug. 12 drawing, 22 winners from across all of Chicago's regions will receive $100,000 prizes.
For the grand finale on Aug. 26, two winners will get $1 million.
For youths, the first drawing will be July 8. Three people will win a $150,000 scholarship. A grand finale drawing will be held Aug. 26 with 17 winners getting $150,000 scholarships.
How to Sign Up: People do not need to sign up. Eligible people will be automatically entered in the lottery.
Winning: Winners will be notified by the Illinois Department of Public Health by phone or email, Pritzker said. The winner can choose to publicly disclose their identity or keep their win a secret.
Youths who win a scholarship will be given a Bright Start 529 College Savings scholarship, which can be used at any two- or four-year school, private or public, that participates in the Department of Education's FAFSA system. The scholarships can be used for tuition, fees, books, room and board, etc.
More information about the lottery is available online.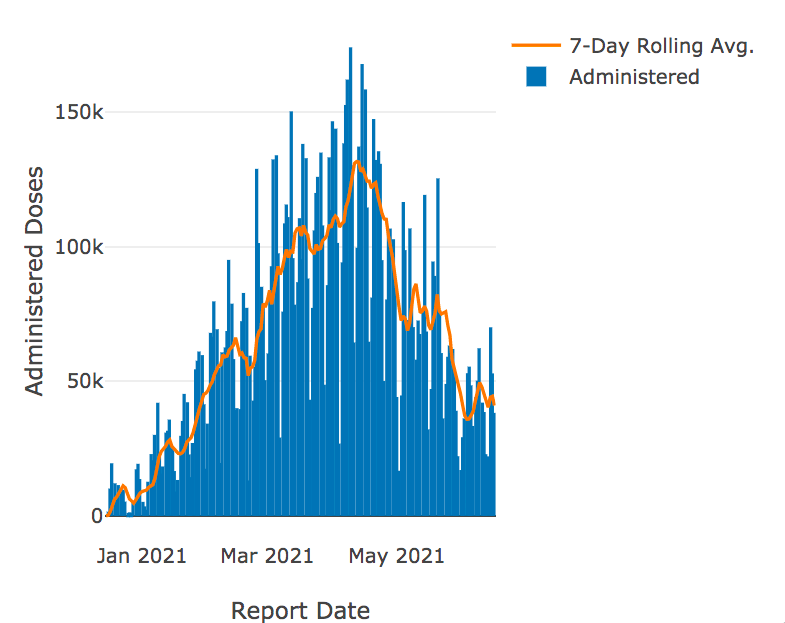 New:
• Vaccinations will be available outside some "L" stations Mondays and Fridays.
• People are "yarn bombing" The 606 to brighten neighbors' day after the hard pandemic year.
• Beloved street festivals are making a comeback as the world reopens. Among them: Apple Fest in Lincoln Square.
• A memorial is being created at Loyola Beach's sea wall to honor victims of COVID-19.
• Water fountains and public outdoor pools are returning.
Vaccinations:
• In Illinois, about 5.8 million people of all ages — or 46.08 percent of the state's 12.7 million people — have gotten all their COVID-19 vaccination shots, according to state data.
• Across the state, 40,998 vaccine doses are being administered per day, based on a seven-day rolling average.
• Illinois and Chicago have administered at least 12,108,359 vaccine doses of the 14,019,535 provided to them.
• City data shows more than 1.26 million Chicagoans — or 47.1 percent of all residents — have gotten fully vaccinated. About 54 percent of all Chicagoans have gotten at least one shot.
COVID-19 vaccinations are free and do not require insurance. Anyone can call the city's coronavirus hotline at 312-746-4835 to get more information on how and where to get vaccinated in their community.
The numbers:
• Sixteen Illinoisans were reported dead from COVID-19 during the past day.
• At least 23,120 people have died from COVID-19 in Illinois, and another 2,432 deaths are probably related to the virus, according to the state.
• The state reported 248 cases since Wednesday. That brings the total number of confirmed cases in Illinois up to 1,388,586.
• In the past 24 hours, 47,237 tests were reported statewide. In all, 25,318,410 tests have been reported in Illinois.
• As of Wednesday night, 138 people with COVID-19 were in the ICU and 73 people with COVID-19 were using ventilators in Illinois.
• In Chicago, three deaths were reported since Wednesday. There have been at least 5,447 deaths from COVID-19 in Chicago. The city is seeing an average of five deaths per day, unchanged from the week prior.
• Chicago has had 56 confirmed cases reported since Wednesday. It's had a total of 285,519 confirmed cases. An average of 62 confirmed cases are being reported per day, a 25 percent decrease from the previous week.
• At the same time, testing has increased 18 percent since a week ago.
Block Club Chicago's coronavirus coverage is free for all readers. Block Club is an independent, 501(c)(3), journalist-run newsroom.
Subscribe to Block Club Chicago, an independent, 501(c)(3), journalist-run newsroom. Every dime we make funds reporting from Chicago's neighborhoods.
Already subscribe? Click here to support Block Club with a tax-deductible donation. 
Listen to "It's All Good: A Block Club Chicago Podcast" here: