HYDE PARK — As the Love Fridge mutual aid project rounds out its first year of supplying donated food to Chicagoans in need, another fridge has opened in Hyde Park.
The new fridge and adjacent pantry — stocked with produce, dry goods and more — is outside Augustana Lutheran Church, 5500 S. Woodlawn Ave. It replaces a previous Love Fridge in the neighborhood, which was decommissioned.
Donors are encouraged to stock the fridge with any foods they would buy for themselves, from staples like vegetables, rice and beans, to treats like ice cream. The food is available for anyone to pick up as needed, without cost or registration.
Though the Love Fridge project kicked off in Chicago mid-pandemic, the food insecurity that many neighbors face isn't going anywhere as the city reopens, organizers said.
"I think that there will be a huge need soon in Chicago, especially at the end of the eviction moratorium" in August, Augustana pastor Nancy Goede said. "There are going to be a lot of people who are going to be hurting, and I think that will mean more people who need something like a Love Fridge."
RELATED: At Least 8,000 Chicago Families Living In Poverty Aren't Getting Food Assistance, Depository Says. New Program Aims To Find Out Why
Nearby Love Fridges open 24/7 include one behind the Last Lap Corner Store at the Boxville outdoor shopping center, 332 E. 51st St. in Bronzeville; and one outside a home at 2465 E. 74th St. in South Shore.
A fridge at the Sacred Keepers Sustainability Lab, 4445 S. King Drive in Bronzeville, is open noon-4 p.m. Thursday-Friday.
Inspired by community-led efforts in Brooklyn, organizers, including Ramon "Radius" Norwood, launched Love Fridge in Chicago last summer. Volunteer James Wurm hosted the project's first Chicago fridge in Little Village, at 21st Street and California Avenue.
In addition to the all-volunteer Love Fridge Team and Augustana Lutheran Church members, Kafi Moragne-Patterson of the University of Chicago and Yael Hoffman of UChicago Medicine were among the "key players" in opening Hyde Park's newest fridge.
The Love Fridges across Chicago are "a piece of the puzzle, or part of the mosaic" toward addressing food insecurity, though a permanent solution is unlikely without systemic change, Wurm said.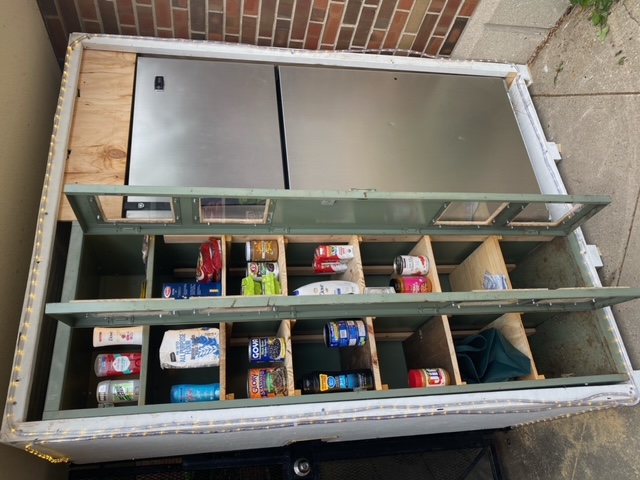 The fridges offer "a satellite model" to complement the "hubs" of access provided by food pantries, churches and other community organizations, he said.
Wurm encouraged residents in the Hyde Park area to donate to their local pantries and to visit and help restock others around the city.
To complement the food from the new Love Fridge, people in need can access breakfasts and lunches held four times a week at Kenwood United Church of Christ, 4600 S. Greenwood Ave.
Food pantries are also held at Hyde Park Union Church, 5600 S. Woodlawn Ave., and St. Paul and the Redeemer Episcopal Church, 4945 S. Dorchester Ave. For more information on the Kenwood United food ministry and the pantries, visit the Hyde Park and Kenwood Interfaith Council's website.
The Experimental Station's Market Box program is another local project working to address food insecurity, Goede said.
The Love Fridge project is meant to supply food; essential home goods like feminine hygiene products and toilet paper; and other grocery items, like paper towels.
Clothing and toys shouldn't be dropped off at the fridges, which has been an issue in the days since its opening in Hyde Park, Goede and Wurm said.
"We don't want to put folded clothes on the same shelves that broccoli is sitting on," Wurm said.
Residents or organizations interested in starting their own Love Fridge should develop a network of community partners to establish and maintain the fridge, Goede said.
Augustana Lutheran Church will rely on Hyde Park neighbors, particularly UChicago and Lab School students looking for volunteer opportunities, to help with upkeep, she said.
"It's always good to do it in partnership with many others," Goede said. "The work is doable."
To learn more about hosting a Love Fridge, click here. To donate money, click here.
Subscribe to Block Club Chicago, an independent, 501(c)(3), journalist-run newsroom. Every dime we make funds reporting from Chicago's neighborhoods.
Already subscribe? Click here to support Block Club with a tax-deductible donation.