ENGLEWOOD — Shermetria Williams, 19, was a student at Country Club Hills Tech and Trade Center, ready to walk the stage at her graduation Tuesday morning. 
Williams' cousin, Markeytia Richmond, said Williams had everything in place: She'd chosen an outfit for the ceremony, and she gave four tickets to her mother, father and two aunts. 
But as family members were preparing to leave for Williams' graduation ceremony, Richmond received a call from her aunt with devastating news: Williams was among four people killed in a mass shooting in Englewood.
"… Everybody was going and getting ready, and my auntie called me and said that they think she's dead inside the house," Richmond said.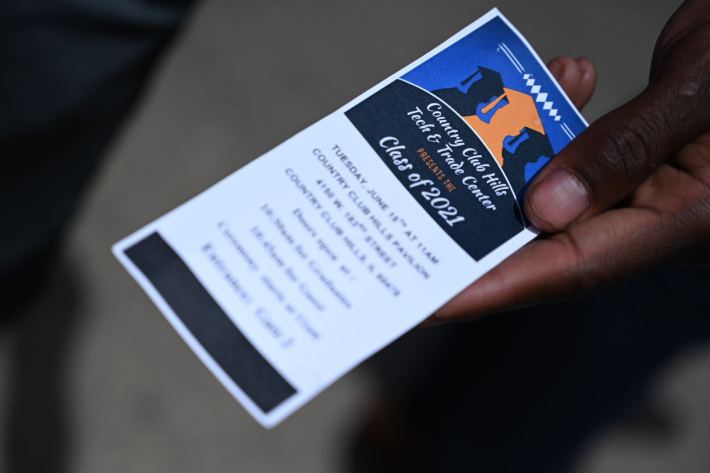 The Tuesday night shooting in the 6200 block of South Morgan Street left two young mothers — including Williams — dead, as well as a Rogers Park woman and Englewood man. Four others were wounded. It was Chicago's second mass shooting in just four days; later that night, a third mass shooting wounded five people in Garfield Park.
Demetrius Williams, Shermetria's father, called the loss of his daughter "senseless." He said she had a 2-year-old daughter. 
"She was supposed to graduate today," Williams said. "She was killed on her graduation day —19 years old with a young daughter. 
"She was a good person, a sweet girl that loved her daughter to death, my grandbaby." 
Police are still investigating what happened Tuesday morning but said there was an argument inside the home and someone fired shots. 
Witnesses heard gunfire at about 2 a.m. and again between 5:30-5:45 a.m. Supt. David Brown said at a news conference. Officers went to the home at about 6 a.m. 
One of the victims was Ratanya Aryiel Rogers, 28, of Rogers Park, according to the Cook County Medical Examiner's Office.
Denice Mathis was also among those killed. She went by Niecy and was a mother of five children, according to the Sun-Times.
Another victim was Blake Lee, who lived in the home, his family told the Sun-Times.
A 2-year-old girl was also in the home during the shooting. The child was not wounded, but she was taken to a hospital of an abundance of caution, police said.
Four other people were hospitalized. Two men — one 41 and one 25 — were shot in the back of their heads and were hospitalized, police said. Their conditions were not available, but they were listed as "stable," police said.
A 25-year-old was shot and taken to the University of Chicago Medical Center in critical condition, police said. A 23-year-old man took himself to St. Bernard Hospital after being shot in his back. He was transferred to the University of Chicago Medical Center in critical condition.
Casings from a drum magazine — a type of magazine that allows a gunman to fire many bullets very quickly — were found at the home, but detectives have not yet found the gun used in the slayings. There was no sign of the home being broken into, Brown said.
Brown said there will be more police in the area until they can determine who shot the people or why the shooting occurred.
"We're always concerned with street justice," he said. "Retaliation, revenge drives a lot of violence in Chicago. At this point, we do provide extra patrols just because of that reality."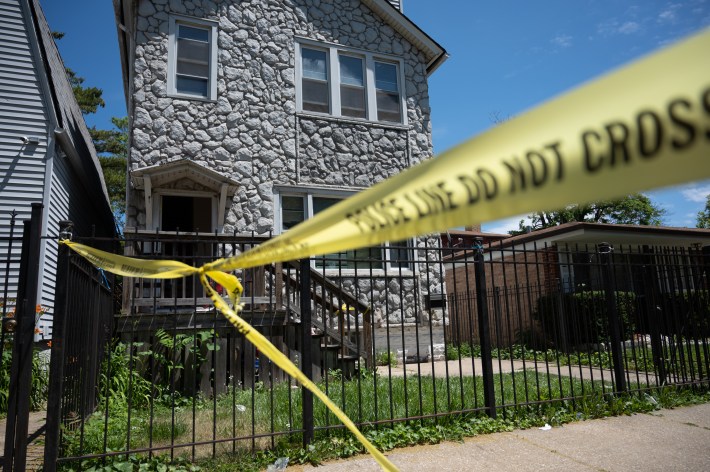 Community anti-violence activist Andrew Holmes said he'd received several calls from residents detailing the shooting. As he arrived at the home, he saw the grief and chaos that followed the shooting. He consoled a mother who was sure her daughter had been there the night before and did not know if she'd been shot, he said.
"She wanted to get to the house. She wanted to get information from the detectives, and she wanted to know was that her daughter," Holmes said. "She wanted her daughter's friends to tell her where her daughter was. She hadn't seen a daughter, and her daughter's not answering the phone. She was pretty upset. All she wanted [to know] was where her baby was."
Lavox Anthony, an Englewood resident, said the commotion outside woke him. He said people regularly visit the Morgan Street home where the shooting occurred, but he never could have imagined it would become the scene of such violence.
"… That's our safe haven," Anthony said. "When we're not outside, we're over there. Just coincidentally, it wasn't as many people as it usually is. So it's all-around sad." 
He said everyone in the neighborhood knew the victims in some way. He described them as "beautiful people."
"They never did nothing to nobody," Anthony said. "It's sad. It's people who not gonna sleep tonight."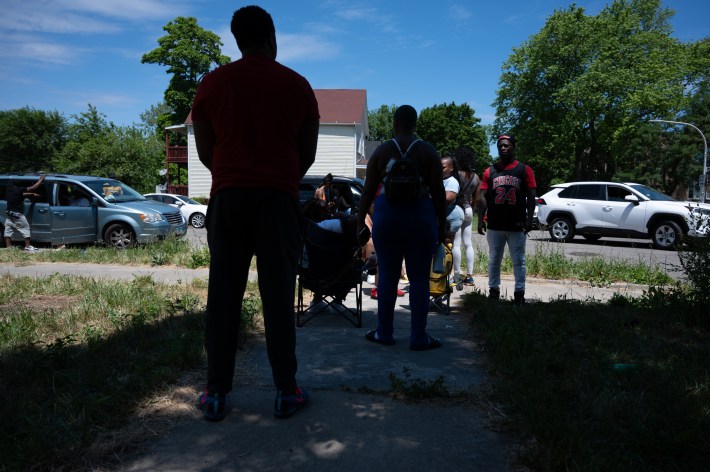 Carlos Tate, a supervisor on the Target Area Development Corporation team — a group that provides services to communities affected by gun violence — went to the home Tuesday to help grieving families and community members. 
"We're gonna do whatever it takes to get the people to understand that this is truly out of the norm," Tate said. "Not just the violence in Englewood, but the violence in the city of Chicago. It's just out of the norm. And that's what our objective is: to change the norm of what society, youth and things of that nature feel that it's normal to do." 
Ald. Stephanie Coleman (16th) said listening to the mothers and families of the victims is the next step in healing as a community. 
"I think … we need to take a pause and listen and hear," Coleman said. "Hear the cries, hear the mourns, and hope that someone knows that what happened today has been all about a failure of disinvestment in communities like Englewood … ."
Coleman said heavy on her mind is the children of the mothers who were slain. 
"How will their children live the rest of their lives knowing that their mom's life was taken in Englewood, in the very community that we have campaigns saying that Englewood is rising?" she said.
Holmes said he hopes the past few days don't foreshadow more violence to come this summer.
"I'm just hoping that we don't see this at block club gatherings," Holmes said. "And I'm just hoping that we don't run into this moving forward, because … this is an insult to families."
As they grieve, Williams' family is asking anyone with information to come forward. 
"God is giving me strength," Demetrius Williams said. "This is unbelievable. I still can't believe that I'm standing here. A massacre. Why? Why did this happen?
"Don't be quiet speak, let them know what's going on, you saw something. You know who done this."
Subscribe to Block Club Chicago. Every dime we make funds reporting from Chicago's neighborhoods.
Already subscribe? Click here to support Block Club with a tax-deductible donation.