CHATHAM — After a mass shooting in Chatham's prime business district left a mother of three dead and nine other people wounded, business owners in the neighborhood are asking community members and owners to unite to restore hope and safety. 
The shooting happened just after 2 a.m. Saturday in the 7500 block of South Prairie Avenue, near a burgeoning "Restaurant Row" that residents and business owners hope will be an economic engine for the neighborhood.
Kimfier Miles, the mother of three, was out with her girlfriends visiting shops and restaurants along 75th Street, her cousin, Takita Miles, told the Sun-Times. They were standing on the sidewalk when two people walked up and fired shots. 
Miles, 29, was shot multiple times and pronounced dead at the University of Chicago Medical Center.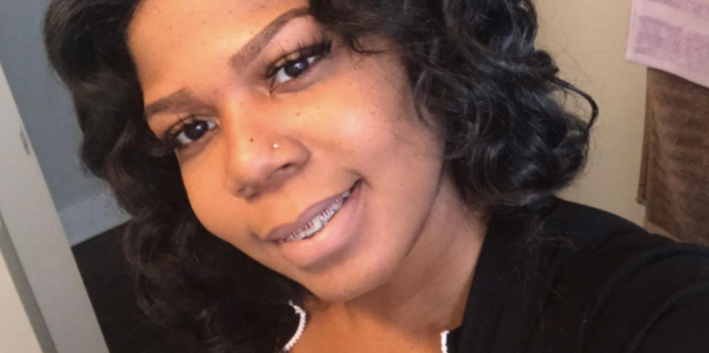 Also wounded and hospitalized was a 46-year-old man, a 26-year-old man, a 27-year-old man, a 41-year-old man, a 30-year-old man, a 32-year-old man, a 34-year-old woman and two 23-year-old men.
Carmen Lemons, the owner of Lem's Bar-B-Q, 311 E. 75th St., said her restaurant was closed when the shooting happened. When she heard the news, she was devastated. 
"I couldn't even sleep. … Just the fact that people were getting shot in this area," Lemons said. "This is a good neighborhood. The 75th Street strip is a very good neighborhood to have a business now, and I just hate that people cannot be out and having a good time. If they're out on the North Side, they're having a good time. They should be able to be in this neighborhood and have a good time."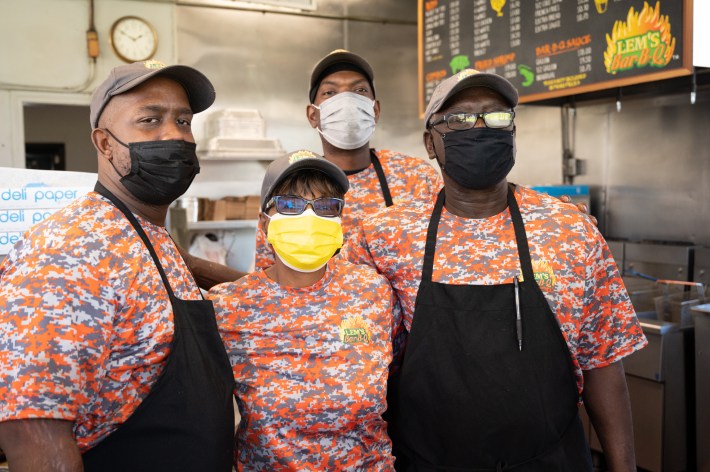 Large crowds are known for gathering along 75th Street. In Chatham, some neighbors have been complaining about the large congregations on the street after business hours for weeks. Some predicted a shooting like this may happen.
At a community meeting Tuesday about bringing an affordable housing complex to the neighborhood, some neighbors said they were worried about the crowds at night.
One neighbor said the city must make people feel safe by tackling issues of reckless driving and gun violence in the entire neighborhood — not just on 75th Street — before expecting the area to thrive economically.
"You're wasting your money and your time if you don't make people feel safe first," one community member said. "There's an eatery out on 75th Street. Do you think I'm going to sit out there on the corridor the way these fools drive down that street and act senselessly?"
Lemons said business owners and residents need to come together to create a safer space for everyone.
"We can't just run and hide," Lemons said. "We need to come together as a community, stick together to do something about it, and get the law enforcement involved," Lemons said. "In bad times, we just have to pray about it." 
Constance Simms-Kincaid, the owner of 5 Loaves Eatery, said 75th Street is on its way to becoming the South Side's Restaurant Row. 
"What I see 75th Street as is a Black-owned Restaurant Row," Simms-Kincaid said. "There are people with all these great businesses and ideas coming to 75th Street. This area in general is rich, is rich with history. It's a good people over here they take care of their properties, things like that, and they care about the businesses and the business owners over here and so that's why we stay here.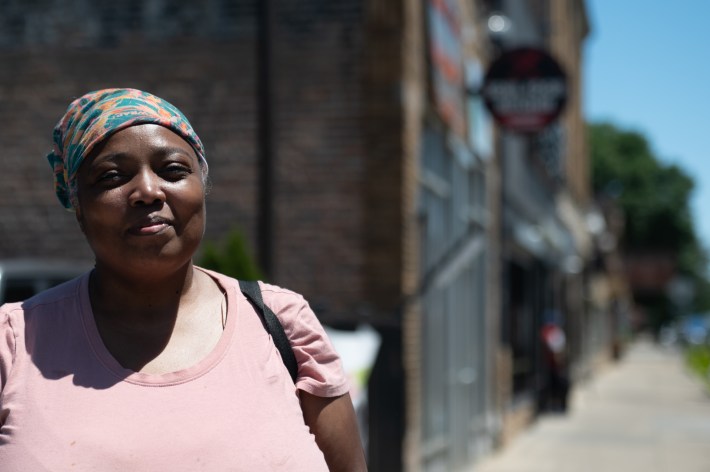 But to keep the area thriving, she said it's going to require the community to join forces to work together. 
"We need to get out and do something about it," she said. "We need to actually talk about it, and we come together as one. We're not going to be hidden with gates or board up our businesses. We need to trust our community. We have to trust them to take care of one another. We're going to come together and we're going to talk about solutions, and we're going to work those solutions."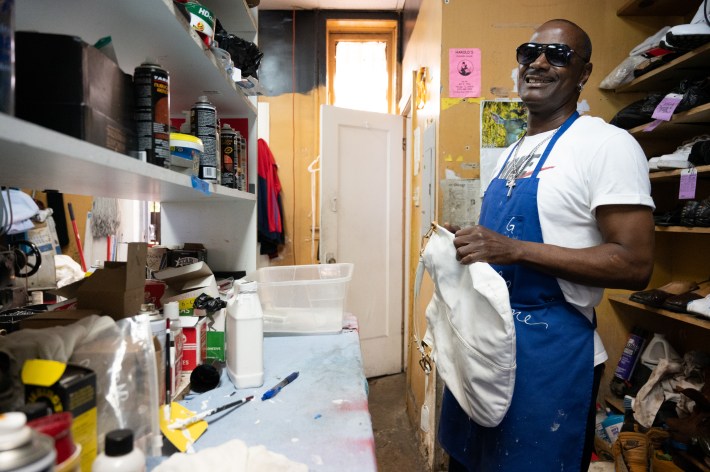 George Hayes, the owner of Boss Shine Shoe Shop and Repair, 349 E. 75th St., described 75th Street as up and coming. But he said at night, things can easily get out of hand. 
"There are a lot of new businesses here, and it's drawing in a nice crowd of all races," Hayes said. "At night activity is good, but it needs more security for the customers and the people on the street. It's just a few kinks in it that need to be worked out."
Hayes said when he closes shop at night, he sets up tables outside so he and others can sit and have a good time. 
He said adding more cops to patrol on foot could help stop crime and make residents feel safe.
"You could prevent a lot of [crime] with foot patrol and if you just get out there and get with the people," Hayes said. "I think there could be a lot of that could be saved. You don't have to go through that if you just get out and walk, mingle. Get to know the store owner and get to know to customers." 
As the city works with community members and business owners to resolve issues of crime in Chatham, Lemons said people shouldn't expect businesses to go anywhere. They're here to stay, she said.
"We're not going to run away because of an incident that happened here," Lemons said. "This is where we're gonna stay. No matter what happens."
Subscribe to Block Club Chicago, an independent, 501(c)(3), journalist-run newsroom. Every dime we make funds reporting from Chicago's neighborhoods.
Already subscribe? Click here to support Block Club with a tax-deductible donation.