CHICAGO — At least four people were killed Tuesday morning in Englewood in Chicago's second mass shooting in just four days, including at least two mothers.
The shooting happened early Tuesday in the 6200 block of South Morgan Street, but police are still trying to determine what happened. Police said there was an argument inside the home and someone fired shots.
Witnesses heard gunfire about 2 a.m. and then again at some point 5:30-5:45 a.m., Supt. David Brown said at a news conference. There was also a ShotSpotter alert about 2 a.m., but the alert was for outside the home, Brown said.
Police went to the home about 6 a.m. Four people were pronounced dead at the scene, police said. Detectives said none appeared to be minors. Three of the people killed were women and one was a man, Brown said.
One of the people killed was a resident of the home, but it's not yet certain whether the other victims lived there, Brown said.
Shermetria Williams, 19, is among those who died in the shooting, according to her father and cousins. They said Tuesday that she had gone to the Morgan Street home for a party.
Demetrius Williams said he was devastated and called the loss of his daughter "senseless." He said she had a 2-year-old daughter.
"She was a good person, a sweet girl that loved her daughter to death, my grandbaby," Demetrius Williams said.
"Now she has to grow up without her momma," Shermetria's mother said as she wept.
Shermetria Williams was set to graduate from Country Club Hills Tech and Trade Center on Tuesday morning, her family said. Her cousin, Markeytia Richmond, said relatives were leaving for the ceremony when they received calls about the shooting.
Richmond said she and Williams would call and text every day. Just Monday, Williams asked Richmond if she could take her shopping for a graduation outfit, and they last spoke Monday night.
"She was texting me asking if I can take her shopping for graduation," Richmond said. "So then I texted her at eight, and I asked her if she had everything. She told me yeah. I still have text messages from her saying I have everything. She was ready for today."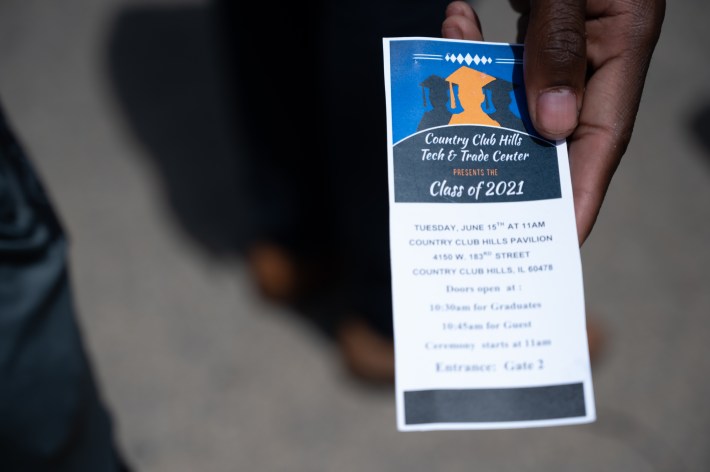 Denice Mathis also was killed. She went by Niecy and was a mother of five children, according to the Sun-Times.
Jeanette Price, a close friend of Mathis' mother, said Mathis was a caring woman who was close to her mother and doted on her children.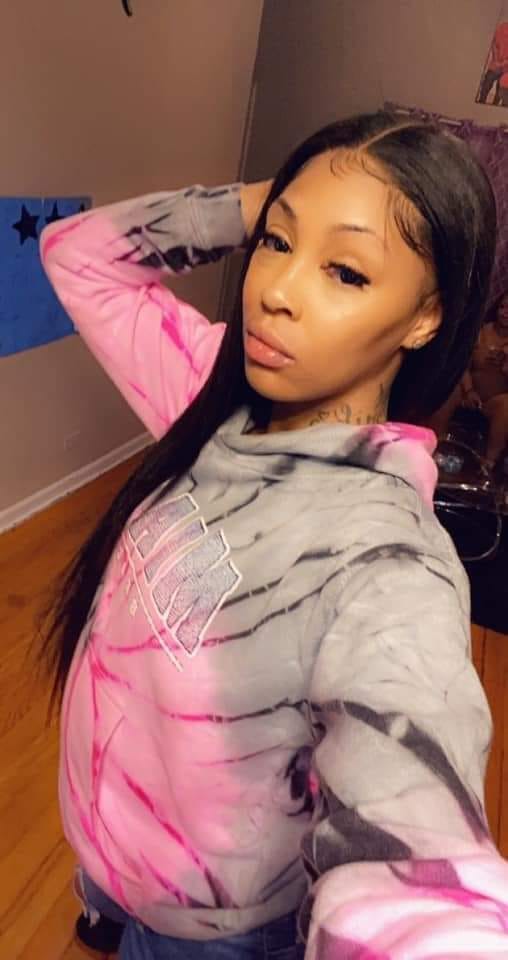 "Niecy loved her mama, and her mama loved her," Price said. Mathis "took care of her. She took care of everybody."
Price said every time she encountered Mathis' mother, her daughter was always her favorite topic.
"Every time we are around each other, all she talks about is her daughter," Price said. "She loves her daughter and her grandkids."
Relatives for the other victims could not immediately be reached, but the Cook County Medical Examiner's office identified one victim as Ratanya Aryiel Rogers, 28, of Rogers Park. The fourth victim was Blake Lee, who lived in the home, his family told the Sun-Times.
A 2-year-old girl also was in the home during the shooting, police said. The child was not wounded, but she was taken to a hospital out of an abundance of caution, police said.
Four other people were hospitalized. Two men — one 41 and one 25 — were shot in the back of their heads and were taken to Advocate Christ Medical Center, police said. Their conditions were unknown.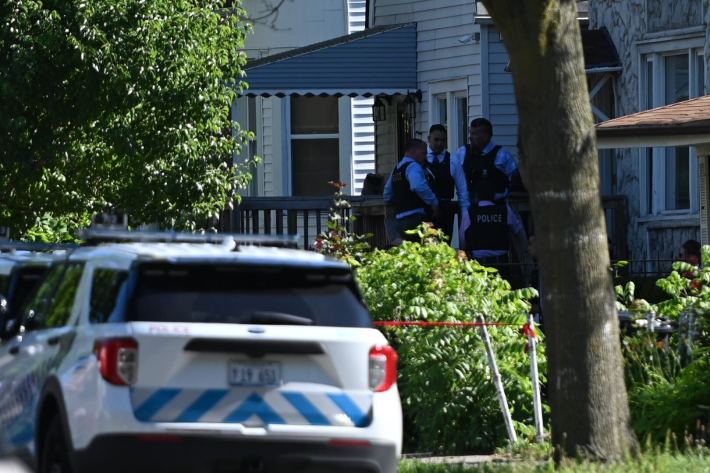 A woman or girl was shot and taken to University of Chicago Medical Center in critical condition, police said. A 23-year-old man took himself to St. Bernard Hospital after being shot in his back. He was transferred to University of Chicago Medical Center in critical condition.
Casings from a drum magazine — a type of magazine that allows a gunman to fire many bullets very quickly — were found at the home, but detectives have not yet found the gun used in the slayings. There was no sign of the home being broken into, Brown said.
There had been calls for disturbances at the home before, Brown said, and witnesses said there had been loud music at the house Monday.
Brown said there will be more police in the area until they can determine who shot the people or why the shooting occurred.
"We're always concerned with street justice," he said. "Retaliation, revenge drives a lot of violence in Chicago. At this point, we do provide extra patrols just because of that reality."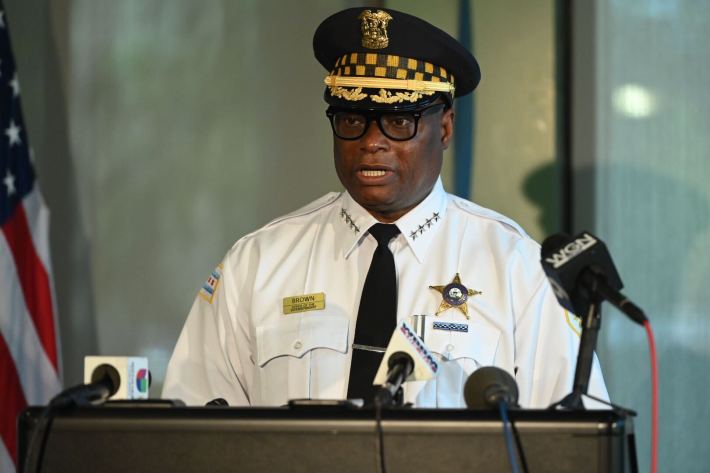 The circumstances around the shooting are still being investigated, police said. No one was in custody.
Mayor Lori Lightfoot offered condolences to people whose lives were "irreparably touched by what happened this morning."
"I'm holding those who are wounded in prayers and hope for an actual recovery — a recovery from their wounds, but also a recovery from the trauma they will carry with them," the mayor said at a news conference.
Major cities throughout the United States, including Chicago, recorded rising gun violence throughout 2020.
"It is distressing, but I remain very focused, very intentional, as does the Police Department but also our entire team," Lightfoot said. At another point, she said, "We absolutely have challenges in certain areas of the city. We're very focused on those kinds of challenges. … The reality is our city is safe, and I stand by that."
Still, Lightfoot said the federal government needs to step up to offer solutions and stop the flow of illegal guns into Chicago.
Tuesday's attack comes as another South Side community is reeling from another shooting. On Saturday, a mass shooting in Chatham killed a young mother of three and left nine others wounded. It occurred near the 75th Street Restaurant Row, which routinely draws big crowds, particularly at night.
"Multiple shootings are our new theme because we've been in a pandemic and people gather," Englewood activist Darryl Smith said. "And when you have a gathering, and someone comes to a shooting, it's going to be multiple people shot." 
Pastor Donovan Price, who is known in the neighborhood for his street ministry, said he was at the hospital with another woman who'd been shot elsewhere in the city when he got messages about what happened on Morgan Street. Once he arrived in the neighborhood, he described a frantic process of figuring out who was hurt, "calling people's phones to see if they pick up, what hospital did people go to?"
"It's just confusing and sadness and grief, and people wanting to know where their cousin is or their sister is," Price said. "It's very sad. I've been doing this since 2016 and it hurts. Today hurts."
Price said this is the third mass shooting he's responded to in the past two weeks, and he cried while standing over a victim Tuesday.
"My heart is sad now. I'm mourning for Chicago," Price said. "I'm crying for Chicago's wounds, both our political wounds, our physical wounds, our community wounds.
"I shed a tear for her when I stood there … and somebody needs to shed a tear for Chicago. Somebody needs to shed a tear for somebody they don't know. Somebody needs to shed a tear even if it's not on their front lawn."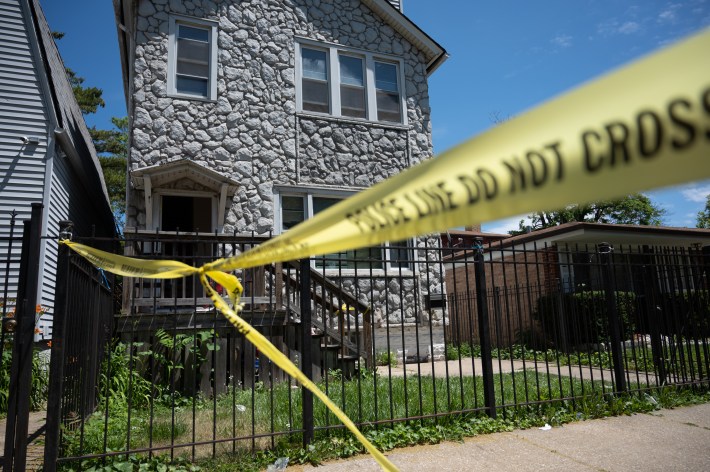 Subscribe to Block Club Chicago. Every dime we make funds reporting from Chicago's neighborhoods.
Already subscribe? Click here to support Block Club with a tax-deductible donation.