JEFFERSON PARK — The owner of longtime neighborhood staple Sicilia Bakery Chicago plans to open a food truck service in the cafe's adjacent parking lot after closing his storefront last week after struggling to find staff.
The owner, Freddy Pecoraro, told Block Club he will reconfigure the store into a rental venue. He said his food truck should be open within a few weeks.
"We didn't want it to come to this, but as of today our front of house is closed due to a lack of workforce," Pecoraro wrote on Facebook. Restaurants and other businesses across the country have struggled to fill vacancies after laying off staff due to coronavirus shutdowns. Many people have left the food service industry as they look for better pay, hours and benefits.
The food truck will open daily and serve coffee, Italian ice, beef sandwiches and other popular items from the bakery.
Pecoraro plans to host food truck socials Fridays, Saturdays and Sundays and is looking for other food trucks to join. Those who are interested can reach Pecoraro on Facebook, through the bakery's Facebook page or by calling 312-833-5601.
The bakery at 5939 W. Lawrence Ave. remains open for catering orders Wednesday-Saturday. People can order via Facebook or by calling 773-545-4464 during business hours.
Like many businesses, Sicilia Bakery struggled to stay afloat during the pandemic. The bakery has gone through 40 employees since the beginning of the year, Pecoraro said.
"We hire, we train … some don't last a day," he said. "Some are hired but never show up. We have seen a lack of respect for businesses and a lack of work ethic."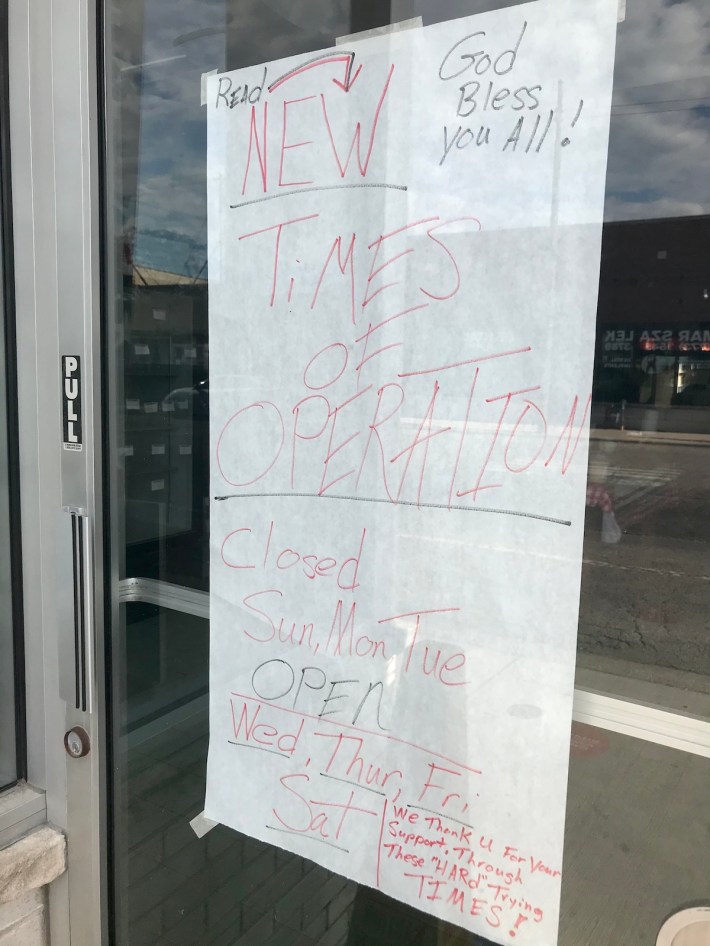 The restaurant industry is experiencing a labor shortage nationally. Forbes reported this week a record 5.6 percent of restaurant workers quit their jobs in April.
But worker retention was a problem long before the pandemic, Pecoraro said.
"This issue has been building for the last 10 years," he said.
Pecoraro expressed disappointment in the changing workforce and said negative social media comments about the job and his management have contributed to not finding employees.
"People are ignorant," he said.
It doesn't help that the stretch of Lawrence Avenue has lost local businesses over the years, he said.
"There are 14 closed stores just on the corner," Pecoraro said. "Everybody is concentrating on Six Corners … but here, it's a dead zone. We have tried everything."
Pecoraro said he's tried to hire dishwashers, customer service workers, sandwich makers and people to help the bakers, but none have worked out.
"When I was a kid, I remember a month before getting out of school, the amounts of applications [at the bakery] were insane," he said. "Now I have had kids come in that are 20 and 30 years old [who say] the job was too hard."
The pandemic only made things worse, he said.
Pecoraro said the bakery did not take any loans from local or federal governments during the pandemic, but "we made sure employees got paid before the gas bill got paid."
After he posted a photo of the food truck to Facebook over the weekend, people were supportive.
"Bring your food to the people, love it," one person wrote.
"Gentleman, start your engines, it could be the best pizza on wheels," wrote another.
Sicilia Bakery was opened by Pecoraro's parents, Joe and Roselia Pecoraro, in 1968 at the same location and was featured on WGN's "Chicago's Best" in 2016.
Subscribe to Block Club Chicago. Every dime we make funds reporting from Chicago's neighborhoods.
Already subscribe? Click here to support Block Club with a tax-deductible donation.