WEST TOWN — Nini's Deli is looking to reopen a year after backlash to the owner's bigoted remarks led to him shutting down the business.
Owner Juan Riesco said in a Thursday Facebook post he plans to reopen the deli.
Nini's Deli, 543 N. Noble St., closed last year after Riesco stood outside the restaurant and repeated homophobic and anti-Black Lives Matter comments. In response, hundreds of people protested Nini's. Companies, including Nike and Molly's Cupcakes, cut ties with the restaurant.
But this week, Riesco took to Facebook to write, "by the grace of God," his family planned to reopen 9 a.m. July 6. Nini's plans to serve empanadas and iced cafe con leche through a walk-up window, he said.
"Through prayer, counsel from our leaders and an unction from the Holy Ghost we have decided to double down on our Christian worldview and reopen our family business for the glory of God alone!!" he wrote. "We know it is an interesting time to be a vocal Christian business, but we also know all Christians are to be a light in a dark place, and this is the place we are called to."
Only moments after Riesco's post, neighbors gathered on the tree-lined corner of Ohio and Noble street.
Some stopped while walking their dogs. Others slowed down while driving. Everyone stared as workers painted bright bubblegum pink over layers of graffiti at the deli.
Neighbor Adriana Markese's son owns Home Team Pizza, 1363 W. Ohio St. She said she couldn't believe her eyes Thursday as she watched workers paint the building in preparation for Riesco's return to West Town.
While Markese said she couldn't speak for the entire neighborhood, she thinks Riesco will not receive a warm welcome from neighbors.
"I've lived here 55 years. I've never seen a family get run out like that," she said. "I would not be happy if he comes back here. It's his building; they can do what they want with it. … But the people will not be happy."
It's not clear what will be Riesco's role in the day-to-day operations at Nini's Deli. According to his Facebook profile, Riesco lives in Dallas.
Reached by Facebook messenger, Riesco did not respond to a Block Club reporter's questions. He did write, "God bless you in the name of Jesus Christ," and invited the reporter to church.
In June 2020, Riesco stood outside Nini's Deli and preached incendiary comments, comparing Black Lives Matter to the KKK and using anti-Black and homophobic slurs. He broadcast his preaching in a Facebook live video. He said his views were based on the Bible.
Riesco's church at the time, the Underground Church of Chicago — also known as Metro Praise International — held services during COVID-19 in Belmont Cragin. The church has repeatedly criticized the Black Lives Matter movement in Facebook posts.
It is not clear if Riesco is still a member of Underground Church Chicago, but the church shared Riesco's reopening post from its Facebook page Thursday.
When Nini's closed last year after the weekend of heated protests, many neighbors assumed the restaurant was gone for good. A parody food truck "Nono's Deli" opened in the neighborhood and raised nearly $11,000 for pro-LGBTQ and racial equity organizations.
RELATED: 'Nono's Deli' Parody Food Truck Raises Nearly $11,000 For My Block, My Hood, My City, Center On Halsted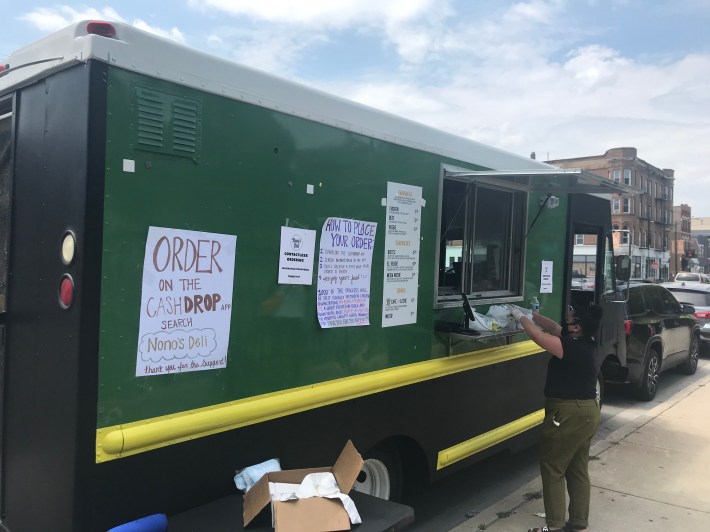 Sam LeBlanc, owner of the Half Evil boutique and co-owner of Three House restaurant, led much of last summer's protesting. Reached by text message Thursday, LeBlanc declined to be interviewed. He provided a statement saying he does not plan to protest the reopening.
"I still have horrible PTSD from last year because of his church people stalking me and my family," he said. "I know the people of Chicago will handle him the way he should be handled. There are a–holes everywhere and it can't be my personal job to get rid of them."
Before last summer's controversy, the restaurant's iconic pink wall was a common backdrop for social media posts.
Shortly after the fresh coat of pink paint went up Thursday afternoon, a young woman struck a pose in front of the brick wall as a photographer kneeled on the ground and captured the image.
"Well, look," Markese said. "They're already taking pictures."
Subscribe to Block Club Chicago, an independent, 501(c)(3), journalist-run newsroom. Every dime we make funds reporting from Chicago's neighborhoods.
Already subscribe? Click here to support Block Club with a tax-deductible donation. 
Listen to "It's All Good: A Block Club Chicago Podcast" here: