UPTOWN — Plans to turn a parking lot at Weiss Hospital into an apartment building hit a roadblock as Uptown's alderman said he wouldn't support the project after his zoning advisory board voted against it.
Lincoln Property Company's proposal to build a 12-story, 314-unit apartment complex at the corner of Wilson Avenue and Marine Drive was rejected by Ald. James Cappleman's (46th) zoning and development advisory committee.
The vote came after contentious meetings with the developer and two protests against the project.
In rallying against the project, neighbors and some zoning committee members said the development could further gentrification in Uptown and lead to the future selling off of Weiss Hospital assets. Weiss executives and project supporters say the development would make better use of a lakefront-adjacent parking lot and inject cash into the community hospital.
Cappleman said the developer had already submitted an application to the city, but he will advise city officials the project should not move forward.
The project needs Cappleman's support for a zoning change to allow for an apartment building on what is currently hospital grounds. Cappleman's development procedure requires projects go in front of his zoning and development committee. The alderman has previously said he follows the committee's wishes, but the committee's guidelines make clear that its role is merely advisory and "ultimate decision for any development lies with the alderman."
The committee vote was 16 opposed and 15 in favor, with one abstention.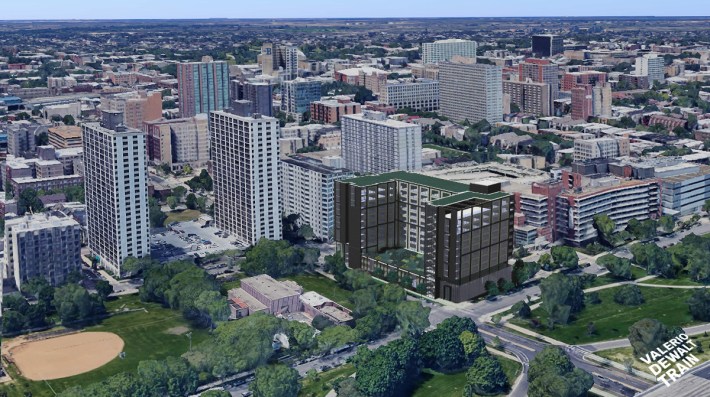 Lincoln Property Company is under contract to buy the Weiss parking lot, where it is proposing to build a courtyard-style apartment building.
The building would include 136 parking spaces, a bike room and a rooftop deck. Plans call for eight affordable units with Lincoln planning to satisfy its remaining affordability requirement with a $3.1 million payment to Sarah's Circle for a new housing facility in Uptown.
Some neighbors spoke out against the project early on, saying it could further raise housing prices in Uptown and add to gentrification in the neighborhood. Residents and housing advocates held separate protests outside of Weiss and Cappleman's office over the project, saying there are too many upscale apartment projects planned for the neighborhood.
RELATED: Uptown Neighbors Want To Stop Conversion Of Weiss Hospital Parking Lot Into Apartments: 'We Are At A Tipping Point In Our Community'
State Sen. Mike Simmons attended a rally against the proposal Thursday and spoke at the committee meeting. Simmons said he had previously been priced out of the east side of Uptown near Weiss and doesn't want to see the neighborhood lose any more diversity of residents.
"I want this to remain a diverse and vibrant community that all people can access," he said at the meeting.
Neighbors also voiced concern over Weiss Hospital's new parent company's future plans for the community medical center.
California-based Pipeline Health bought Weiss and two suburban hospitals for $70 million in early 2019. It has since closed Westlake Hospital in Melrose Park and was forced to pay the village a $1.5 million lawsuit settlement after village officials say Pipeline misrepresented its intentions with the hospital.
Pipeline has said it intends to keep Weiss open and invest millions into the medical campus. Weiss recently spent $12 million to improve its parking garage, has upgraded its electronic medical records system and has made other improvements. Last week, the hospital broke ground on a $3.5 million improvement to the hospital's fifth floor, where an expanded orthopedic center will be unveiled, Weiss CEO Irene Dumanis said in an interview.
Selling the parking lot would allow for more investment into the hospital and ensure its future vitality, Dumanis said
"I think that's proof that we are here for the long haul," she said. "My hope … is the committee sees the need for the hospital to stick around and continue to grow."
Cappleman said there are safeguards should Pipeline attempt to sell off or close actual medical buildings at the campus.
The Weiss parking lot project is on a stretch of Wilson Avenue that will see hundreds of new apartments come online in the next year or so. While Lincoln Property said figures show apartments are still needed in Uptown, some neighbors said too much development could finally tip the scales of affordability in the neighborhood.
"Where we are now, we need to pause and reflect … and make sure we don't go too far," said Marianne Lalonde, head of the neighbor's association that includes Weiss Hospital and a former 46th Ward aldermanic candidate.
Subscribe to Block Club Chicago. Every dime we make funds reporting from Chicago's neighborhoods.
Already subscribe? Click here to support Block Club with a tax-deductible donation.