BRONZEVILLE — When Aya-Nikole Cook opened a wellness salon in Chatham, her goal was to create a peaceful refuge on one of the most notorious South Side blocks.
Now she's shifting her business to Bronzeville, one of the first entrepreneurs to take up residence in the 4400 Grove Development, a retail and affordable housing complex on South Cottage Grove Avenue that provides business owners the opportunity to offer residents chic amenities rivaling those farther north.
Soon, Cook's Haji Healing Salon will be joined by Bronzeville Winery, Sarah Kueneyfu Collection boutique, CBQ Facial Beauty Bar, and Ocean City Aquariums — all people-of-color-owned, an intentional move by the city to foster entrepreneurship. 
Cook readily admits that when someone suggested 4400 Grove to her she had no intention of moving from her Chatham storefront.
But after touring the space, she felt it: the calling.
"I have a motto, which is, 'I joyfully go wherever I am called.' The invitation to come here felt like a deeper calling. My family has roots in Bronzeville: My mother's grandmother and my grandmother's son owned two buildings next door to each other at 43rd and Langley. This space chose us," Cook said.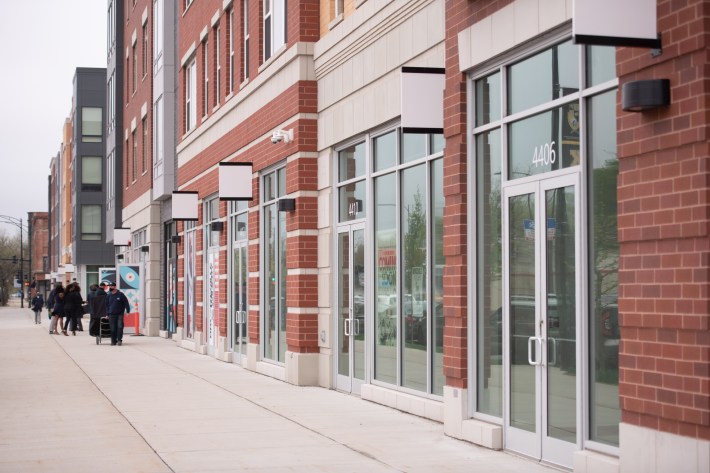 Cook's grandmother, Hagar Pope, was a "deeply religious" faith healer who'd draw from her little black bag of herbs to create concoctions for sick people whenever she was called. Combining Pope's love of healing with the entrepreneurial spirit Cook inherited from her father is, for her, a way of continuing the family legacy.
It's also about making wellness more accessible. Self-care can be intimidating and expensive. Realizing this, Cook set out to make her space as inviting as possible, even leaving the door open to make sure people knew they are welcome.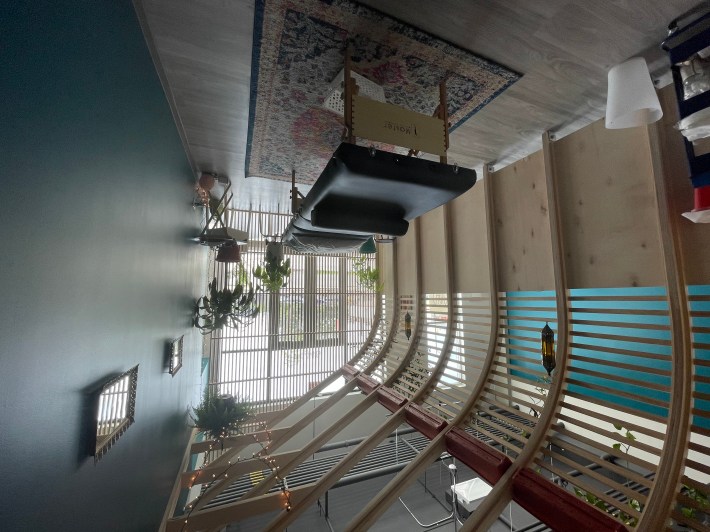 It took time, but they came. From yoga to acupuncture, the salon was the neighborhood sanctuary, a place where people could love and care for themselves. When break-ins plagued the area, Haji remained untouched, protected by the community. 
Cook chalked the initial skepticism to the fear of gentrification.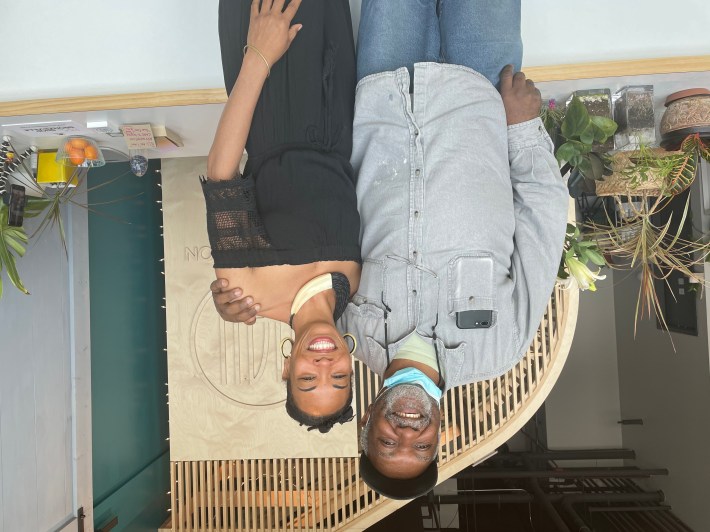 "I think a lot of times when something that is very beautiful, something that feels really different from what we're used to, we're reluctant to venture into it. It's intimidating," Cook said. "That's why people go, 'Oh, that's not for me,' or 'There goes the neighborhood.' 'Will I be able to stay here if there's a yoga studio now?'"
Though Cook loved her storefront, the structural issues became too much; twice, the ceiling collapsed due to flooding from upstairs apartments. Then, the pandemic hit, forcing her to take her business online. The pivot worked, with clients from all over the globe signing up for her classes.
That success encouraged her to take another brave step: introducing a retail component to her new brick and mortar shop. Cook is partnering with local artisans and merchants like Margc Cherry to offer vegan health and beauty products.
Cook hopes to have an official grand opening this summer to coincide with the other openings happening at 4400 Grove, located in the 4400 block of South Cottage Grove Avenue. She's excited about the arrival of the aquarium and believes it will be a perfect complement to Haji and her fellow tenants.
"I'm so grateful. I still have a lot to learn about business, and there have definitely been some growing pains already," Cook said. "But opening this space feels like an accomplishment to me."
Subscribe to Block Club Chicago. Every dime we make funds reporting from Chicago's neighborhoods.
Already subscribe? Click here to support Block Club with a tax-deductible donation.