MONTROSE HARBOR — When Dan O'Conor started his daily dives into Lake Michigan, he didn't have a goal in mind other than having a bit of socially distanced fun during the pandemic. 
O'Conor's only plan was to head to Montrose Harbor to take a dip at least once per day. Those days turned into weeks and then into months. As word of O'Conor's streak spread, the legend of "The Great Lake Jumper" grew. 
Warm summer days gave way to chilly fall dives. Then O'Conor was cracking the ice with a bowling ball just to get into the water. But he kept going.
On Saturday, O'Conor will make his 365th consecutive dive into Lake Michigan, capping a year of Lake Michigan splashdowns that started as a way to clear his head and transformed into a daily fundraiser for local musicians and venues.
"Besides eating, sleeping, drinking and brushing my teeth, I don't think I've done anything else in my life for 365 days straight," he said.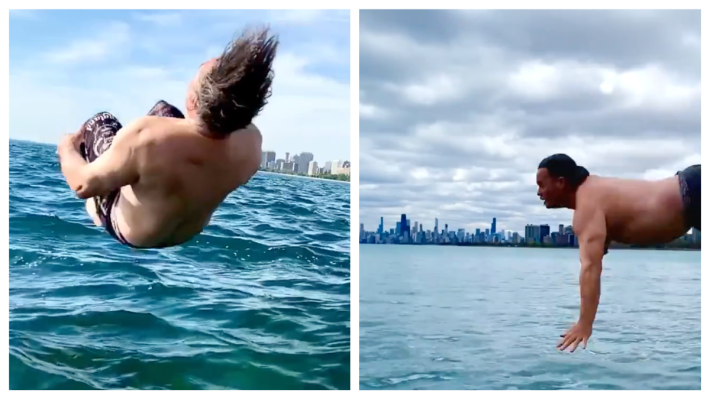 It all started with a hangover.
A steady stream of bad news about the coronavirus pandemic led straight into headlines of social unrest across the country after police killed George Floyd in Minneapolis. O'Conor was stressed, so on a whim — and hungover — he decided June 13, 2020, to take the first of many plunges into Lake Michigan to clear his head. 
O'Conor told Block Club in November the daily dives into the lake were a fun way to physically and mentally refresh himself. He initially planned to stop Dec. 1, but as Chicago's winter chill arrived, O'Conor continued because he was having so much fun. 
"After [Block Club] got the press ball rolling about what I was doing, I had a bunch of people asking why I was diving. I also had a lot of people say, 'Well, you're not going to keep doing that through the winter.' That's when I dug in my heels," O'Conor said. "I got to January and figured I'd just keep going."
As the weather got colder, O'Conor started bringing extra-warm clothes and tools — like a shovel, hammer or bowling ball tied to a chain — to smash the top layer of ice before he got into the water so he could get in and out without getting scuffed up. 
"The first time I saw the ice I was excited to jump through the thin layer on the water. I figured it wouldn't impede me because it was paper-thin," O'Conor said. "But driving home after I jumped in that day, I noticed a cut on my thumb … . When I got home, I noticed I had like 20 small cuts all over my torso."
At his wife's suggestion, O'Conor also started asking local musicians to come out and add a live soundtrack to his dives.
"I got Jon Langford, one of the hardest-working artists in Chicago, to come out around Martin Luther King Jr. Day. There were about 25 people watching me jump in that day," O'Conor said. "In the last 145 days, I've had about 90 artists who have played at the lakefront while I dive in."
O'Conor loved to go to Chicago's venues and enjoy live music before the pandemic. It's something he's done for decades. Venue owners like Katie and Tim Tuten of The Hideout estimate he'd normally attend hundreds of shows a year. 
"He's the guy who comes to a show when there's just like five people in the audience, right?" Tim Tuten said. "And then he tells his friends about the band's pretty cool set and that you've got to check them out."
"He's just one of the biggest music fans in the city," Katie Tuten said. 
But those live shows were put on pause last year to help slow the spread of COVID-19. The daily dives O'Conor's documented on his Twitter for months were partially an effort to get out of the house and do something fun since everything was canceled for most of the year, he said.
As more people asked O'Conor for a reason behind his dives, he had the idea to use the attention he was getting to help out local indie venues like The Hideout. He promoted the Chicago Independent Venue League and asked people to donate to its emergency relief fund.
RELATED: Hideout Reopening In July After 16 Months — But It'll Be Outdoors-Only For Now
Katie Tuten said she is eternally grateful for fans like O'Conor who have stepped up to help venues weather the storm over the past year. 
O'Conor has been in the spotlight before. Five years ago, when the Cubs were on the cusp of their first World Series title since 1908, Fox cameras focused on him and his handlebar mustache in the stands, wagging his finger to signal there was just one out to go. He was a symbol of anxious anticipation — one that got a lot of air time during and after the game. He was "getting more screen time than John Cusack," his wife, Margaret, said at the time.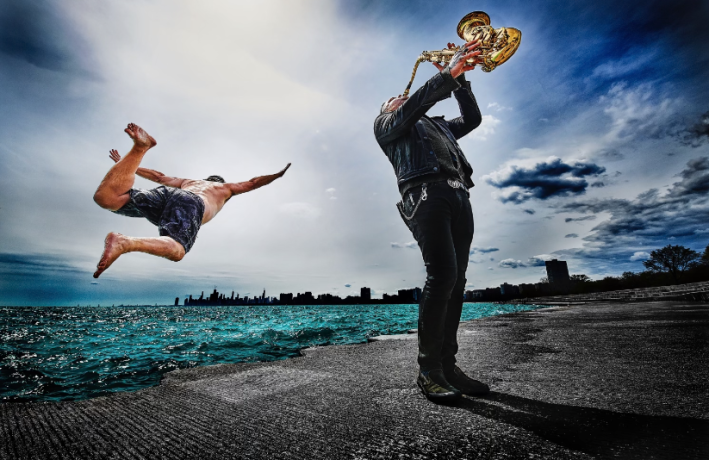 O'Conor is an artist who lives in Lincoln Square and runs a clothing company called Dtox Designs. He's lost business during the pandemic, in part because he's been a vendor for six years at summer music festivals like Lollapalooza.
"It's kind of poetic that Saturday is a full year of me diving into the lake, and on Friday the city and state are lifting restrictions, which seems like maybe concerts are back," O'Conor said. "It's been an interesting journey, and it seems like we're finally coming out of a real dark time."
Subscribe to Block Club Chicago. Every dime we make funds reporting from Chicago's neighborhoods.
Already subscribe? Click here to support Block Club with a tax-deductible donation.
Listen to "It's All Good: A Block Club Chicago Podcast" here: