AUBURN GRESHAM — Father Michael Pfleger returned to the St. Sabina pulpit Sunday morning with a blistering sermon blasting the sex abuse allegations that sidelined him for nearly six months.
With a fiery conviction, Pfleger referred to his reinstatement as the "return of the fight."
"There are people watching today that are not happy I'm back," Pfleger told his congregation. "But take off your party hat and blow out the candle. I'm back."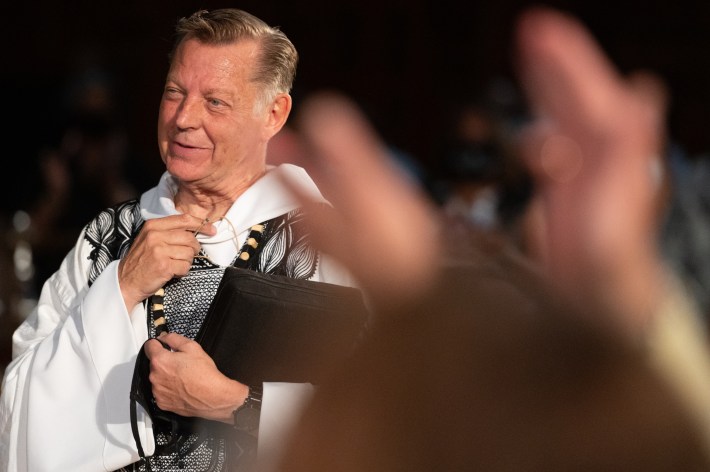 In early January, the Archdiocese of Chicago removed Pfleger from the South Side church when two brothers accused the pastor of sex abuse that allegedly occurred decades prior. In March, a third man came forward with allegations. 
Pfleger was reinstated at St. Sabina in early May following an investigation in which archdiocese officials said there was "no reason to suspect" the pastor was guilty of sexual abuse. 
Pfleger called the five-month investigation the worst time in his life.
"The last five months have been a painful nightmare," Pfleger said. "They've been the most extended period of pain in my life."
But the pain invigorated Pfleger to fight harder within his church, he said. 
"Whether you like it or not, I got back up and the fight is still on," Pfleger said. "I'm grateful. I'm thankful to be reinstated, and I commit to you today to bring back the fight."
Last month, an attorney for the brothers who alleged Pfleger abused them said they were "shocked and deeply disappointed" in the archdiocese's decisions.
"Both of the brothers who made these allegations were extraordinarily credible," attorney Eugene Hollander said. "They provided detailed accounts of the sexual molestation as well as information that only these victims would be aware of. My clients not only corroborated each other, but both clients underwent polygraph examinations and passed. Additionally, the sexual abuse was corroborated by a third victim who was in no way connected to the brothers."
Hollander also said the brothers were "proud that they came forward and delivered their truths" despite the outcome.
Members of the St. Sabina cabinet and community defended Pfleger while the allegations were investigated, saying they stood by him. As the weeks wore on, they also put pressure on the archdiocese to quickly wrap up its investigation, withholding its $100,000 monthly payments to the central office.
And as an early morning sun beamed on the South Side church, hundreds of parishioners filed into the service to watch Pfleger's return. Director Spike Lee — who worked with Pfleger when filming his controversial "Chi-Raq" movie — was one of the hundreds to fill the church.
Beverly Morris, the business manager at St. Sabina, greeted members as they entered, most by name. 
"Our [attendance] number for the day was 300, and within 20 minutes of registration for service opening on Tuesday, it was 400," Morris said. "We started doing overflow. We have 100 seats in the overflow area." 
Moris said she was excited to continue her work in the community with Pfleger's guidance. 
"Even though we did as much as we could without him, it's important for him to be here because it's his vision," Morris said. "I'm excited that the visionary is back and that we can move forward. This is the year of invasion, and we're ready to invade the community in any way that is going to be effective."
Michael Richards, a member at St. Sabina since 1985, carried around an image of Pfleger he took the last Sunday before Pfleger's temporary removal.
Richards brought it to the return service as a reminder faith works, he said.
"It's always just about believing in God," he said. "If you don't have the faith, if you don't have the belief of a mustard seed, your life is in your hands. As long as you believe in God, everything is going to be all right." 
Joseph Saunders, a member of the church since 1997 whom Pfleger called "his voice," said hearing Pfleger's sermon after five months was a much-needed relief.
"This is his home. This is what he built," Saunders said. "For him to be home, it's everything. It's like having a weight lifted off of my shoulder, so I can only imagine how he feels.
"It's electric. We got the man of the house back."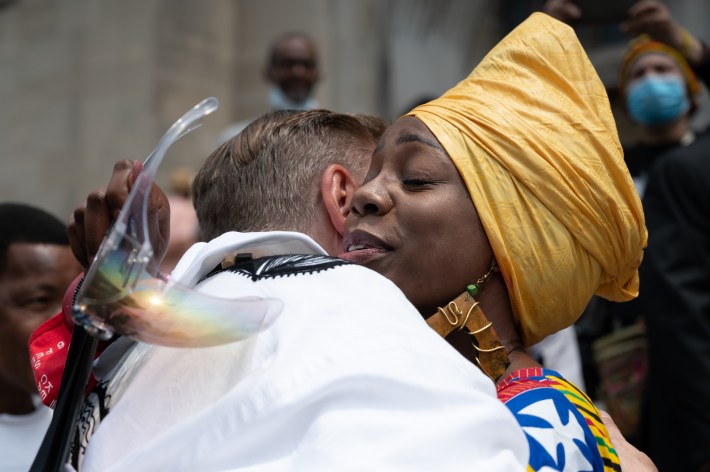 Subscribe to Block Club Chicago. Every dime we make funds reporting from Chicago's neighborhoods.
Already subscribe? Click here to support Block Club with a tax-deductible donation.
Listen to "It's All Good: A Block Club Chicago Podcast" here: