NORWOOD PARK — Six-year-old Molly Morris is a fighter with a big smile and a strong personality, which has not dimmed despite a life-changing few weeks that have kept her at the hospital. 
In early May, Morris felt pain in her side and went to the doctor for X-rays, her parents said. Doctors found a tumor in her kidney. A day later, Molly was diagnosed with stage 4 kidney cancer and admitted to Lutheran General Hospital before moving to Lurie Children's Hospital May 18. 
"We went from basically thinking it was just a bowel obstruction to 12 hours later finding out it was kidney cancer," said her father, Jonathan Morris.
Normal life for the Morris family, who live in Norwood Park, was upended overnight, but strength from the community has helped them stay positive. As Molly grapples with surgeries, tests and a long road to recovery, the Northwest Side has stepped up to show support and love for the family through donations, gifts, meals, fundraisers, signs and orange ribbons that line several businesses and churches from Jefferson Park to the nearby suburbs. 
The Morris family has received support from students and schools, community groups, churches, local fire departments and all the Northwest Side aldermen, as well as a plethora of hopeful messages. 
The Chicago Fire Department created a T-shirt fundraiser for the family that has sold more than 400 items, and the family launched a giving campaign where people can send money and gifts.
They also created a Facebook page to keep the community updated on Molly's progress.
"The overwhelming outpour of support and love has been the biggest comfort to myself and our entire family," said Molly's mother, Erin Morris. "We would not be holding up the way we are without that love of the community. I still can't believe this is happening to us, but I can't believe how everyone has come together and shown us their love.
"The whole Northwest Side is covered in orange. It's amazing. Every place put ribbons up for our girl."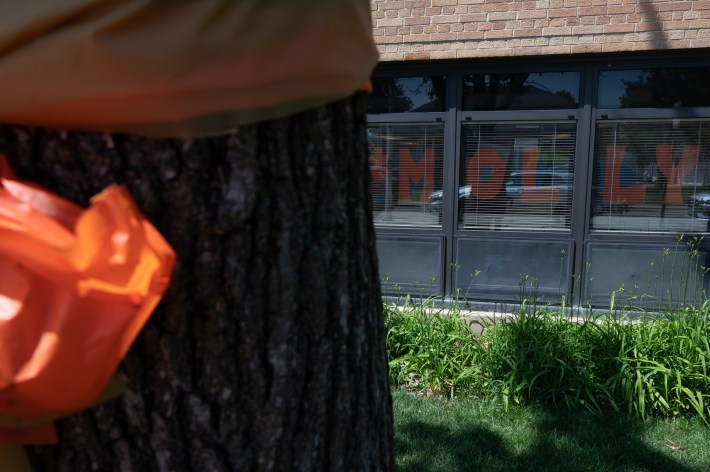 Erin Morris said she has received messages from folks she hasn't spoken to in 15 years and total strangers. The community support has filled her with gratitude, she said.
"Those help mend my mommy broken heart, and they also keep carrying us minute by minute through bad news and good news," she said. "It's like a hug every time I read a message."
One of the family's neighbors organized nightly prayer services for Molly via Zoom.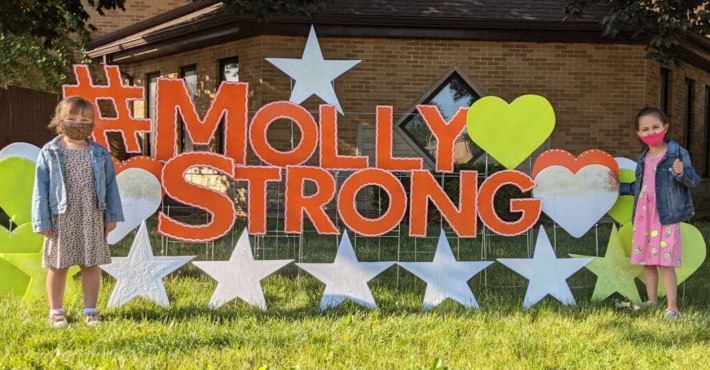 "As soon as I heard the diagnosis, I wanted everybody in the entire world to make her better," Erin said. "I asked for an army, and we got an unbelievable army."
The family is part of the St. Monica's Roman Catholic Church parish in Big Oaks, and Molly is a first grader at St. Monica's Catholic Academy. St. Monica's put up a large sign that reads #MollyStrong in the courtyard of the school. 
Ald. Jim Gardiner (45th) donated to a lemonade stand event on Tuesday held by Girl Scouts for Molly. He said it's nice to see the community stand united for the Morris family during a challenging time. 
"One thing that we can rely on within our community is the sincerity and generosity of countless residents who go above and beyond when asked to contribute to a worthy cause such as this," Gardiner said.
Similarly, Ald. Samantha Nugent (39th) said she is proud to be part of a community that is lending strength and hope to the family. 
"Molly has the entire Northwest Side cheering for her," Nugent said. "It's heartwarming to see friends and neighbors share a post, send a prayer or make a donation to Molly and her family." 
Ald. Anthony Napolitano (41st), who represents Norwood Park, said his community always steps up for those in need and and sends well wishes to the family.
"Molly represents all our children, and we pray for her speedy recovery," Napolitano said.
The family is also thankful to friends who are taking care of their youngest daughter Annie, who is turning 5 this month, while they remain by Molly's side at the hospital. 
"Annie is our superhero's unsung sidekick," Erin said.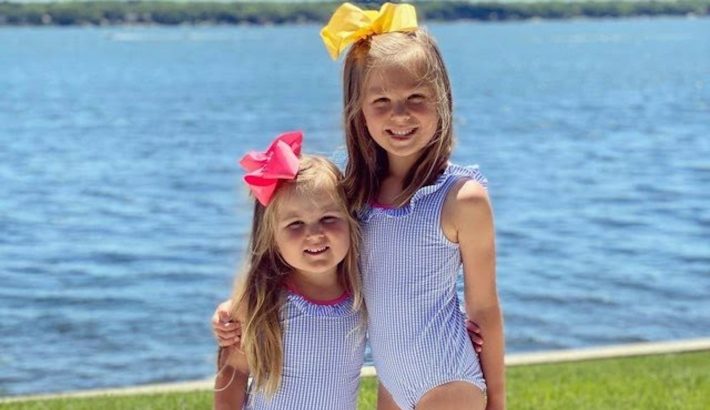 The Morrises said Molly had surgery to remove the tumor on her kidney, but the cancer has spread to parts of her lungs. Her father said she is undergoing a 42-week treatment plan that includes chemotherapy, radiation and possibly more surgeries. 
Despite the hardship the family has experienced, they said Molly's attitude is proof she will persevere. With help from the community, the family said they are in good hands and want to extend a public thank-you to everyone who has offered support and prayers.
"Molly is the sweetest, silliest but super independent and stubborn [girl]. She's a fighter," Erin said. "She wants to help the nurses do everything, like change her bandages and put her monitors on her. She wants to be involved in the process entirely.
"So we know without a doubt that she is a fighter and that is going to carry her through and heal her."
People can donate to the family here or support them by buying Molly Strong apparel.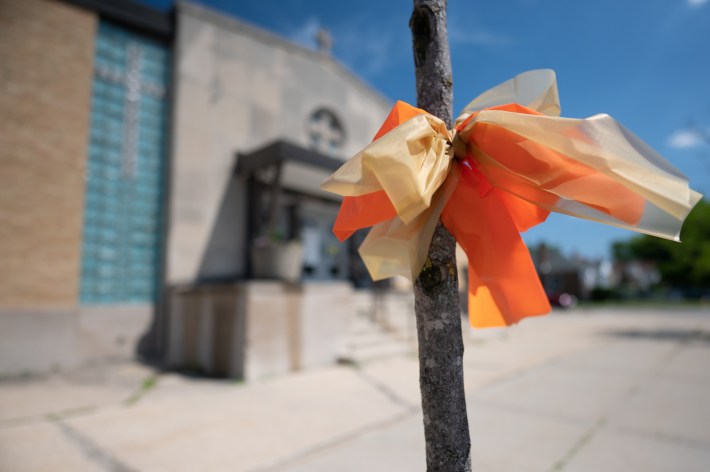 Subscribe to Block Club Chicago. Every dime we make funds reporting from Chicago's neighborhoods.
Already subscribe? Click here to support Block Club with a tax-deductible donation.
Listen to "It's All Good: A Block Club Chicago Podcast" here: