MORGAN PARK — A parade of more than 20 cars, decked out in orange and green streamers, took off Thursday from the corner of 95th Street and Vincennes Avenue as the Morgan Park Mustangs celebrated their 2021 Chicago Public League City Championship win.
The parade's main float — carrying Morgan Park High School's senior baseball players — blasted "Lemonade" by Internet Money, "OUT WEST" by Travis Scott and "We Are The Champions" by Queen. 
The Mustangs won the 2021 championship Saturday, defeating rival Simeon in a two-day, rain-delayed thriller, 14-11. Thursday, the community celebrated. 
"We took the top off, took the back off and started decorating," said Kim Freeman, applying an extra layer of tape to her convertible Jeep. Photos of her nephew Jatonne Sterling and her son Kendall Garland, each holding the championship plaque, graced the car doors. "It's all family. It's all Mustang love." 
The procession concluded at Morgan Park High School, 1744 W. Pryor Ave., where the Mustangs were greeted with a pep rally. Sterling, a senior outfielder and one of four Mustangs who will play baseball at Clark-Atlanta University next year, stood up to speak. 
"The main source of life lessons I have is baseball," said Sterling, taking a moment to collect himself as the crowd cheered on. "Coach Radcliffe has given me the opportunity to go further in my baseball career." 
Head coach Ernest Radcliffe led Morgan Park to its first city championship in 2014, and now, he's helped the team win its second. Earlier this week, he shook the hand of former President Barack Obama.
Radcliffe believes his Mustangs now have a shot at being the first Black team to win an Illinois state championship. 
"I want these young men to embrace that opportunity and be a part of history," Radcliffe said. "It helps the African American community, to let them know we can go down there and compete against schools from all over the state."
Chicago Public Schools CEO Janice Jackson addressed the crowd and congratulated the team. 
"Thank you for keeping baseball alive for Black boys," Jackson said. "That's my favorite sport, and we don't see enough young Black men playing. To see young Black men win a championship in Chicago Public Schools, it gives me great thrill."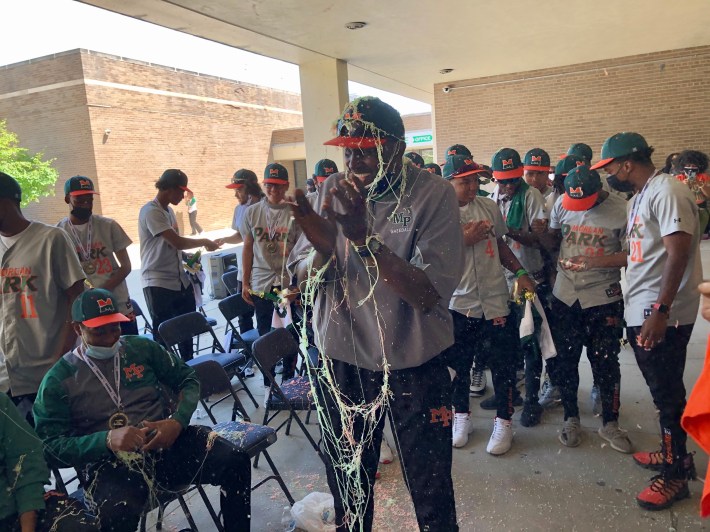 Senior Omar Albert Jr. is a part of the team's core that grew up playing baseball together in the Jackie Robinson-South Little League. He quieted the crowd and walked up to the microphone. 
"Our main goal was to be great and strive in whatever situation we were put in," Albert said. "We stayed humble, and the outcome of that made us city champions." 
Principal Femi Skanes made the closing remarks. 
"It's really easy to be judgmental about young people, but these young men right here, this is real Black boy excellence," Skanes said. "This is what most of our young people look like."
Skanes recalled how just 30 minutes earlier, a car in the parade broke down in the middle of the road. The players climbed out of their float to push the car safely to the side. 
"They didn't think twice about it. That's how they are," Skanes said. "They're champions in real life, too." 
Subscribe to Block Club Chicago. Every dime we make funds reporting from Chicago's neighborhoods.
Already subscribe? Click here to support Block Club with a tax-deductible donation.