LOGAN SQUARE — Officer Evan Solano is still reporting to work with his badge and a gun, his lawyer says — despite facing two separate investigations for killing a young father in Portage Park and pulling his weapon on a driver in Logan Square.
City and police officials have been tight-lipped about Solano's fate as a cop since he fatally shot 22-year-old Anthony Alvarez in his back March 31. When videos of the shootings were released, Civilian Office of Police Accountability officials made the unusual recommendation the Police Department strip Solano of his police powers during their investigation, which would forbid him from carrying a badge or a gun.
But Supt. David Brown has not acted on that recommendation, though a spokesman said Wednesday it was under consideration. Solano has been put on desk duties, which is standard after police shootings. With the COPA investigation ongoing, video surfaced last week of a uniformed Solano arguing with another driver in Logan Square and taking out his gun as the confrontation escalated.
RELATED: Chicago Cop Who Fatally Shot Anthony Alvarez Being Investigated For Pulling Gun In Logan Square Road Rage Clash
Solano's attorney and a police spokesman said the officer remains on administrative duties with the department. Police and city officials have not said whether he has been disciplined from the Logan Square incident, which is being investigated by the Police Departmetn's Bureau of Internal Affairs.
Mayor Lori Lightfoot declined to comment at an unrelated news conference Wednesday, citing the ongoing investigation.
"I don't know all the details about that incident, nor does anybody else. That's why we have an independent investigation" that needs to play out, Lightfoot said.
The situation is compounding the frustration from Alvarez's grieving relatives, who have pushed for Solano to be fired and charged with murder.
The road rage incident "clearly shows Evan Solano has anger issues," said Alvarez's cousin, Roxana Figueroa. "He seems to get triggered by any situation. He is quick to react to something so little, and he is quick to pull out a gun on anyone at any giving time because he knows CPD will back him up.
"Evan Solano is a coward and he needs to be taken off our streets as we see him as a threat to our community and, most importantly, our youth and our children."
Solano's attorney, Tim Grace, rejected that.
"The Chicago Police Department doesn't allow people on the job that have anger issues," Grace said. "There's never been any issues with anger" with Solano.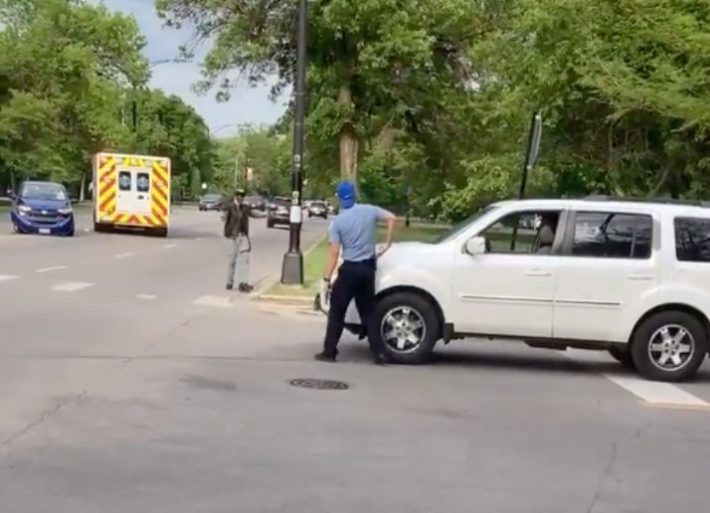 The road rage incident occurred May 21 and was caught on video by several bystanders in the 2900 block of West Logan Boulevard.
The footage shows an escalating traffic dispute between Solano and the driver of a white SUV. The other driver gets out of his car and threatens Solano, who was sitting behind the wheel of his red Ford Mustang, a personal car.
The videos later show Solano, in uniform, out of his car and confronting the SUV driver with his gun drawn as the two continue shouting at each other and bystanders urge Solano to put away his weapon.
Grace said Solano was on his way to work — "not out drinking or off-duty or anything" — when the confrontation occurred.
"Everything I have is this individual — whoever he was — was the one who instigated it," Grace said. "I don't think my client actually did anything."
Grace said what happened there should be irrelevant to the Alvarez shooting investigation and criticized COPA for saying Solano should lose his police powers.
"The superintendent of police, someone who's actually worn a badge, gets out on the streets, knows the stresses police officers are under, has not taken that position," Grace said. "COPA is an entity that has no credibility."
But Figueroa and Alvarez's family's attorneys said the Logan Square incident underscores the importance of disciplining and prosecuting Solano.
"Solano's actions as exhibited in the video taken by the bystander in Logan Square show a police officer who is unhinged and clearly unable to control his emotions," attorney Tania Dimitrova said. "He showed no concern for the safety of the community or those around him when he recklessly waived his firearm to threaten and intimidate the SUV driver, who happened to have two small toddlers in the back seat of his vehicle.
"That behavior coupled, with a deadly weapon in hand, is the reason Anthony is not here today."
Dimitrova also questioned whether the driver "would have suffered a similar fate to Anthony had the incident taken place at night with no witnesses present to document."
Solano shot Alvarez during a foot chase just blocks from Alvarez's Portage Park home in the 5200 block of West Eddy Street. Police officials have not said why officers were chasing Alvarez.
Body cam videos show Alvarez was carrying a gun, but he wasn't recorded raising or pointing it during the chase. Solano fired at least five shots at Alvarez as he ran, hitting him in his back and left knee, autopsy records show.
Reporter Joe Ward contributed to this story.
RELATED: Video Shows Chicago Police Fatally Shoot Anthony Alvarez As He Runs From Them: 'Why Are You Shooting Me?' (NO VIDEO IN STORY)
Subscribe to Block Club Chicago. Every dime we make funds reporting from Chicago's neighborhoods.
Already subscribe? Click here to support Block Club with a tax-deductible donation.