NORTH LAWNDALE — West Side residents are being asked to help decide what will be built on vacant Ogden Avenue land.
City planning officials invited Lawndale residents to score six proposals for how the site at 3400 W. Ogden Ave. could be transformed. The project is part of the city's INVEST South/West program aimed at guiding public and private funds toward areas that have historically not received their fair share of investment.
Proposals for the Ogden lots include a cosmetology school, a hotel, a business incubator and a food hall. To give feedback, complete the Community Scorecard by June 11.
Residents can score the six projects based on their benefits to the local economy, community impact, the involvement of developers of color, the feasibility of the project and the quality of innovation in the design.
The six developers competing to build on the vacant land presented their plans at two community meetings in May. The presentations can be viewed on YouTube, and the planning department created a toolkit offering side-by-side comparisons between the features of each project.
Planning officials did not specify how much community feedback would weigh into the final decision, which will ultimately be made by city leaders.
"It is really important for us to develop our community with community voice, and this is what this process is about," said Ald. Michael Scott Jr. (24th).
More on each proposal:
Hive Cosmetology & Fragrance School And Affordable Housing
Elevate Cosmetology and Fragrance School and Miller & Ferguson want to create a $52.8 million Elevate X Hive cosmetology campus.
Students would be able to earn a 1,500-hour cosmetology certificate. The school would also offer entrepreneurship classes and workshops on topics such as perfume-making and product design so residents can "curate their own beauty and wellness brands," Hive founder Bambi Montgomery said.
The five-story, mixed-use building would include the Crown and Glory museum of Black hair, a community plaza and five ground-floor retail spaces for local businesses. The cosmetology school would also operate a salon and spa with discounted services for residents, Montgomery said.
The project would include 66 units of affordable housing, 150 temporary jobs in construction and 75-100 permanent jobs in retail and facility maintenance. Developers partnered with North Lawndale Employment Network to ensure Lawndale residents are the first to benefit from the jobs created.
Food Hall, Affordable Housing Celebrating Lawndale's Black and Latino Heritage
Lawndale Christian Development Corporation and NHP Foundation aim to create The Tapestry, a $31.4 million project with a food hall to unite North and South Lawndale with art and economic opportunities.
The food hall would create opportunities for local food vendors, restaurants and entrepreneurs of color. The project would also include stores and a co-working space to offer support to local businesses.
The development would include 67 units of affordable housing and create 50 permanent jobs and 170 temporary construction jobs.
Outside The Tapestry, a landscaped plaza would have public art and murals that reflect the Black and Latino heritage of North Lawndale and Little Village.
"This new active outdoor street plaza will provide accessible public space for neighborhood gatherings, programmed activities for both young and seniors, a sense of place and expression of both Latinx and African American cultures," said Veronica Gonzalez, of NHP Foundation.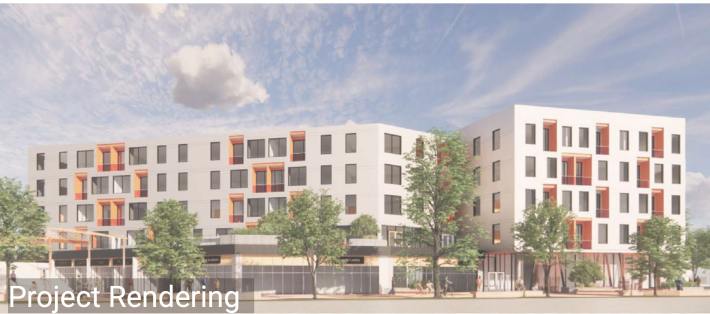 Business Incubator, Marketplace and Affordable Housing
Michaels Development and New Covenant Community Development Corporation would create PIVOT North Lawndale, a $27.5 million project anchored by a business incubator.
The five-story hub would be designed to connect neighborhood groups, entrepreneurs and cultural organizations. The development will also include a marketplace with five micro-retail spaces owned and operated by New Covenant for local entrepreneurs at the incubator.
"It lets those businesses communicate with each other. We can create a cohort of businesses working together. Our plan includes having them occupy those different spaces until they reach a certain level, then we launch them into the deep," said Rodney Brown, executive director of New Covenant.
The development will have 46 units of affordable housing and eight market-rate units. The plan is expected to create about 32 permanent jobs and up to 300 temporary construction jobs.
OG Lawndale: A Public Plaza, Housing and Retail
Gorman & Company and BEEHYYVE want to create OG Lawndale, a $38.3 million plan with 50 units of affordable housing, a public square and retail.
The OG Lawndale plan emphasizes the innovative design of the building, which features green rooftops and terraces, over the specific offerings of the mixed-use development. The offerings of the building will be determined by the needs of the community, developers said.
"The idea [is] activating the street with human beings and retail and just sheer activity, and let the community invent some programs. Sometimes it's up to us as architects to provide that canvas and let the community create," said Juan Moreno, president of JGMA, a design partner for the project.
Art And Tech Center With Restaurant, Bistro And Housing
A team led by GRE Ventures, Imagine Development and 548 Development proposed a $31.4 million project called Lawndale Redefined.
The development would be anchored by an arts and tech community center called the Cube. The center would offer training for tech fields like blockchain, crypto, 5G and artificial intelligence. The Cube would also function as an art gallery hosting events and gatherings.
The project would include a small grocery store and a bistro with full-service dining on the rooftop terrace. The green roof would have solar panels and offer opportunities for community gardening. A public art plaza outside the building would have a splash pad for children and a meandering walking path with installations designed to educate visitors about Lawndale's rich history.
Lawndale Redefined would include 48 affordable housing units and 12 market-rate units, including three townhomes that will provide residents with opportunities for homeownership.
Proxima Management Hotel
A $48 million proposal by Proxima Management would create a hotel with 200 rooms.
The Proxima Management Hotel would also have two spaces for restaurants or shops. The green rooftop of the hotel would have a terrace, a fitness center and a lounge, developers said.
The hotel and tourists visiting the area would bring up to $30 million to the local economy by patronizing neighborhood businesses and restaurants, developers said.
The hotel would create at least 30 permanent jobs, and the developers would make sure at least 10 Lawndale residents were hired for temporary construction jobs. Proxima partnered with North Lawndale Employment Network to ensure residents are prioritized for hiring.
"North Lawndale is a place to come visit. It is going to become a place where families will want to come visit the botanic gardens or visit the Martin Luther King museum. There's so much history in this community," said Brenda Palms Barber, president of North Lawndale Employment Network.
Pascal Sabino is a Report for America corps member covering Austin, North Lawndale and Garfield Park for Block Club Chicago.
Subscribe to Block Club Chicago, an independent, 501(c)(3), journalist-run newsroom. Every dime we make funds reporting from Chicago's neighborhoods.
Already subscribe? Click here to support Block Club with a tax-deductible donation.
Listen to "It's All Good: A Block Club Chicago Podcast" here: