LOGAN SQUARE — As plans to redevelop the long-vacant Congress Theater inch closer to reality, a group of graffiti artists have turned the historical venue into their canvas in a nod to the theater's artistic past.
Several colorful murals went up at the theater at 2135 N. Milwaukee Ave. last weekend and more are slated to go up this upcoming weekend. The murals are being painted by graffiti artists tied to BboyB ABC and Flash ABC, the founders of Project Logan, a rotating graffiti wall at Fullerton and Milwaukee avenues.
The public art display, dubbed Project Congress, does not have a unifying theme; one of the murals that went up last weekend is a tribute to Chicago Cubs shortstop Javy Baez, but most are more abstract. The plan is to rotate the murals every two months until work begins on the theater, which could be a year, BboyB said.
RELATED: Congress Theater Redevelopment Is Back On, Alderman Says, As Developer Steps In To Overhaul Historic Venue
The artists received permission to paint the murals from the real estate firm hired to sell the building after the previous developer was hit with a foreclosure lawsuit, BboyB said. Ald. Daniel La Spata's 1st Ward office also helped facilitate the mural project.
"We hoped that while the board-up occurred, a mural would not only deter graffiti from the space, but also serve as a great community asset," Nicholas Zettel, La Spata's policy director, said in an email.
The mural project comes not long after local developer Baum Revision stepped forward with plans to redevelop the historical venue, which has sat empty for nearly a decade.
Baum Revision officials didn't return a message seeking comment Tuesday, but they're expected to outline their plans for the site at a virtual community meeting later this month. The meeting, which will be hosted by La Spata, is set for June 28.
La Spata told Block Club earlier this month the Baum team is working with a court-appointed receiver who took over the property after the previous developer, Michael Moyer, was accused in a lawsuit of defaulting on his loans. Baum is seeking to assume control of the building and overhaul the historic theater as well as the surrounding apartments and retail space, La Spata has said.
Project Congress is meant to liven up Milwaukee Avenue ahead of the potential redevelopment of the building. It's also a way for BboyB, Flash and the many other graffiti artists that make up their crew to maintain a presence in Logan Square with Project Logan in danger of being wiped out by a large apartment complex.
"I think the neighborhood understands that it's in a fork in the road. It knows it's going to lose its soul, which is why people moved to Logan Square — because of the culture. Now they're seeing the culture being attacked, I think this is a reaction," BboyB said said of Project Congress. "This is one last hold-out, like, 'Hey, let's [make] it happen somewhere else.'"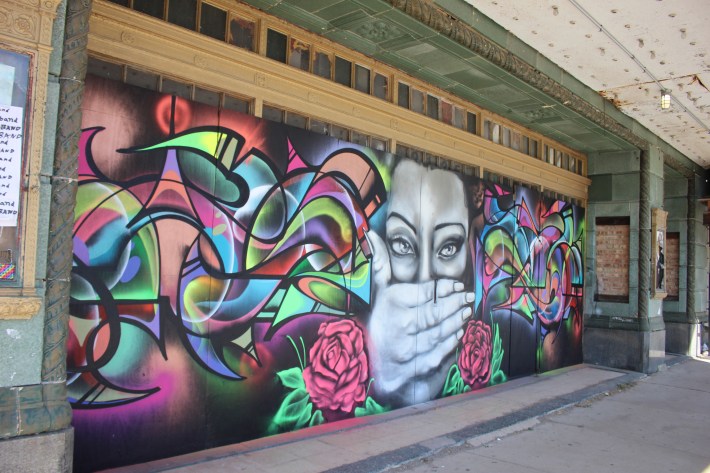 Project Congress is personal for BboyB.
The longtime graffiti artist used to rent a live/work studio in the theater building years ago, back when the Congress was home to a thriving artists' community. Most of the building residents in the early 2000s were young artists who paid cheap rent — and liked music, BboyB said. The residents would often open up their artist studios for events and parties; BboyB used to organize art events in the building.
"It was kinda like a [School of the Art Institute of Chicago] dorm," he said.
Now, as artists put their mark on the Congress, and as the redevelopment of the 1920s building comes into focus, more memories of the old venue are resurfacing, BboyB said.
"Everybody who painted at Project Congress was like, 'Oh my god, I remember when I was a kid I used to go to parties here and sneak in because I was underage,'" BboyB said. "Everyone who came here to paint had stories about the Congress. The Congress Theater was one of those spots where kids gravitated to even when they weren't supposed to."
For updates on the Congress Theater redevelopment community meeting, check La Spata's website.
Subscribe to Block Club Chicago. Every dime we make funds reporting from Chicago's neighborhoods.
Already subscribe? Click here to support Block Club with a tax-deductible donation.