CHICAGO — Two talk shows led by local transgender women seek to empower and better represent trans people.
Transgender woman and drag performer Irregular Girl didn't see many trans characters in media growing up, so she would often ascribe transness to certain films she related to.
For example, "Little Shop of Horrors" is a story about a trans-for-trans couple in Irregular Girl's interpretation, even though main characters Audrey and Seymour are never explicitly defined as being transgender. And "The Matrix," a dystopian flick in which humanity is unknowingly trapped inside a simulated reality, has come to be known as an allegory for the transgender experience of coming out.
"There are very few representations of transgender people in media, so we often have to find those things for ourselves in media that might not have been made explicitly for us," Irregular Girl said.
This lack of true representation for transgender people is the basis for Irregular Girl's new talk show, "That Shit's Trans," which premiered this weekend. It debuted Saturday on OTV, a local streaming platform for TV pilots that are inclusive of queer people and people of color.
The talk show features local transgender guests, who break down films and other media they connect to.
"It's about time that trans people are able to write our own narratives and take control of our history, and these talk shows are one way we can do that," Irregular Girl said.
The first episode of "That Shit's Trans" featured local DJs Ariel Zetina, Bonereader and Del to discuss transgender representation in media. It's produced by TransIt Productions, a trans-led video company created by Irregular Girl and Masen Colucci last year when the two were filming videos for drag performers and their virtual shows during the pandemic.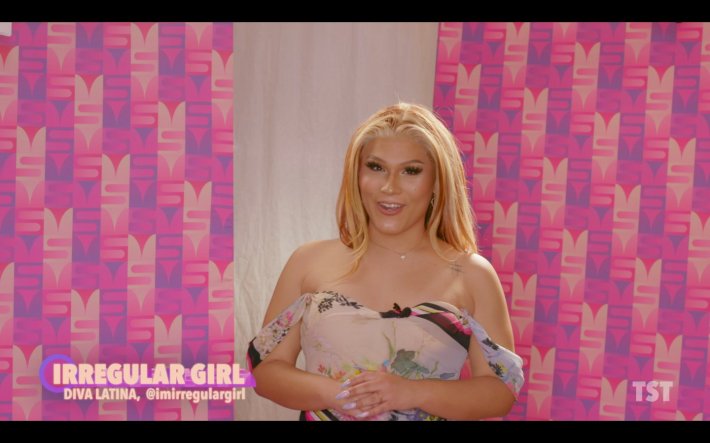 "It's really funny how a lot of folks have ascribed transness onto certain media, and it happens because there's a lack of good representation for trans people," Irregular Girl said. "This show is a nice place for us to talk about it now."
Another trans-led talk show from Chicago is "The Moment," an online chat show with drag performances created by Alex Jenny, a drag performer, therapist and transgender woman.
Over three episodes, Jenny has interviewed local transgender activists like LaSaia Wade, founder and executive director of the Black- and trans-led Brave Space Alliance, and Lucy Stoole, a nonbinary drag performer and co-founder of the Chicago Black Drag Council.
The show serves as a safe space for transgender people to talk about their experiences, but its conversations are centered on their work or artistry, Jenny said.
"'The Moment' incorporates my mindfulness and therapy work with the beauty of what it means to be in the moment, while also celebrating queer and trans artists who are the moment, meaning they're propelling us forward and enacting a radical future through their work or art," Jenny said.
Jenny pointed to transgender trailblazers like Laverne Cox, who was recently named E!'s red carpet host, and Ts Madison, host of the Ts Madison Experience, as inspirations for her talk show.
"Unfortunately, having trans people exist anywhere is still radical in this world we live in, but I think that those two are examples of such a huge step in the right direction," Jenny said.
Having more transgender people in these visible roles allows trans people to be their own storytellers, rather than relying on cisgender people who might not always get it right to tell their stories, Jenny said.
"Through our talk shows and hosting gigs, we are reclaiming the narrative," Jenny said. "And because we've already impacted entertainment spaces so much, whether people realize it or not, we're reclaiming what's rightfully ours."
Jake Wittich is a Report for America corps member covering Lakeview, Lincoln Park and LGBTQ communities across the city for Block Club Chicago.
Subscribe to Block Club Chicago. Every dime we make funds reporting from Chicago's neighborhoods.
Already subscribe? Click here to support Block Club with a tax-deductible donation. 
Listen to "It's All Good: A Block Club Chicago Podcast" here: