PORTAGE PARK — For the third time in two months, a memorial for a man whom police killed has been cleared from the Northwest Side corner near where he died — and his grieving family members are accusing police of harassing them while they mourn.
The family of Anthony Alvarez, a 22-year-old father killed in March in Portage Park, were having a vigil Monday when an officer approached them to say part of the memorial that was affixed to a street sign needed to be taken down, according to videos posted to social media and shared with Block Club.
Alvarez's family changed parts of the memorial so they instead were attached to a new pole next to the sign at West Eddy Street and North Laramie Avenue. But by Tuesday afternoon, all of it was gone.
Relatives and a family attorney returned to the area later Tuesday to rebuild the tribute with flowers and veladora candles. They said they think police removed their latest display, though a Police Department spokesman denied that.
On April 2, days after Alvarez was killed, police officers removed the first vigil made in his honor because it was on private property, according to the family members and a Police Department spokesman.
"We just want to have a peaceful vigil, a peaceful moment with the family sharing memories of Anthony," said Alvarez's cousin, Roxana Figueroa, who was at the vigil Monday when the officer approached them. "Until this day, we haven't had the chance to do so without being harassed by Chicago police officers."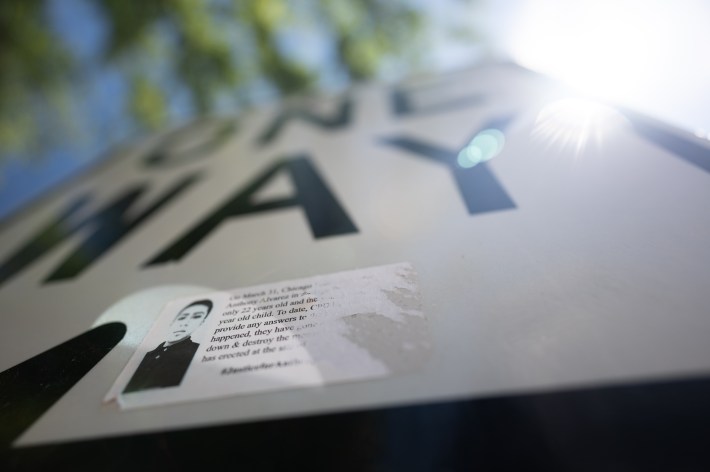 In the video from Monday, an officer approaches the group of mourners, who were gathered around a pole decorated with flowers and photos of Alvarez.
"Where is your attorney or does somebody speak English?" the officer says in the video as he approaches the family.
"We all speak English," members of the crowd said.
The officer told them part of their display was obstructing a street sign and needed to be removed because it created a safety hazard. Before leaving, he removed some stickers from the street sign, saying the family could get sued if there is a crash because someone did not see the one-way sign.
Family members and their attorney said the memorial on the street pole was not impeding traffic or causing any safety hazards. Photos show two stickers at the bottom of the the sign, covering small parts of the one-way arrow, but family members said the rest of the display was not harming anyone.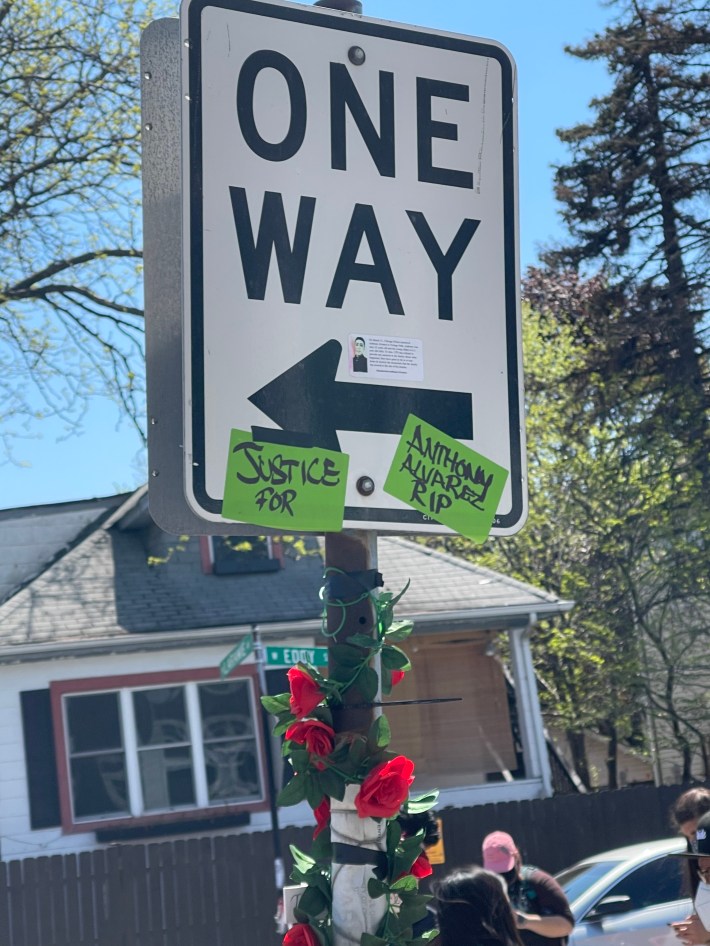 The family said the officer told them the memorial on the grass could remain as it is on public property. They bought a new pole and placed in front of the street sign with pictures of Alvarez and red flowers on Monday night, but that was also gone Tuesday afternoon.
A Police Department spokesman said officers had no part in removing the memorial Tuesday. The officer seen in Monday's video was responding to neighbor calls of a "disturbance" and a large gathering at the intersection. He said the officer did not intentionally target the family gathering.
In a statement, the Police Department said it strives to "treat all individuals our officers encounter with respect. Anyone who feels they have been mistreated by a CPD officer is encouraged to call 311 and file a complaint with COPA, who will investigate allegations of misconduct."
But Figueroa said police repeatedly have been uncommunicative or disrespectful during encounters with Alvarez's family. 
"There are ways to speak people in a cordial manner, in a form of professionalism, but he was just rude and racist," Figueroa said of the Monday incident.
Members of the Alvarez family also held a protest at the 16th District police station in Jefferson Park over the weekend, demanding Officer Evan Solano be charged for killing Alvarez and for the department to have better oversight. A pro-police counter protest organized by three Northwest Side aldermen was staged nearby and led to one arrest, said Tania Dimitrova, one of the attorneys representing the Alvarez family.
"The [counter-protester] guys were very aggressive, coming into our crowd of people and hassling them," Dimitrova said. "They almost ran over our guys."
Figueroa said the officer coming to the family gathering, which was a peaceful crowd of about 10 people, felt like retaliation for organizing the Saturday protest.
"Neighbors stop by donate candles, flowers … . We keep the area clean. We have cut the grass and everything," she said. "It doesn't bother anyone but CPD."
Figueroa said the family is working with local Pilsen activist Delilah Martinez, who helped unveil a mural for Adam Toledo, to create a mural for Alvarez.
The family said the past incidents at the memorial will not stop them from calling for justice and remembering Alvarez as a kind, caring and hard-working father.
"This is not intimidating us at all," Figueroa said. "We are not stopping here."
Oscar Martinez, Alvarez's father, said he doesn't want his son's life to be thrown away like the memorials were. He said the family plans to redecorate the intersection with help from the community.
While Solano is under investigation for killing Alvarez, he is separately being investigated for drawing his gun on a driver during a Logan Square road rage clash in May.
"Everybody knows what [the police] are doing and they are doing wrong," Martinez said. "We are disappointed about why they are doing it. They want to cover it up, but we are not going to stop. We have to continue to protest and put this officer in jail.
"We are not going to stop until we get justice for my son."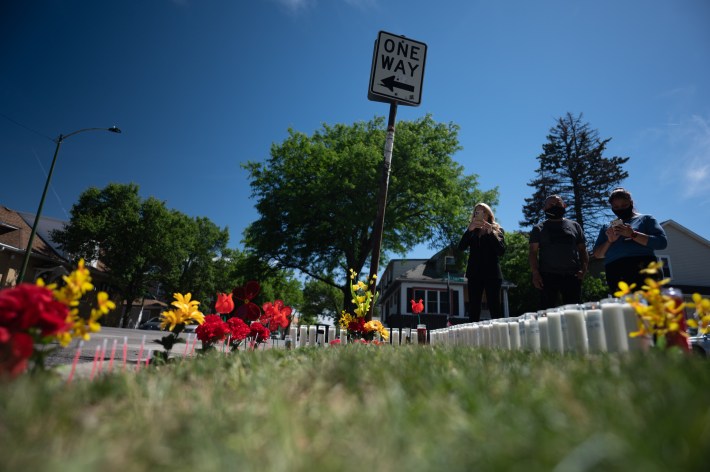 Subscribe to Block Club Chicago. Every dime we make funds reporting from Chicago's neighborhoods.
Already subscribe? Click here to support Block Club with a tax-deductible donation.