CHICAGO — The years-long fight to rename Chicago's iconic Lake Shore Drive after the city's first non-indigenous resident took another detour Wednesday as a last-minute maneuver delayed a City Council vote.
Ald. Brian Hopkins (2nd) teamed up with Ald. Ariel Reboyras (30th) to stall the vote to rename Lake Shore Drive as DuSable Drive, pushing back a vote until at least the next City Council meeting, which is June 23.
Ald. Sophia King (4th), whose whose South Side lakefront ward would include much of the renamed road, tried to immediately call the ordinance for a roll call vote, hoping to short circuit Hopkins' maneuvering. But Mayor Lori Lightfoot said she saw Hopkins' hand raised first and ruled King out of order.
Hopkins and Reboyras invoked a rule allowing aldermen to "defer and publish" the ordinance, buying opponents of the name change at least a month to continue a debate.
The Sun-Times reported Wednesday the "defer and publish" tactic was a likely possibility that could start with Hopkins. Ald. David Moore (17th), who first introduced the ordinance in 2019, told the Sun-Times he'll "hold up every City Council going forward…" if the strategy proved successful.
"They can't stop this. It's just a delay," he told the Sun-Times.
As the vote was delayed, Moore could be heard in the gallery repeating that promise to employ the same strategy for any future City Council votes. King, who attended the meeting virtually, could be heard criticizing Lightfoot over a lack of transparency.
Moore made good on his pledge moments later, obstructing almost every piece of new legislation by sending them to the Rules Committee. The committee is typically where unwanted ordinances go to die, but it's likely Moore's move only delayed them temporarily.
King, who chairs the Progressive Caucus and supports the name change, told the paper the "votes are there" to pass the ordinance.
After the meeting, Lightfoot repeated previous comments that it's "way past time" to honor Du Sable, but said her package of honoring him through new investments in a park east of Lake Shore Drive, and with monuments and programming on the Riverwalk would be "permanent, something that helps teach about the legacy of Du Sable and his wife that goes way past a name change."
"And I think what I've heard from people in the city, there's a lot of folks who oppose any changing of Lake Shore Drive. It's one of the most iconic assets that the city has, when you say, Lake Shore Drive," she said.
Lightfoot also claimed some have told her there wasn't enough time to debate the name change, even though Moore first floated the idea in 2019.
Jean Baptiste Point du Sable, a Black man believed to be of Haitian descent, arrived here in 1779.
He settled where the Chicago River and Lake Michigan meet, establishing a trading post and farm before selling the property in 1800 and moving to the port of St. Charles. But du Sable's "successful role in developing the Chicago River settlement was little recognized until the mid-20th century," the proposed ordinance says.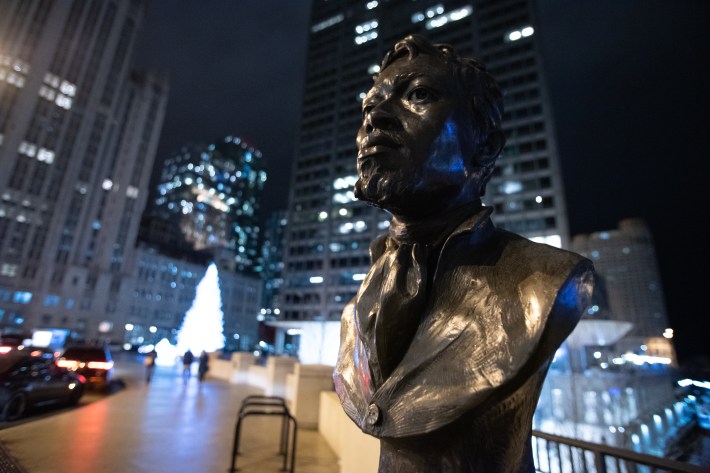 Renaming the drive would help educate the "very few people, especially tourists and new Chicagoans" about du Sable's life and importance to the city, the ordinance says.
In addition to a school and the DuSable Museum of African American History in Hyde Park, a small monument sits near the DuSable Bridge on Michigan Avenue.
The name change would affect 17 miles of outer Lake Shore Drive from Hollywood Avenue to East 67th Street. It's expected to cost $2.25 million, according to the Sun-Times. The measure was unanimously approved at a tumultuous Transportation Committee meeting in April, where Moore labeled a last-minute attempt to tweak the ordinance as "racist bullshit." 
King said the change would make Chicago "even more iconic" and the clashes over the issue reminded her of the fight to rename Congress Parkway after Ida B. Wells, a pioneering Black journalist and anti-lynching advocate.
"I think these are all unconscious biases that come out, and that individuals strategically put fear about money, and about marketing, and about all the things that really aren't that important but do change the minds of people," King said in April.
Other aldermen who represent stretches of Lake Shore Drive, including Ald. Tom Tunnney (44th), said they had fielded concerned calls from people who live on Lake Shore Drive, according to the Sun-Times.
Ephriam Martin, chairman of the Black Heroes Matter group that pushed for the name change at committee meetings for months, once again asked the City Council to honor Du Sable ahead of Wednesday's vote.
"For almost a year now, we have been consistently making our case to the various City Council committees about Du Sable, the Black man from the Carribean that started this city," Martin said. "We have outlined our argument and it is finally in the hands of the elected Council members to vote your conscience and do what is right by voting yes to rename the Outer Lake Shore Drive as Du Sable Drive."
Subscribe to Block Club Chicago, an independent, 501(c)(3), journalist-run newsroom. Every dime we make funds reporting from Chicago's neighborhoods.
Already subscribe? Click here to support Block Club with a tax-deductible donation. 
Listen to "It's All Good: A Block Club Chicago Podcast" here: