AUBURN GRESHAM — Dozens of St. Sabina Church parishioners gathered Monday in front of the church minutes before their longtime pastor, Father Michael Pfleger, prepared to speak.
It was a homecoming for Pfleger, who was sidelined from the church for five months as the Archdiocese of Chicago investigated decades-old sex abuse allegations against him. On Monday, he was reinstated at his longtime parish after archdiocese officials said there was "no reason to suspect" the pastor is guilty of sexual abuse.
The Catholic priest was asked to step down from the ministry in January, when two brothers accused Pfleger of sex abuse stemming from incidents that occurred decades ago when they were underage. A third man came forward with allegations in March.
Throughout the investigation, Sabina parishioners stood by Pfleger, a prominent anti-violence activist who has led the predominantly Black church since 1981. As the weeks wore on, the Sabina cabinet put pressure on the archdiocese to quickly wrap up its investigation, withholding its $100,000 monthly payments to the central office.
Outside the church Monday, Joseph Saunders, a member of the church since 1997, described Pfleger's return as "electric."
"You feel this breeze?" Saunders asked. "That's just how I feel. I feel electric right now. I feel resuscitated." 
Saunders said he was "pissed" when he heard of the allegations.
"I knew it was false from the moment it was stated," Saunders said. "I've known Father Mike too long. I've known of his character. … Even today, I'm pissed at how his name has been trampled on. And I'm pissed off with how the archdiocese handled this situation. Five months when they had evidence? What took so long for this day to come?"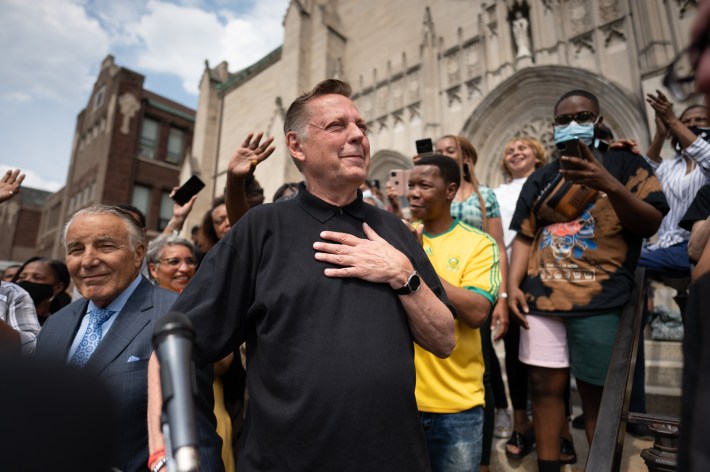 In a Facebook video, Sabina parishioners flocked to Pfleger as he returned to the church at 78th and Throop. Students from St. Sabina Academy ran out to hug him, while some unloaded his suitcases and clothes from a car.
"This has been the most difficult and challenging time in my entire life," Pfleger told supporters and reporters Monday afternoon outside the church. "I have always kept my faith, even during the most challenging times in life. I have been frustrated. I've been angry. I've been depressed, and I've been discouraged. I have always been transparent with my members and with my family and friends. I don't try to pretend to be anybody that I'm not. I'm a man of faith, but I'm also a human being who believes.
"I wanted to give up; and, to be honest with you, there was sometimes I would've [given] up. But I love this church too much to walk away from it. Your support and love and my faith have kept me going. I'm so relieved and glad that this nightmare is over."
Eugene Hollander, who represents the brothers who accused Pfleger, said they are "shocked and deeply disappointed" in the church's decision. He said the "extraordinarily credible" brothers were "proud that they came forward and delivered their truths" despite the outcome.
"They understood speaking the truth about how Father Pfleger sexually abused them as children would be difficult given his high profile," Hollander said. "… The brothers are hopeful that by coming forward, it will make it easier for other sexual abuse victims to seek help and tell their truths, too, no matter how powerful their abuser is." 
The brothers, now in their 60s, separately filed claims with the archdiocese alleging Pfleger groomed and abused them for years, starting in the early 1970s, when they were 12 and 13 years old. The younger brother filed his report Jan. 4 and the older brother submitted his complaint Jan. 22.
Their timeline for when the alleged abuse began dated back to Pfleger's earliest days as a priest. He was ordained in 1975 and took over St. Sabina six years later when he was 31.
Separate from the brothers' claims, the Illinois Department of Children and Family Services in February cleared Pfleger of a child abuse allegation. That investigation was meant to determine if Pfleger posed an ongoing risk to children, which state leaders said he did not.
A third man also accused the priest of sexual abuse in the 1970s. He said at the time he did not plan to file a lawsuit, but would cooperate with the archdiocesan investigation into the brothers' claims. Through his attorney, he said he wanted to speak out in part because of backlash the brothers received when their allegations became public.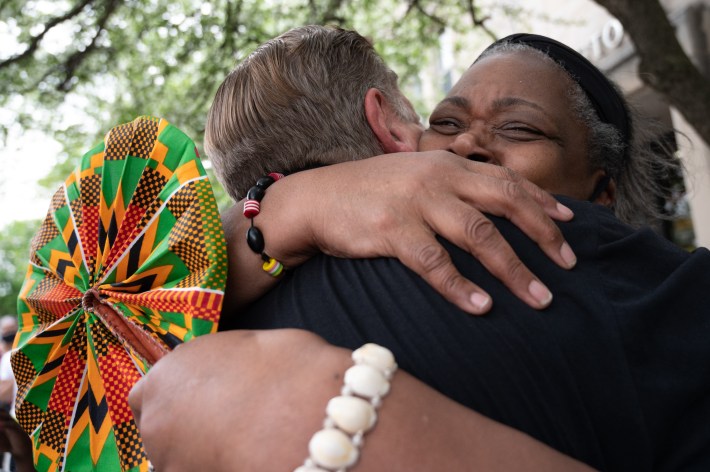 Outside Sabina on Monday, Shokha Dean, a church member since 2004, said he knew Pfleger "has never done anything devious." His support for the paster never wavered, Dean said.
"He loves his kids, and the kids love him. He's a champion of righteousness. It hurt me that, after 47 years, someone would come out and make an allegation like that," Dean said.
Like other members of the church, Dean said he decided to put the outcome of the investigation in God's hands.
"We love him and we're always going to support him," Dean said. 'We're always going to be behind him regardless of what comes up. We're never going to turn our backs on him."
Auburn Gresham residents and St. Sabina members alike were shocked when allegations made against Pfleger came to light. Pfleger has been a pillar in the community for decades. He is known for providing clothing, meals and support to residents. 
Celeste Campbell, a member since 2016, said Pfleger gave her hope.
On November 20, 2016, her son was murdered, she said. She'd seen Pfleger at anti-gun violence events and decided to go to his church five days after her son's slaying because she needed support. She said she's been a member ever since.
"He stands up and fights," Campbell said. "When you lose hope, he gives you hope to let you know that you can make it. Instead of being down and out, he said we have to fight for change."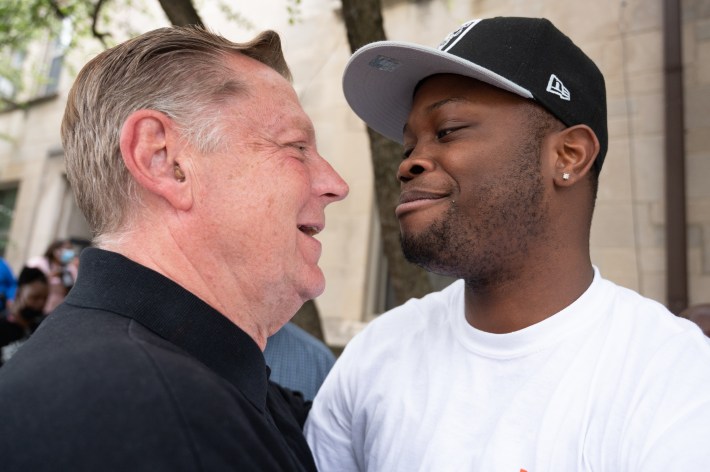 With the support of Pfleger, Campbell said she joined Purpose Over Pain, a group of parents who've lost their children to gun violence and advocate for gun laws.  
Campbell said it was the congregation's time to be there for Pfleger when the allegations came forth. 
"I would text him, call him and send him food to eat to let him know that we were still praying for him and we still cared for him," Campbell said. "He was excited but not excited. He couldn't be with us. I told him not to worry. We're standing proud with you."
Saunders said he calls Pfleger his third father.
"He's had a tremendous impact on my life," Saunders said. "Like Elijah Mohammad might have had over Malcolm X. I call him my third father. God is my first, my natural father is my second and Father Mike is my third father."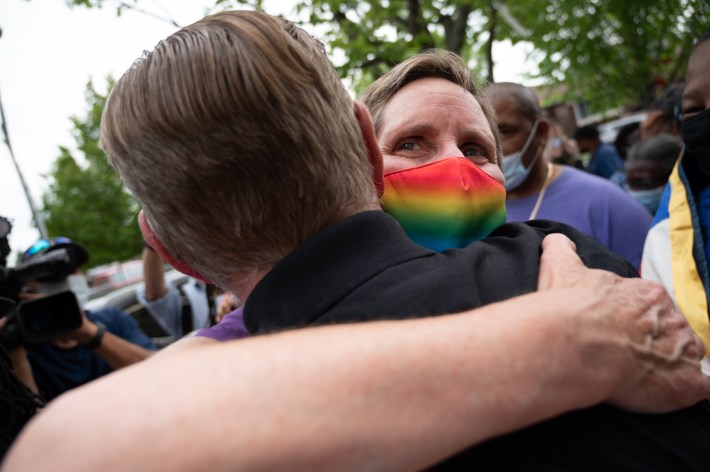 Pfleger said he will make his return to St. Sabina on June 6. Saunders said he'll be one of the first people there.
"Father Mike is the realest in the city," Saunders said. "He has a heart of gold. He just wanted to get back to serve the people and that's all. That's his heart." 
Subscribe to Block Club Chicago. Every dime we make funds reporting from Chicago's neighborhoods.
Already subscribe? Click here to support Block Club with a tax-deductible donation.
Listen to "It's All Good: A Block Club Chicago Podcast" here: