AUBURN GRESHAM — Father Michael Pfleger has been reinstated at St. Sabina Church, the Archdiocese of Chicago announced Monday, as church leaders found "no reason to suspect" the longtime pastor is guilty of sexual abuse.
The Catholic priest was asked to step down from the ministry in January, when two brothers accused Pfleger of inappropriate sex abuse stemming from incidents that occurred decades ago when they were underage. A third man came forward with allegations in March.
In a letter to the St. Sabina parish, Cardinal Blase Cupich said Pfleger can return to the pulpit the weekend of June 5, coinciding with the Feast of Corpus Christi. Cupich said he's asked Pfleger to take the next two weeks to "prepare himself emotionally and spiritually to return" to his ministry, and Pfleger has agreed to that.
A Facebook video posted late Monday morning showed church staffers greeting Pfleger as he returned to 78th and Throop. Students from St. Sabina Academy ran out to hug him, while some unload his suitcases and clothes from a car.
"This has been the most difficult and challenging time in my entire life," Pfleger told supporters and media outside the church Monday afternoon. "I have always kept my faith, even during the most challenging times in life. I have been frustrated, I've been angry. I've been depressed, and I've been discouraged. I have always been transparent with my members and with my family and friends. I don't try to pretend to be anybody that I'm not. I'm a man of faith, but I'm also a human being who believes."
"I wanted to give up, and to be honest with you, there was sometimes I would've [given] up," Pfleger said. "But I love this church too much to walk away from it. Your support and love and my faith have kept me going. I'm so relieved and glad that this nightmare is over."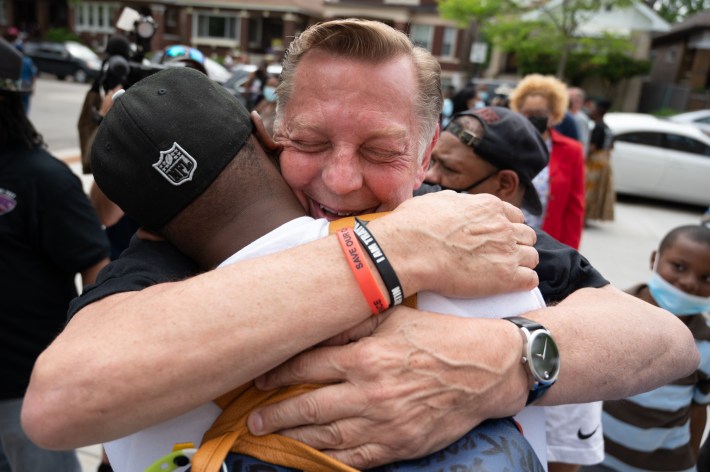 Eugene Hollander, who represents the brothers, said in a statement they are "shocked and deeply disappointed" in the church's decision.
"Both of the brothers who made these allegations were extraordinarily credible. They provided detailed accounts of the sexual molestation as well as information that only these victims would be aware of. My clients not only corroborated each other, but both clients underwent polygraph examinations and passed. Additionally, the sexual abuse was corroborated by a third victim who was in no way connected to the brothers," Hollander said.
Hollander also said the brothers were "proud that they came forward and delivered their truths" despite the outcome.
"They understood speaking the truth about how Father Pfleger sexually abused them as children would be difficult given his high profile," Hollander said. "They knew they would face attacks from his supporters and others. They faced immense public pressure and personal challenges during this time, but they remained steady. The brothers are hopeful that by coming forward, it will make it easier for other sexual abuse victims to seek help and tell their truths, too, no matter how powerful their abuser is." 
In an unrelated press conference, Mayor Lori Lightfoot said she trusted the archdiocesan process in investigating the allegations.
"Here's what I know: I know that Father Mike has sacrificed his life and dedicated himself to service. I know that he is an important center of gravity in the Auburn Gresham community," Lightfoot said. "I'm grateful that Father Mike is back at St. Sabina's, and I'm sure there's rejoicing all over that community.
"People came forth and said that they were victimized, and they deserved to be heard. The archdiocese, as we should have, took those allegations very seriously and went through a very thorough process to evaluate those allegations and have now come to a conclusion."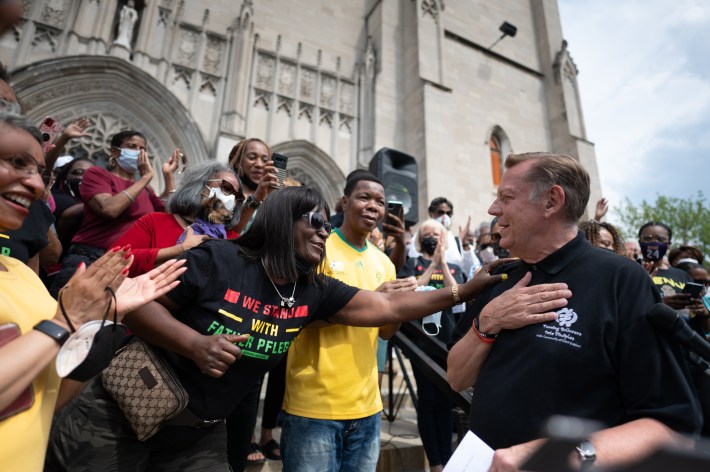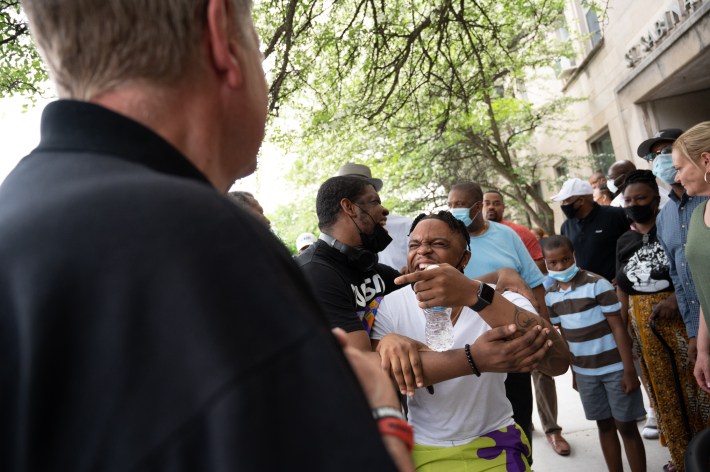 The claims made against Pfleger shocked the Auburn Gresham community he's ministered to for more than four decades.
The brothers, now in their 60's, separately filed claims with the Archdiocese alleging Pfleger groomed and abused them for years, starting in the early 1970s, when they were 12 and 13 years old. The younger brother filed his report Jan. 4 and the older brother submitted his complaint Jan. 22.
Their timeline for when the alleged abuse began dated back to Pfleger's earliest days as a priest. He was ordained in 1975 and took over St. Sabina six years later when he was 31.
The brothers, who grew up on the West Side, allege the abuse started when Pfleger was a seminarian at Precious Blood Church in Lawndale and continued into his time as deacon at Our Lady of Perpetual Help Church in the north suburbs, then at St. Sabina.
Neither realized the other allegedly had been abused until the younger brother decided to come forward and told his family about the incidents for the first time, they said earlier this year.
After Pfleger was removed from his post, he said he was "devastated, hurt, and yes, angry."
Separate from the brothers' claims, the Illinois Department of Children and Family Services in February cleared Pfleger of a child abuse allegation. The DCFS investigation was meant to determine if Pfleger posed an ongoing risk to children, which state leaders said he did not.
The third man also accused the priest of sexual abuse in the 1970s. He said at the time he did not plan to file a lawsuit, but would cooperate with the Archdiocesan investigation into the brothers' claims. Through his attorney, he said he wanted to speak out in part because of backlash the brothers received when their allegations became public.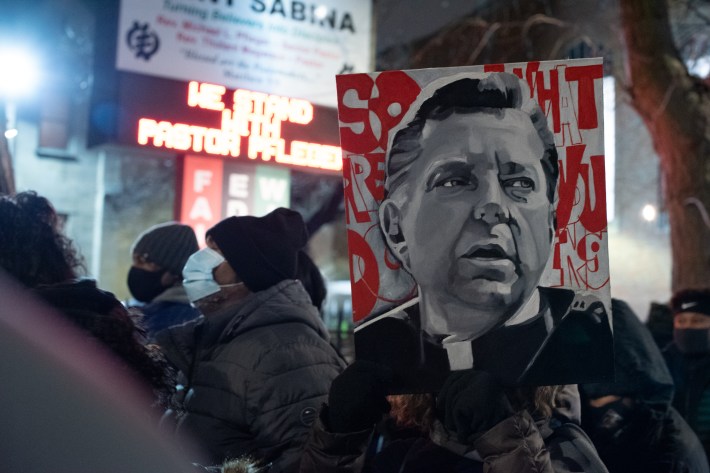 Members of the St. Sabina cabinet and community defended Pfleger while the allegations were investigated, saying they stood by him. As the weeks wore on, they also put pressure on the Archdiocese to quickly wrap up its investigation, withholding its $100,000 monthly payments to the central office.
In March, Pfleger said he was unwilling to "wait in silence" and was preparing to come back to his ministry.
"I am innocent of the charges made against me and continue to believe that the [archdiocese] Review Board and the Cardinal will see the truth, conclude that these uncorroborated allegations are unfounded and restore me to the ministry at St. Sabina," Pfleger said in a statement at the time. "In the meantime, I know that I cannot emotionally or spiritually continue to remain isolated in an apartment waiting for this Board to do its job. While I hope and pray that the Review Board will work a little harder and more promptly to conclude their investigation, I will no longer wait in silence." 
In the decades he's served as St. Sabina's pastor, Pfleger has been a pillar of the predominately Black communities to which he ministers, and has drawn attention from across the city and country for his anti-violence work. He's been a vociferous activist, protesting gun violence and gun laws, alcohol and tobacco marketing targeting children in minority communities and racial injustice, among many other issues.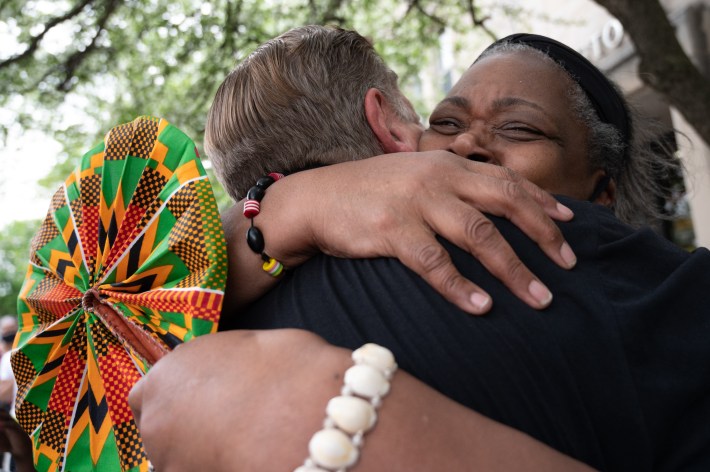 Subscribe to Block Club Chicago. Every dime we make funds reporting from Chicago's neighborhoods.
Already subscribe? Click here to support Block Club with a tax-deductible donation.
Listen to "It's All Good: A Block Club Chicago Podcast" here: