PORTAGE PARK — Michelle Morales has been on a mission to find joy for herself and other small businesses trying to stay afloat during a difficult year.
After losing her two jobs because of the pandemic last March, Morales decided to take her future into her own hands and become an entrepreneur. She wanted to open a cafe but eventually settled on opening a shared business incubator and event space for other artists and creative entrepreneurs.
After renovations, license delays and pandemic challenges, Morales opened The Joy Room Chicago, 4837 W. Irving Park Road, last month. It serves as a rentable, multi-use event space for workshops, private parties, office use, dates and weddings.
"I'm so excited to open to the community because the space meets so many needs," Morales said. "It really is an intimate space that is very welcoming and filled with love. With remote learning and remote work, people need to get away from their homes in a safe way."
Morales said she wants events in The Joy Room to be filled with positivity and connection — and to inspire people to pursue their passions. The space features a cozy corner with chairs, pillows and plants, a playroom corner for children, a kitchenette, a full AV system and art.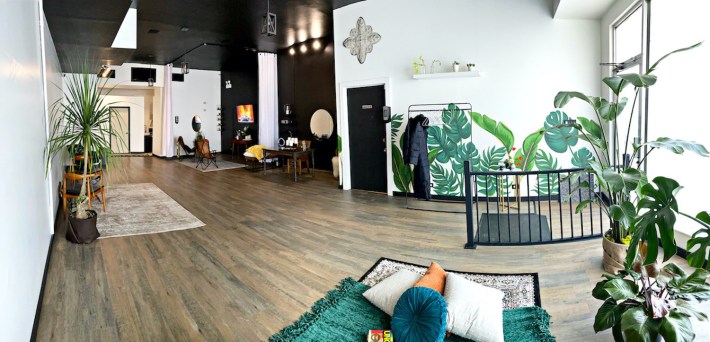 Morales is hosting a pop-up market noon-4 p.m. Saturday with nine vendors from across city. This is the second pop-up at the space, and she plans to host them monthly with a rotating group of vendors who don't have a store but want to reach a broader community.
Vendors at Saturday's market will sell homemade skincare products, candles, kitchen items and apparel. The event will also serve as an open house for people interested in touring the space.
"I want to support small businesses, entrepreneurs, side hustlers — people who have this passion that is transcending the [need] to buy and what you have to do but actually doing what brings you joy," Morales said.
Morales said April's event was an unexpected success and The Joy Room has received more bookings via word of mouth. Since owning the space, she has hosted family parties, yoga classes, photography sessions and game nights.
Morales now lives in Humboldt Park but used to live in Old Irving Park, and she wanted to bring more hustle and bustle to Six Corners, which has seen more empty stores as businesses close.
"We are bringing commerce and new businesses to the Northwest Side. It's so cool and wild," she said.
Dominick Maino, a longtime Portage Park resident who attended the first pop-up market at The Joy Room, said Morales is bringing joy, energy, community and opportunity to the neighborhood.
"She seems to embody all of that within herself, and then everybody I talked to when I was there seems to follow her example," Maino said.
Maino said Morales adds to the local women-owned businesses in the area, which he called a strength of Portage Park. The multi-use space also stands out because of its versatility; the community had lacked a place like The Joy Room, he said.
Morales, who is a single mom, said being her own boss and making her own schedule has helped de-stress her life, making it easier to care for her 6-year-old son and her family. She wants her son to see her as a strong, independent woman who started a business that allowed her to spend more time with him.
When Morales was working two jobs, she said she felt bad her son wasn't getting her full attention and energy.
"This is what came out of the universe when I asked for a solution. … It's like The Joy Room was born out of my little boy," she said.
With help from a local designer and a professional cleaning crew, Morales makes sure the space is ready for whatever transformation it needs and hopes to soon have it booked full-time.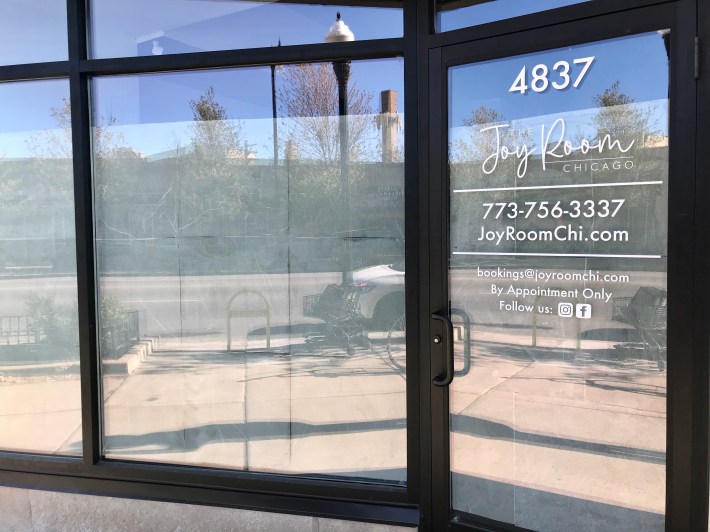 The space has five regular clients and has held one-off events, though Morales said she keeps on getting busier. People who want to rent the space can book it online and vendors who wish to participate in the next market June 19 can apply online.
The owner hopes that with the community she's created, more people will feel inspired to follow their dreams and find joy in their lives.
"When somebody steps out on faith and does something, it gives other people permission," she said. "It's been blood, sweat and tears to [open the space] but I am so grateful for the entire journey."
Subscribe to Block Club Chicago. Every dime we make funds reporting from Chicago's neighborhoods.
Already subscribe? Click here to support Block Club with a tax-deductible donation.
Listen to "It's All Good: A Block Club Chicago Podcast" here: