PORTAGE PARK — New autopsy results show police shot Anthony Alvarez in his back the night they killed the 22-year-old father in Portage Park.
Alvarez was shot and killed March 31 during a foot chase just blocks from his home in a case that's gained citywide attention. His family has called for the officer who shot Alvarez — Evan Solano — to be fired and charged with murder.
One of the family's attorneys, Todd Pugh, called the situation "a series of epic failures on the part of the Chicago Police Department." Relatives say they are still pushing for answers and are planning more public demonstrations to amplify their demand Solano be prosecuted.
"We want to share Anthony's story, for people to know the beautiful person he was. And to get justice for Anthony, Evan Solano needs to get arrested," said Roxana Figueroa, Alvarez's cousin.
Videos of the shooting show officers approached Alvarez as he was walking near a gas station, then chased him down an alley when he ran away. Solano fired at least five shots at Alvarez as he ran from them in front of a row of homes in the 5200 block of West Eddy Street. 
Cook County Medical Examiner records show Alvarez was shot in his back, under his right shoulder blade and in his left thigh.
Two of Solano's five shots hit Alvarez. The bullet that went through Alvarez's back caused blood to accumulate in his chest and injured his lung, while the shot in his left thigh caused "hemorrhage along the wound track," according to autopsy records.
Alvarez had a gun, but he was not shown raising it or pointing it at anyone in the videos.
Solano has been on administrative duties since the shooting, police officials said. Tim Grace, Solano's attorney, did not respond to a request for comment.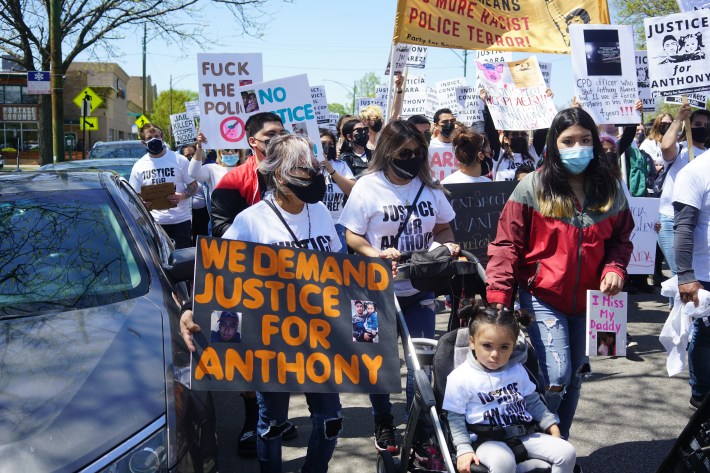 Alvarez's death came two days after police fatally shot 13-year-old Adam Toledo in Little Village, and his shooting was overshadowed by international outrage over the teen's killing. For weeks, Alvarez's family struggled to obtain basic information about the shooting or drum up enough public pressure to push the city to release video of what happened.
Though more information has now been released, several details remain murky.
Chief among them is why police were chasing Alvarez at all. Police officials and the Civilian Office of Police Accountability have refused to answer that question. Police records made public by COPA added no insight. The day the videos of Alvarez's shooting were released, Mayor Lori Lightfoot said Alvarez was shot after a traffic stop.
"We can't live in a world where a minor traffic offense resulted in someone being shot and killed. It shouldn't be acceptable to anybody," Lightfoot said.
But surveillance video shows Alvarez was walking when the police approached him.
"From day one, we've not gotten answers about that. The videos never really show a confrontation or anything. Our lawyers are working on it, but as time passes by, it feels like nothing is coming out yet about why they were chasing him," Figueroa said.
Grace previously said the officers wanted to talk to Alvarez about an expired driver's license from an alleged traffic encounter the day before the shooting. He told the Tribune this week the autopsy report justified Solano's use of deadly force. 
Pugh said Grace's comments don't make any sense based on the information they've reviewed. 
"Where's the record of the attempted stop from the day before the shooting?" Pugh said. "If they thought Anthony had an expired driver's license, then produce for us the teletypes the officers use to check his information with the Illinois Secretary of State. That's a record. Where is it?"
Pugh described the foot chase as a "tragedy of errors," saying the officers left their squad car unattended to chase Alvarez and that Solano shot in Alvarez's direction though the officer has said he lost his glasses while chasing Alvarez. Pugh said Solano also attempted to handcuff Alvarez after he was shot — which is shown in body camera videos — and an officer applied a tourniquet to Alvarez's right leg — not his left leg, where he'd been shot.
The tactical report of the shooting released by COPA shows Solano checked boxes that said he fired his gun at Alvarez during an "investigatory stop" of a "person with a gun" as he fled in "defense of self," in "defense of department member," and to "overcome resistance or aggression."
Alvarez weighed 127 pounds, stood 5 foot 3 inches tall, and had a tattoo on his right forearm that with his daughter's name and birthdate, according to the autopsy.  
"If you break it down step-by-step, it's a series of epic failures on the part of the Chicago Police Department," Pugh said. "Based on the radio traffic that COPA provided, neither one of these officers called in that they were chasing a fleeing suspect for any reason. The first evidence of any kind of call to dispatch is to call officers after the shooting.
"For Christ's sake, if they're pursuing someone who they think is violent, wouldn't they want to call for backup? To let dispatch know where they are so they can get support? They did not do that."
Figueroa said the family is going door to door to collect signatures for a petition to Lightfoot and Supt. David Brown calling for criminal charges for Solano. Relatives are planning another march May 29 in front of the 16th Police District to continue putting pressure on the city.
"We're going to where Evan Solano works," Figueroa said.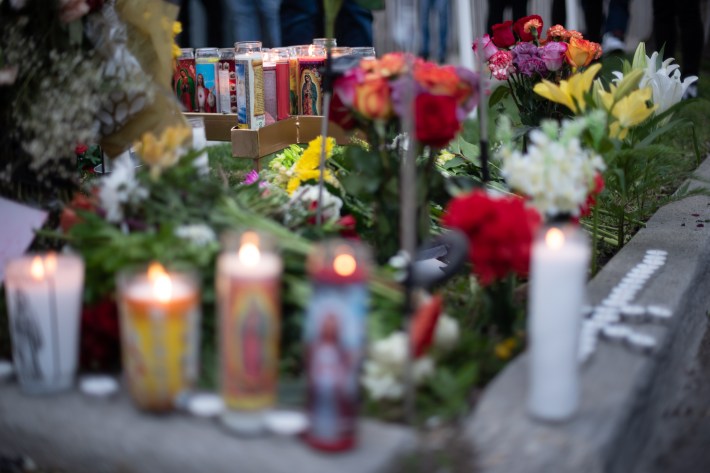 RELATED
After Police Kill Young Portage Park Father, His Family Demands Answers: 'We Want To Know Why He Was Being Chased'
Family Of Portage Park Father Killed By Police Asks Witnesses To Come Forward: His 'Story Is Not Being Shared Enough'
Anthony Alvarez's Family Slated To Watch Video Of Police Killing Portage Park Father
Video Shows Chicago Police Fatally Shoot Anthony Alvarez As He Runs From Them: 'Why Are You Shooting Me?' (NO VIDEO IN STORY)
After Another Deadly Cop Shooting, Aldermen Blast Lightfoot, CPD Leaders For 'Standing In The Way' Of Police Reform
Anthony Alvarez's Family Marches To Demand Justice For Portage Park Father Shot By Police: 'They Killed A Part Of Our Family'
Chicago Police Should Stop Foot Chases Until New Policy Is Created, Latino Leaders Say: 'This Has To End Right Now'
Subscribe to Block Club Chicago. Every dime we make funds reporting from Chicago's neighborhoods.
Already subscribe? Click here to support Block Club with a tax-deductible donation.