OLD IRVING PARK — The latest plans to redevelop the old Six Corners Sears building were unveiled to community groups and a handful of neighbors this week — but some Northwest Side residents say they're tired of the developer and Ald. Jim Gardiner (45th) leaving the majority of residents out of what should be a public process.
Gardiner invited members of the Six Corners Association, the Old Irving Park Association and the Portage Park and Six Corners chambers to review the latest proposals from Novak Construction during two meetings last week and Tuesday. Nadig Newspapers also was given early access to the updated plans.
Gardiner's office did not reply to repeated requests for comment on the proposal and told a Block Club reporter she could not attend Tuesday's meeting, saying it was invite-only and not open to the public. When a Block Club reporter called Gardiner on Wednesday and identified herself, he hung up. Novak Construction also did not return multiple requests for comment.
Neighbors who attended the meeting later told Block Club the alderman and developer asked them to keep the renderings and discussions confidential because the project is in the early stages of development. Attendees also said they were not allowed to take photos of the presentation.
Even though some neighbors said they liked what they saw in the plans, others said the secretive process Gardiner is employing is worrisome.
"I have been at the table before with developers and I know when a development is early, but when you are already rolling things out to neighbor organizations, that means it is ready for public input,"  said Ryan Richter, a Northwest Side urban transportation planner who has worked with numerous developers.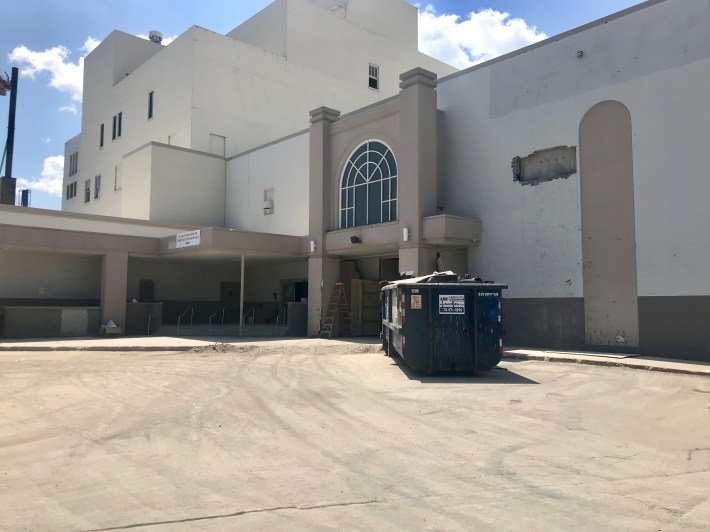 Novak, who bought the building from developers Seritage Growth Properties and Tucker Development Corp., wants to convert the 83-year-old art deco Sears at 4730 Irving Park Road into about 50,000 square feet of commercial space with at least 200 apartments and about 275 parking spaces, according to Nadig Newspapers.
The building was originally slated to bring more than 400 apartments to the area under Seritage Growth Properties and Tucker Development Corp., but that never came to fruition.
Under the latest proposal, the building would retain the corner art decoration from the original structure, which was built in the 1930s. Gardiner told Nadig the corner façade gives the building its iconic look and it was important to have it included in any overhaul of the site.
Amie Zander, president of the Six Corners Association, attended the Tuesday meeting along with some of her board members. She said the redesigned proposal was well-received and she was happy to be included to provide feedback.
Zander said the project is in line with the Six Corners Economic Development Master Plan, which calls for more retail and residential development in the area.
Although the proposal provided few details, Zander is happy it will bring more apartments to the area, particularly since another proposed development a block away — the former Peoples Gas site dubbed "Shops at Six Corners" at 3955 N. Kilpatrick Ave. — would have only 36 apartments and five retail buildings under current renderings.
"Having apartments right there will really help us and attract people to more businesses and bring density to the area," Zander said. "We gotta get people going to Milwaukee [Avenue] to bring density to the neighborhood."
The area is known as a high-volume business district but has lost foot traffic in recent years as local businesses closed and vacant storefronts took over. The Sears building is considered a walker's paradise and an area with adequate transit, according to the site Walk Score, which evaluates walkability and transportation for any address.
Zander said the building's proposal and good location can help revitalize the shopping district. Although no retailers have been chosen yet, she said she was told there will be one big merchant while another chunk of the retail space could be divided into smaller spaces.
"It's like someone is listening, finally," she said.
Gardiner ally and City Newsstand owner Joe Angelastri also attended the meeting and told Block Club the concept seems good for the neighborhood.
"Apartments and retail all seem like good stuff," Angelastri said, adding that the project renderings will be shared with the community soon for more people to see.
At a public meeting last year about the development overhaul, Angelastri told Block Club the redevelopment could not come soon enough.
"During Christmas break, everybody was off, but [Gardiner] was out every day talking to people, asking them what they think," he said. "… All of Six Corners was built around this department store and it was there since the 1930s and then they closed. It was quite devastating."
Zander and Angelastri said they were told there will be a public community meeting soon to share the renderings and discuss the plans, but no date has been set.
George Borovik, executive director at Portage Park Chamber of Commerce, attended a Zoom meeting May 13 about the redevelopment and said the developer shared flyers of the presentation with in-person attendees — but collected them at the end of the meeting.
Borovik said this does not concern him as he also expects a public meeting to happen soon.
But Richter said not broadly sharing designs of such a major project at this stage is a disservice to the community, especially if the media is also denied access and can't keep neighbors up to date on plans. Publicizing the renderings can help those living nearby visualize the development and feel more included in the process, he said. Gardiner has faced criticism for his invite-only meetings and attempts to silence critics in the past.
Another concerning factor is the meeting timeline, Richter said. Neighbors are expecting a public meeting in a few weeks, but Richter worries any delay in scheduling one after the previous closed-door sessions about the project makes it look like there is something to hide.
"What is the reason for the delay, then? Usually, it's because it sounds like the project could be a done deal and they are trying to limit public input," Richter said. Gardiner "needs a better strategy to receive and solicit input than the way he is doing it."
Subscribe to Block Club Chicago. Every dime we make funds reporting from Chicago's neighborhoods.
Already subscribe? Click here to support Block Club with a tax-deductible donation.
Listen to "It's All Good: A Block Club Chicago Podcast" here: