CHICAGO — Hundreds rallied Thursday in Logan Square to demand accountability from Mayor Lori Lightfoot as she marks her second year since taking office.
About 40 community groups and unions gathered at the Logan Square Monument and marched to the Grace United Methodist Church, beating drums, playing trumpets and chanting as they went past Lightfoot's block, which was barricaded by police. Members of the Chicago Teachers Union, GoodKids MadCity, Little Village Environmental Justice Organization and Asian Americans Advancing Justice were among the crowd.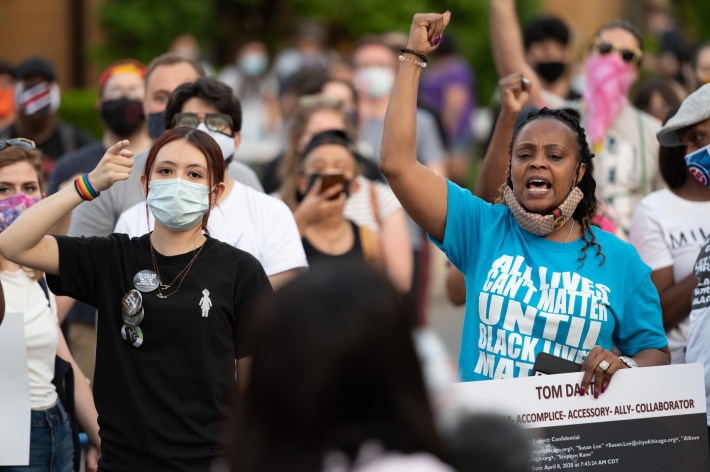 The groups billed the rally as a public report card on Lightfoot's performance in office, saying she has failed to bring about improvements in policing, education, environmental justice and housing and health support during the coronavirus pandemic, among other issues.
Óscar Sánchez, of the Stop General Iron Coalition, who launched a hunger strike this year in protest of a metal scrapper proposed for the Southeast Side, said the group gave the mayor an "F" for her leadership and policies they say prioritize profits over community interests.
"We are here to deliver Lori Lightfoot's report card and say that she has failed us in every possible way," Sánchez said.
"We want to bring some attention to show how she has let the city down in just these two years," said Tara Stamps, a Chicago Public Schools teacher on leave with the district and working with the teachers union.
Asked about the community's response towards her policies, Lightfoot said at a news conference earlier in the day Thursday there are always are going to be people who are critical of her job.
"Obviously, we haven't done everything that we want to do or plan to do," Lightfoot said. "There's this thing called a global pandemic that obviously has slowed things down, but we stay determined. There's always going to be people who say we've fallen short."
After former Mayor Rahm Emanuel announced he wouldn't seek re-election, Lightfoot, a former federal prosecutor, emerged from a crowded race to easily defeat Cook County Board President Toni Preckwinkle in a runoff election. In doing so, she became the city's first Black woman and first openly gay person to take the helm at City Hall.
With a campaign slogan of "Bring In the Light," Lightfoot rode into office on promises of reform, transparency and equity for the deeply segregated city.
Her critics say she has done the opposite as she has confronted a global pandemic, rising gun violence and broader unrest, particularly over policing.
"There is no recognizable difference between the city of Chicago under Rahm and the city of Chicago under Lori," Stamps said. "… I still see the same pot holes I saw two years ago, I still see the unsolved crime rate that I saw two years ago, I still see the shuttered houses and shuttered apartments and the shuttered storefronts up and down Chicago Avenue I saw two years ago."
Lightfoot has sparred with the CTI, which led a strike a few months after she took office. It was the longest walkout in decades. The battle between the two sides bubbled up again this year, nearly leading to another strike, as City Hall and CPS pushed to reopen school buildings during the pandemic.
Many also have criticized the mayor for appearing to back away from a campaign pledge to support an elected school board in Chicago.
The mayor's critics have hammered her over her reluctance to pursue the kind of police reform she pledged on the campaign trail. She has rebuffed demands to reduce funding to the Police Department. She resisted demands to digitize complaint records and has stalled efforts to create a civilian oversight body with more powers over the department.
For months, the Civilian Police Accountability Council and the Grassroots Alliance for Police Accountability battled over competing proposals for local oversight bodies. Lightfoot initially backed GAPA but withdrew her support last summer, promising an alternative that has yet to come.
Fed up with the mayor's delays, the CPAC and GAPA camps unified in March to create Empowering Communities for Public Safety, or the "people's ordinance." As more aldermen lined up to support it, and it was scheduled to be presented at a City Council committee hearing Friday, Lightfoot said she would release her plan Thursday.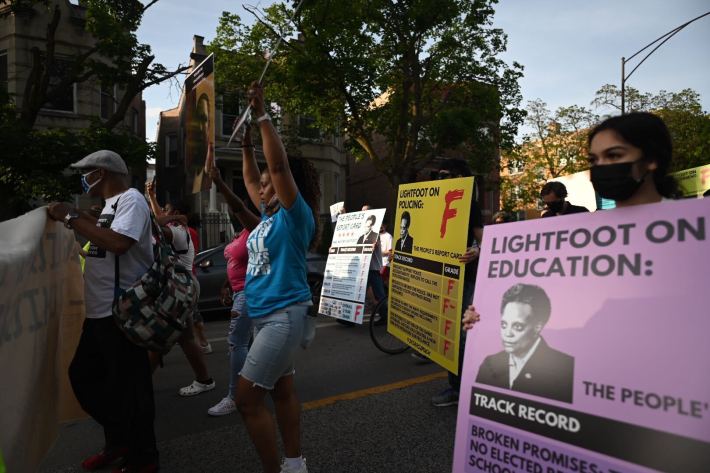 Jazmine Salas, a member of Empowering Communities for Public Safety, said the two-year anniversary of Lightfoot's term is a living nightmare for Chicagoans.
The botched raid of Anjanette Young's home, and the recent killings of 13-year-old Adam Toledo and 22-year-old of Anthony Alvarez by police, "shows just how much of a failure Lori Lightfoot has been for the people of Chicago," Salas said.
"An utter, utter failure," Salas said. "Today is the second year of the Lightfoot administration, and it's not a celebration. I don't want to be here four years from now, protesting the second year of Lori Lightfoot's second administration."
Stamps compared Lightfoot's handling of the fallout from the February 2019 raid on Young's home to how Emanuel responded to the Laquan McDonald shooting and video.
"Lori Lightfoot has been a bitter disappointment as a woman, as a Black woman, as a mother," Stamps said. "I am mortified by her behavior and her lack of regard for other Black women in this city."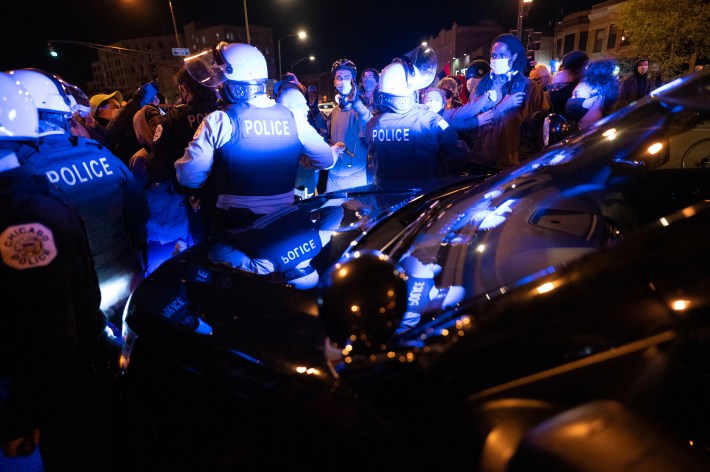 Environmental advocates have blasted the mayor's response to the Hilco Redevelopment Partners' implosion that covered Little Village in dust last spring and the efforts of General Iron's owner to set up a facility in the Southeast Side.
RELATED: City Repeatedly Breaks Promises To South Siders When Approving Polluters And Demolitions
In spring 2020, city officials approved permits for developer Hilco to implode the smokestack at the old Crawford Coal Plant in Little Village. 
Activists urged the Mayor's Office to stop the demolition amid the coronavirus pandemic. Neighbors received little to no notice before Hilco and its contractors imploded the smokestack, which blanketed homes and streets in dust and debris on April 11, 2020.
After the botched implosion, Lightfoot issued a stop-work order and said no work would resume until an investigation was completed. She said residents would be kept in the loop.
But just a month later, on May 14, city officials quietly gave contractor Hilco permission to begin the demolition of a turbine at the old coal plant. City officials issued a statement saying the work was being done to "address the imminent and dangerous concerns regarding the turbine structure."
But residents said they didn't learn about the work until it began and again felt blindsided.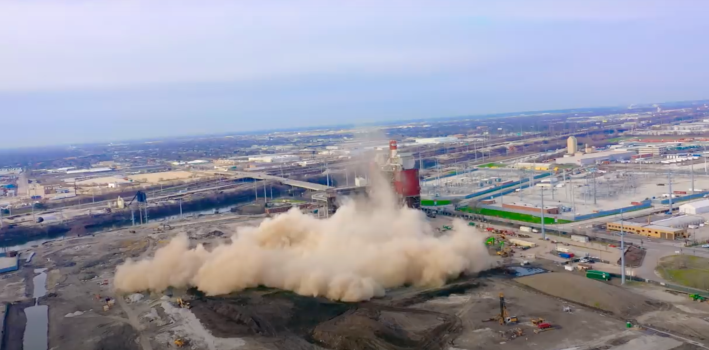 On the Southeast Side, residents and activists have organized for more than a year to stop Reserve Management Group from opening another metal scrapper on Burley Avenue, where the company already operates four such facilities.
The mayor has denied assertions General Iron was moving to East Side, even though the facilities are owned by the same company and General Iron's essential equipment and most existing employees are transitioning from Lincoln Park to East Side.
Despite the opposition, city and state officials continued to approve RMG's various applications to open for business and Southside Recycling.
After the Illinois Environmental Protection Agency controversially approved critical permits last summer, the city quietly issued Southside Recycling the first of two needed permits in the fall, breaking public pledges to alert the public.
That culminated in federal investigations, lawsuits and a month-long hunger strike to urge the city to deny the permit.
"We see these environmental and justices in our Black and Brown neighborhoods. We deserve more," Sánchez said. "We are entitled for more, we are entitled to equal opportunity, we are entitled to equal accessibility to resources, we are entitled to a better livelihood."
Subscribe to Block Club Chicago. Every dime we make funds reporting from Chicago's neighborhoods.
Already subscribe? Click here to support Block Club with a tax-deductible donation.