LINCOLN PARK — A proposed "greenway" on the mostly one-way Dickens Avenue near Oz Park that would add a bike lane in the opposite direction and connect various destinations in Lincoln Park drew mixed feedback during a community meeting Tuesday.
The federally funded, $750,000 project includes adding the contraflow bike lane to the one-way portions of Dickens Avenue between Magnolia Avenue and Lincoln Park West so that cyclists heading east on the street won't have any interruptions. It also brings a number of other safety improvements to the street, such as lowering the speed limit, installing new crosswalks and creating curb extensions so pedestrians are more visible.
Some praised the greenway for better organizing Dickens Avenue by creating designated areas for pedestrians, cyclists and vehicles, while others criticized the project, claiming it would bring dangerous bike congestion to the area.
"This project is really about improving access, comfort and safety of the street to make sure that everybody feels welcome and has a place, no matter your mode of transportation," said David Smith, bicycle and pedestrian program manager for Chicago's Department of Transportation. "So whether you're walking, biking or driving, we want you to feel safe, comfortable and welcome."
The three main goals of the project, Smith said, are to improve pedestrian safety, better organize the street so it's clearer how people should use it depending on their mode of transportation and create consistency to make Dickens Avenue more predictable.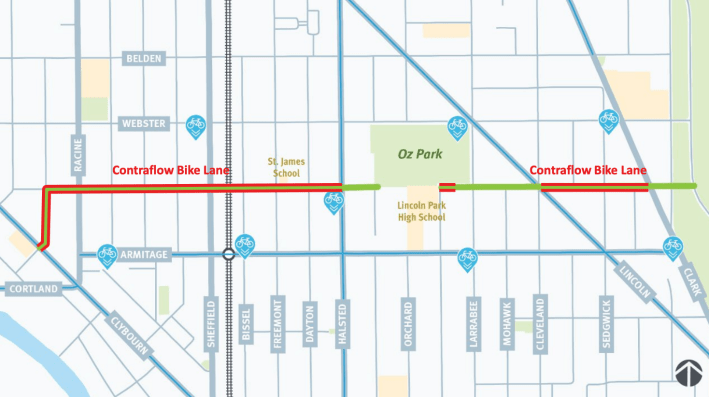 Currently, Dickens Avenue is a wide, one-way street heading west with some exceptions where the road is two-way, which has posed a number of safety concerns on the street.
"We've seen and heard instances where people are driving side-by-side on a one-way street or driving the wrong direction because it's so wide," Smith said.
Additionally, bicyclists are already using Dickens Avenue to travel in both directions because "it's a really nice connection to a number of destinations and is an important, low-stress connection for people biking in the neighborhood."
Adding the contraflow bike lane would formalize two-way traffic for cyclists, making the street safer and more predictable for everybody using it. It would also make the street narrower so that drivers no longer mistake it for a two-lane street heading in both directions, Smith said.
"By implementing a series of pavement markings and traffic combing, we'll have the opportunity to make the street narrower and more predictable for everybody," Smith said.
Other improvements to Dickens Avenue include lowering the speed limit to 20 miles per hour, adding raised crosswalks to make pedestrians more visible and adding speed humps to prevent drivers and cyclists from flying down the greenway.
"These are huge improvements for people walking as well," Smith said. "As a pedestrian, when you're crossing the street, you'll know exactly where someone biking eastbound or westbound will be and where someone driving westbound will be."
The nearly four-hour community meeting was attended by hundreds of neighbors, many of whom supported the project for its safety enhancements.
"I support the Dickens greenway as it will create a way for my children to [bike] safely from Lincoln Park to Oz Park, which is not something we feel comfortable doing on the existing infrastructure," one parent said.
Other neighbors said the Dickens Greenway would offer an alternative biking route to Armitage Avenue, which is much busier due to the businesses along the street.
"I strongly support [the greenway] as I currently have a very clogged and hectic bike commute every day using the Armitage Avenue bike lane," said another neighbor, who said they've lived on Dickens Avenue for 17 years. 
However, a large number of neighbors strongly opposed the greenway, claiming the added bike lanes would create a sort of bicyclist highway along Dickens Avenue that would be dangerous for families and children.
"As someone who lives on Dickens, I'm opposed to this project because it's very dangerous and nerve-wracking for driving," another neighbor said. "With bicyclists going in both directions on both sides of the street, it makes it way too difficult to pay attention to what's going on in front of you."
Others argued that because bicyclists can travel east without interruptions on the nearby Armitage Avenue bike lane, the contraflow lane in the Dickens Greenway is unnecessary.
Smith responded by saying the greenway is not meant to take the place of Armitage Avenue's bike lane, but complement it with a safer option for children and families.
"Dickens is a low-stress route [for biking], but it doesn't take the place of Armitage," Smith said. "Armitage is a nice route for many people, but we don't see kids and families biking on Armitage. We see them on Dickens."
Ald. Michele Smith (43rd) didn't take a stance on the project and assured neighbors she wouldn't make a decision on the project in the community meeting.
"We take an enormous amount of feedback, which is really important so we can respond to the community with either a decision, non-decision or request for more feedback," she said.
Jake Wittich is a Report for America corps member covering Lakeview, Lincoln Park and LGBTQ communities across the city for Block Club Chicago.
Subscribe to Block Club Chicago. Every dime we make funds reporting from Chicago's neighborhoods.
Already subscribe? Click here to support Block Club with a tax-deductible donation. 
Listen to "It's All Good: A Block Club Chicago Podcast" here: