CHICAGO — Hope For the Day is set to celebrate its 10th anniversary this month — but the nonprofit is now focusing on rebuilding after ousting its CEO and founder.
The organization, which is dedicated to mental health education and suicide prevention, announced April 24 that founder Jonny Boucher was "no longer a part of Hope For the Day." Boucher declined to comment for this story.
One day before Boucher was removed, the group issued a statement saying it had suspended its founder after being made aware of "numerous complaints" against leaders, "ranging from creating a hostile work environment to sexual impropriety."
The Board of Directors' official statement said they learned of the allegations in February after receiving a petition from current and former employees. People raised concerns about unprofessional communication, gender bias, disrespect of people's identities, tokenizing and dismissing people's mental health challenges, according to the organization's statement.
"We took a very painstaking and long evaluation of those allegations," said Ben Kohn, president of Hope For the Day's Board of Directors.
The board brought in a third-party human resources agency and legal counsel to investigate, Kohn said. Many allegations, though not all, were corroborated, according to the board.
The human resources agency did not recommend Boucher's termination, Kohn said. However, a few weeks after the investigation concluded, on April 24, the board announced Boucher was no longer part of Hope For The Day.
Kohn declined to comment further on personnel changes.
"Everything that was reported [during the investigation] was confidential," he said.
Gracie Fisher, a former Hope For the Day employee, said ex-employees and interns started sending messages to each other in February, saying they had bad experiences with Boucher and others leading Hope For the Day.
"They were basically sharing their experiences on why they felt they left Hope for the Day with this bitter taste in their mouth," Fisher said.
That group created the petition that was sent to the Board of Directors so they could make their concerns known. Fisher was among those who signed the petition.
"I put time and energy and what little money I had into this organization for years," said Fisher, who volunteered at Hope For the Day for five years. "I cannot understate how huge a part of my life Hope For the Day was. So I wanted to call them out and say, 'Take accountability.'" 
Interim Executive Director Matt Fuchs said the organization made changes regarding "what people were upset about," but he would not comment any further on Boucher's departure.
Boucher founded Hope For the Day in 2011. Its mission is to empower "the conversation on proactive suicide prevention and mental health education," according to its website. He told DNAinfo in 2017 he's lost a staggering 15 people in his life to suicide, including his aunt and uncle.
The organization has expanded and gotten widespread attention. Boucher opened a coffee shop, Sip of Hope, in 2017 in Logan Square, donating all its profits to mental health awareness and suicide prevention. The cafe even inspired a now-delayed NBC TV show, "Hope Cafe."
The group is now focused on rebuilding.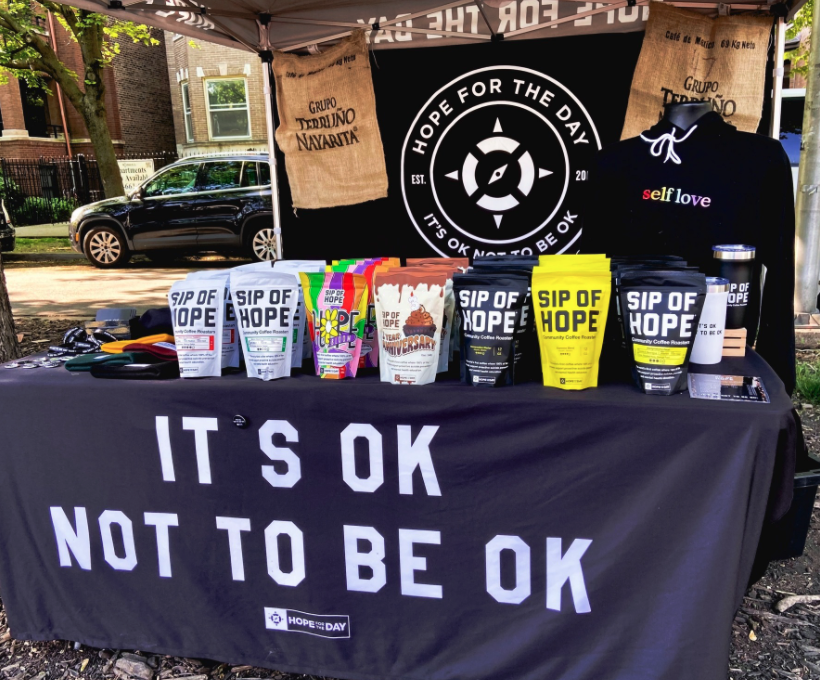 All board members and staff are now required to undergo sensitivity training. That training covers sexual harassment and diversity, equity and inclusion, Kohn said. There have also been personnel changes among the staff and board.
"We're in the process of building out more structured, organizational rules and responsibility and more direct lines of communication," he said. "So in the event that this happens again, there are valves for staff to report to."
Prior to the investigation, no such avenues existed for staff to report complaints, Kohn said.
When past and present Hope for the Day staff organized to share their negative experiences and bring the board's attention to them in February, there were no official channels to go through, Fisher said.
Fuchs said that he knows the people sharing worries are those who believe in the organization and care about its work. He said he hopes they see the changes Hope For the Day is making and recognize it's moving in the right direction. 
Until the board hires a permanent replacement, Fuchs will remain at the helm of Hope for the Day. He said his focus is on moving forward with the nonprofit's mission and putting its best foot forward.
"Our focus is on the mission and the people we serve and the communities we service and making sure we have the right people in the right places to perform those duties," Fuchs said. "I think we are on our way there."
Subscribe to Block Club Chicago, an independent, 501(c)(3), journalist-run newsroom. Every dime we make funds reporting from Chicago's neighborhoods.
Already subscribe? Click here to support Block Club with a tax-deductible donation. 
Listen to "It's All Good: A Block Club Chicago Podcast" here: