SAUGANASH — Nurko "Norm" Gazija is celebrating his 100th birthday this month, the latest milestone for a man who's become a fixture in Sauganash — and will soon be recognized by the entire city.
Gazija has lived in Chicago for more than 70 years, moving here after he survived Nazi concentration camps and wars in his native Europe. He and his wife, Margaret Gazija, built a life on the Northwest Side and have become beloved by their neighbors.
The longtime Sauganash resident and avid gardener turned 100 on May 11 with numerous celebrations put on by his family, friends and community members. Ald. Samantha Nugent (39th) will introduce an official proclamation to honor Gazija's birthday at a May 26 City Council meeting.
The family's party brought about 45 people to the Gazijas' backyard. They had balloons, banners and lamb, roasted vegetables and cake.
Gazija said the milestone birthday made him reflect on the "good life" he's had and all he's learned, as well as the gratitude he feels for the community that's been his home for more than 40 years.
"It felt great," Gazija said. "I was excited and still excited. Everything is new to me."
Even workers at McCormick Mall in suburban Lincolnwood celebrated Gazija's big day. He drives there every morning for his daily walk, lapping the mall two or three times before going home to a freshly-prepared meal from his wife. But on his birthday, workers gave him a cake, too.
"He is hungry when he comes back," said Margaret Gazija, 91. "He loves his pita and his salads. If he doesn't have his salad, he is not happy."
This 30-year routine at the mall has kept Gazija healthy and agile, he said, and not even the pandemic or the changing weather has stopped him from getting his exercise.
'He Has Always Been Available'
Gazija was born in Rogatica, a small town in what is now Bosnia and Herzegovina. He came to Chicago in 1950 as a refugee from war-torn Europe after surviving Nazi concentration camps, witnessing firsthand a regime given over to the worst of human nature, he said.
In 1952, Gazija brought his wife to the United States from Austria. They started a family in Albany Park while he worked as a machinist at the Gaertner Scientific Corporation, which made astronomical and astrophysical measuring instruments. He later worked at a factory making telescopes for NASA for 25 years before retiring.
Gazija's handiwork skills made him popular at home, where he built play houses, ice skating rinks, ski slopes and badminton nets in the backyard for his two children.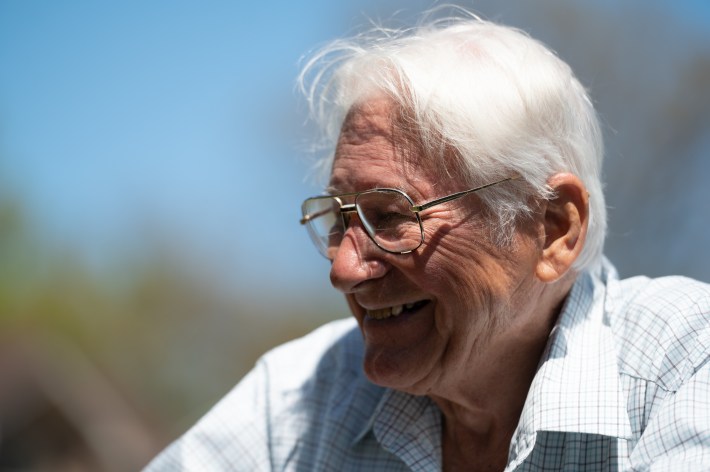 He still enjoys building items for his friends and neighbors. He recently made a wagon for his neighbor's newborn.
"For the neighborhood, he has always been available," said his daughter, Soraya Howard. "There are people that are a lot younger than he is and would call him for help. He was the one driving them places, as opposed to the other way around, or always fixing something."
In turn, Gazija's neighbors are quick to help him with duties like shoveling snow in the winter or tree pruning in the spring — if they can beat him to it. He admits at times he's been lovingly scolded by his neighbors for doing outdoor tasks they think are too strenuous for him, even though he likes to move and be active.
"I met so many nice people," he said of his community. "They all know me and all came for my party. When it's snowing, they run — who's going to be first? — to clean my snow. That's the neighborhood… ."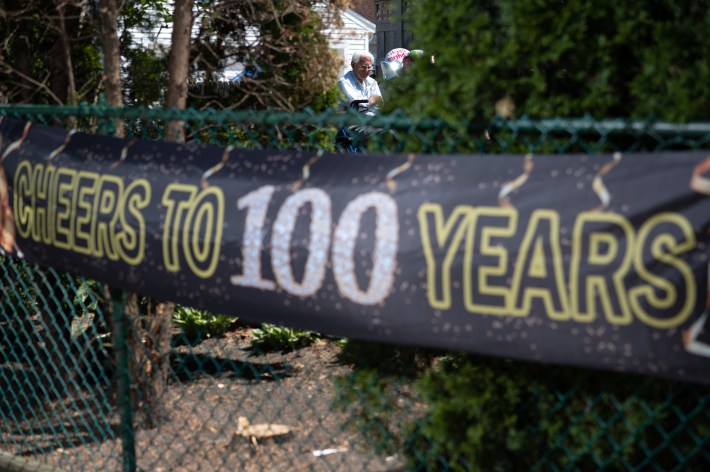 Gazija also helped other refugees from Bosnia settle in Chicago after the Balkans conflicts tore apart Yugoslavia in the 1990s. His family temporarily housed refugees and hosted dinner parties for the Bosnian and Bosnian American communities.
Finally, about three decades after Gazija had to leave his hometown, he and his wife were able to return to Europe in the '90s to visit family and have an emotional reunion.
"When I got home after 28 years, my mother did not recognize me," Gazija said with a laugh.
Howard said her father was recently interviewed by an Austrian professor who is documenting the Bosnian community in Salzburg, where Gazija temporarily resettled after escaping a concentration camp and where he met his wife. He was featured in the 2007 book "Bosnian Americans of Chicagoland" by Samira Puskar.
'Keep Track of History'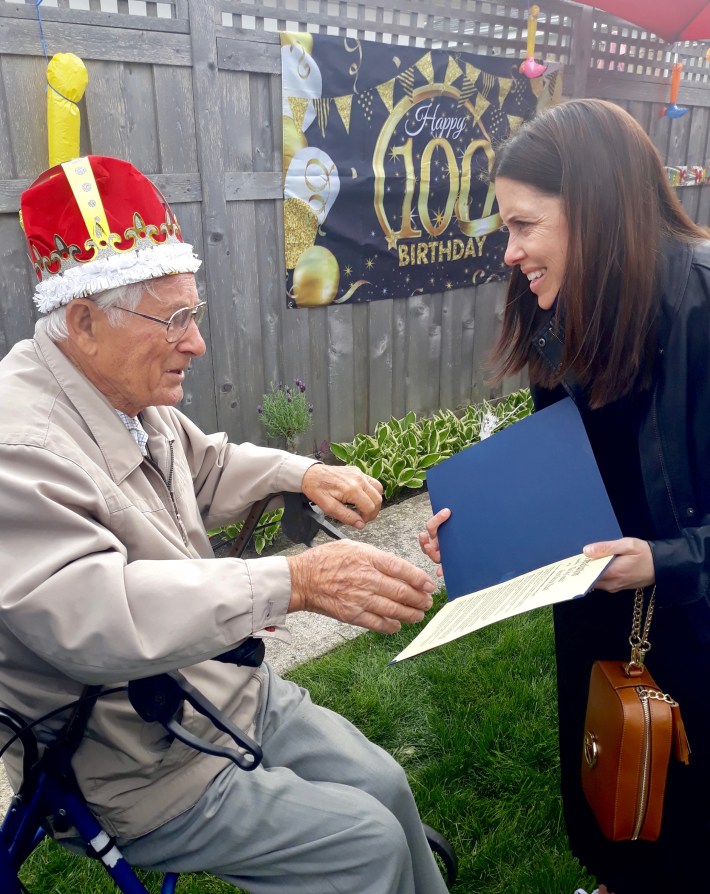 Gazija is seen as a fixture of the community with a compelling story of resilience, Nugent said.
The alderman said her office worked with Gazija's family to make the resolution a reality. It will be presented to him once it is approved and signed by City Council.
"It's a fitting tribute for a person that is not only celebrating their 100th birthday, but especially when you look at Mr. Gazija's life and his story of immigrating to Chicago," Nugent said.
Mark Gameng, Nugent's director of constituent services and a neighbor of the Gazija family, said the centenarian loves to share his past adventures with neighbors.
"He always tells the neighbors, 'I'm not ready to retire,' which [shows] his positive outlook in life," Gameng said.
The family is happy about the resolution, which will share Gazija's story with all of Chicago, honor their history and recognize his trauma and hardship — as well as his survival.
"It's great to be doing that. It's something to keep track of history," Howard said.
Howard, who has lived in Virginia for 37 years but visits Sauganash often, said she's learned a great deal from her parents and their history, but it all boils down to perseverance.
"He doesn't stop until he figures something out," she said of her father. "Both my parents are like that. [They taught me] not to give up. When you hear about how they survived, it's just unbelievable."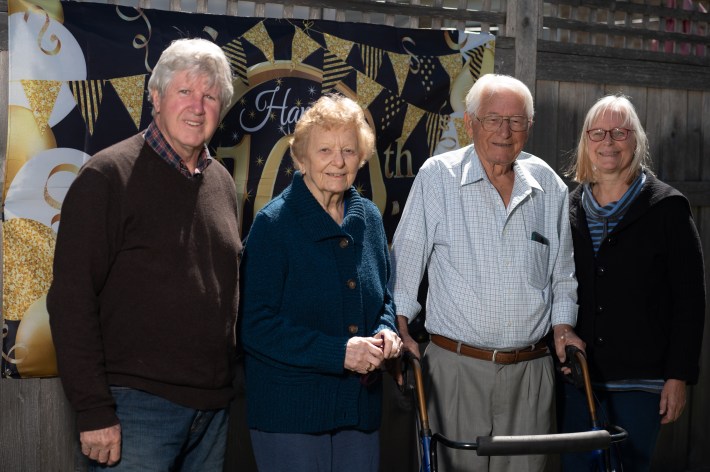 Subscribe to Block Club Chicago. Every dime we make funds reporting from Chicago's neighborhoods.
Already subscribe? Click here to support Block Club with a tax-deductible donation.