CHICAGO — A wine shop specializing in natural wines and hard-to-find wines from small growers opened Saturday in the heart of Bucktown.
Door 24 at 2124 N. Damen Ave. may look chic, but owners Kevin Kenny and Michele Fitzpatrick want the shop to be welcoming to both the wine connoisseur and the person who knows little about wine.
"People are scared about wine but it doesn't have to be intimidating. It's one of the oldest beverages on earth and I don't want to be pretentious about it," Kenny said.
Kenny, who has 17 years of experience working for a wine distributor and importer and selecting wine programs, once was on track to become a sommelier, but felt most groups that certify sommeliers are part of what he calls the "old-boys network" acting as gatekeepers to the industry.
Instead, Kenny made it his mission to make wine more accessible to non-experts and is responsible for sourcing Door 24's wines.
Fitzpatrick, an interior designer by trade, brings 30 years of business experience to the team. A material shortage plaguing the design industry spurred her to take on the new wine shop.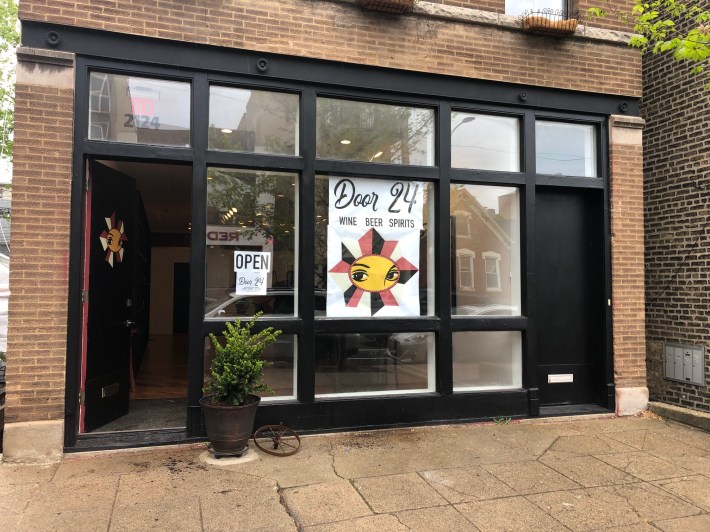 Door 24's logo, which shows a woman's eyes peering through a keyhole, is inspired by artwork designed by Fitzpatrick's husband, Chicago artist Tony Fitzpatrick, called "Nika the Jazz Baroness."
" … I named it after a speakeasy in Amsterdam called Door 74 because the logo had a mid-century modern speakeasy vibe, like someone looking through a keyhole," Fitzpatrick said. The logo is featured on the store's door and was also painted on the back wall of the store by Chicago artist Daniel Torres. 
But unlike a speakeasy, where you may have to pay a cover fee or have clout to enter, Kenny and Fitzpatrick said Door 24 offers an accessible experience. The shop's selection of wine starts at $14.99 and goes up to $150 but most bottles are priced between $20 and $30.
The shop carries a mix of domestic wines along with wines from Austria, Germany, Spain, France and Italy.
"I've got a few expensive things, I wanted some things for people to splurge on, but most of the stuff is like this," Kenny said, holding up a bottle of $20 Pinot Noir. "This is a weeknight bottle, you can have it on a Tuesday night without breaking the bank."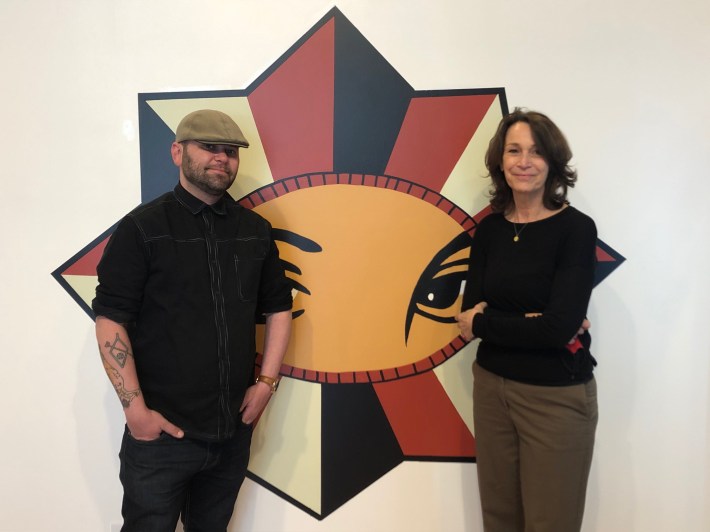 One common characteristic of the wine sold at Door 24 is that most are from small vineyards.
"The wine we sell are things you can't find at Binny's or the grocery store," Kenny said.
The shop also specializes in natural wines made without pesticides, chemicals and other additives — "what all the cool kids are drinking right now," Kenny said.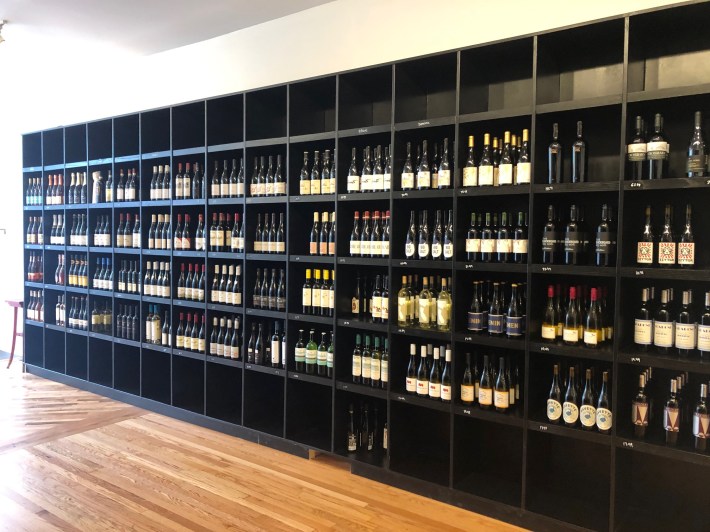 Door 24's unique offerings include a rosé pinot noir called Lemonade by Brianne Day of Day Wines that wasn't planned by the maker. 
"She had fire damage in her vineyard," Kenny said. "When they harvested the grapes, these were supposed to be grapes for red wine, but grapes can pick up something called smoke taint, if there's a fire anywhere near them and the smoke blows into the vineyard, the skins actually soak up the smoke. So, if you make the wine it will taste smokey, which nobody wants to do."
Day took the grapes and made a rosé instead, pressing them off the skins to remove the smoke taint, Kenny said — turning the fire into a positive.
Kenny and Fitzpatrick also made "lemonade out of lemons" while wading through a lengthy permit and rezoning process to allow them to open. Their lease began in October, and while they waited for permits, they gave the storefront a complete makeover.
Door 24's owners hope they can be an asset to diners frequenting B.Y.O.B. restaurants in the area. Eventually, they'd like to acquire patio and premises licenses so patrons can sit and enjoy wine at the shop, too.
"Hopefully people will like the store and we'll get there," Fitzpatrick said.
Door 24 is open noon-9 p.m. Monday-Thursday, 11 a.m.-9 p.m. Friday-Saturday and 10 a.m.-6 p.m. Sundays.
Subscribe to Block Club Chicago. Every dime we make funds reporting from Chicago's neighborhoods.
Already subscribe? Click here to support Block Club with a tax-deductible donation.